Posts from the 'Classic' Category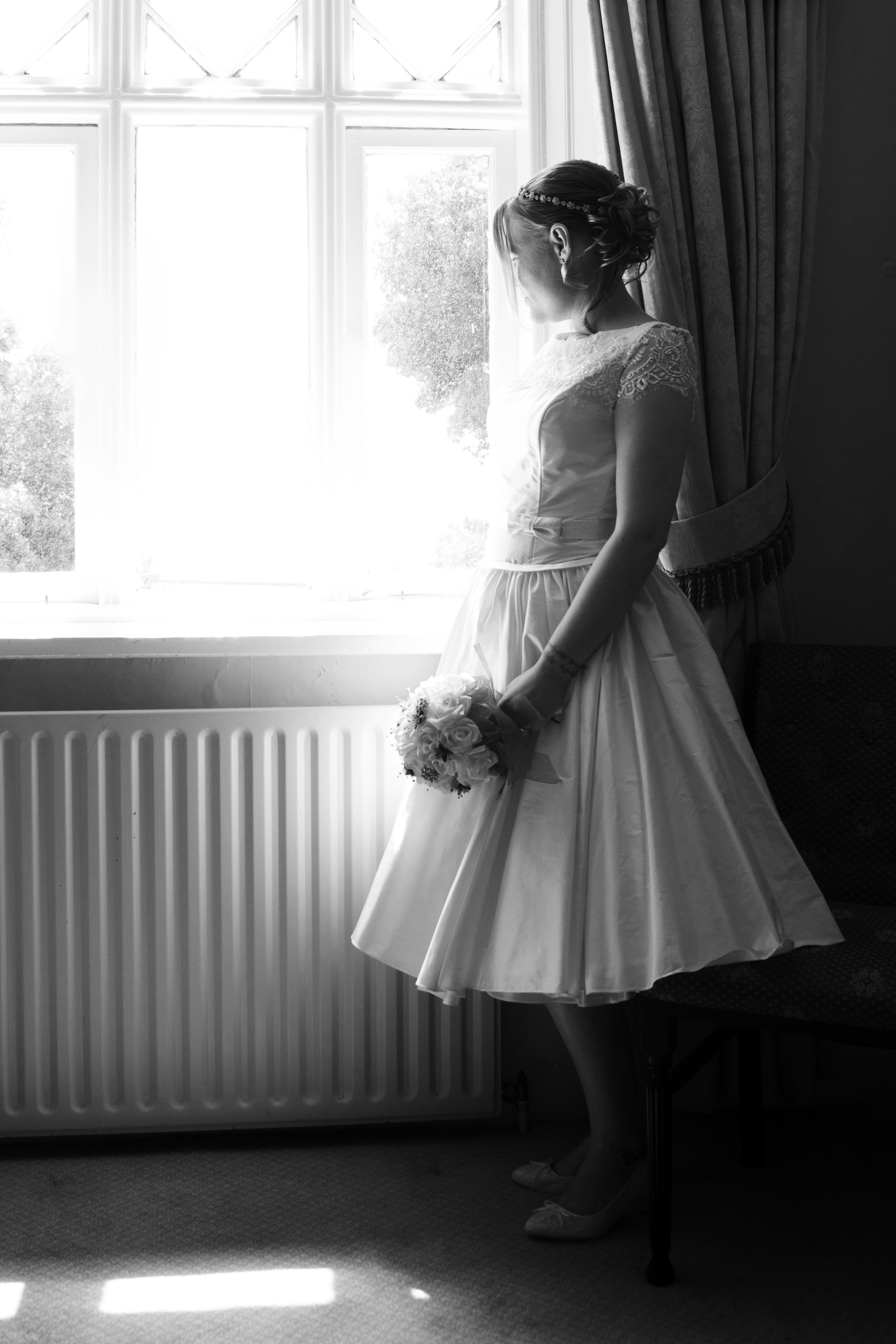 I will never forget my first email conversations with Laura, she had found a dress she loved, and it was our Audrey, so convinced was she that this was "the one" that without even seeing it in the flesh or trying it on, she declared "I would like to order it please!". I have to admit I was a little taken a back  , I asked her if she was sure, if she wanted to come and try first just to make sure it was "the one", she conceded that may be a more sensible option and booked her train from London to Birmingham.
I have to admit that she was right and after trying on a few of our designs , the Audrey gown was indeed "the one" and suited her so so well.
Thanks so much to Laura for sharing her photos, and huge congratulations on your gorgeous wedding!! xx
Laura wrote a lovely testimonial, for which I am so greatful 🙂 Thanks Laura xx
"I found my dress pretty early on in my search for the perfect wedding dress and just stopped looking; the dress was so beautiful I had to have it.
Throughout the dress making process Jo was welcoming and professional. The dress was everything I hoped for and more, everyone at my wedding thought the dress was beautiful and all mentioned that they had never seen anything like it, which made me feel very special.
Jo and The Couture Company staff did everything in their power to make sure that I was happy and that the dress was perfect and I was over the moon with the results.
Jo and all the staff at The Couture Company are all very talented dress makers and I feel honoured to have worn one of their original designs on my wedding day."
Photographs copyright of Tasha Park
19 Sep 2013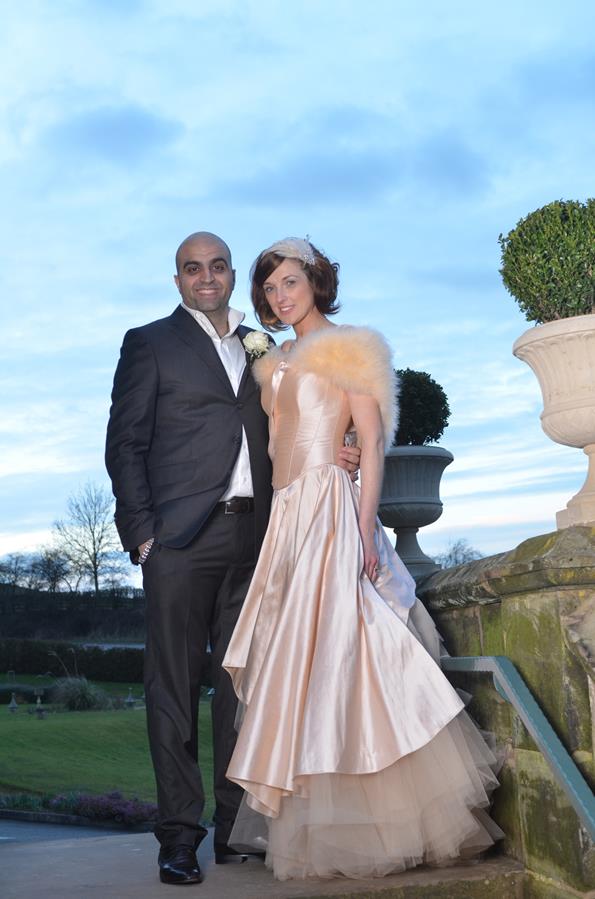 I am delighted to share our gorgeous bride Angi's wedding pics, Angi came to us wanting something unusual and non-tradtional, that was still special, still bride like and still having the WOW factor!!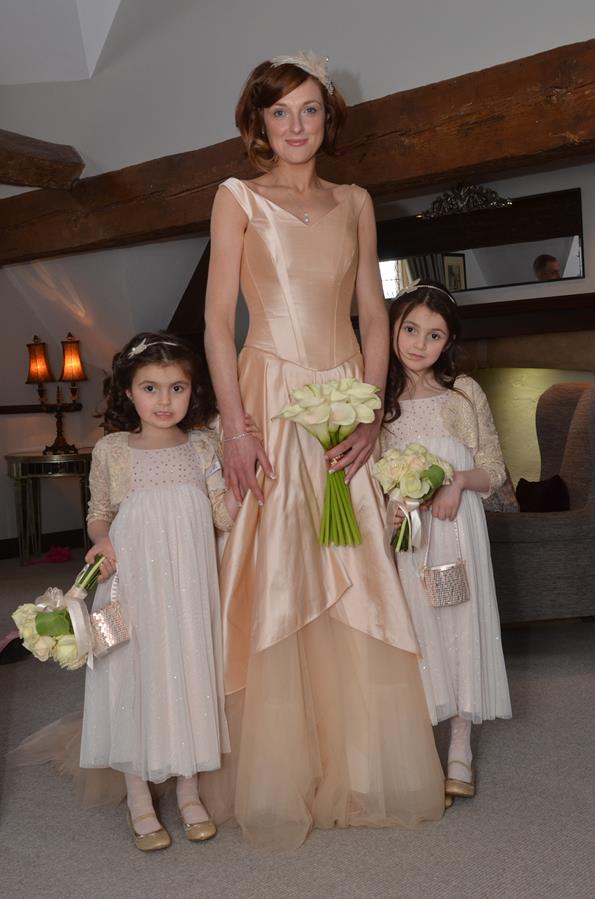 We designed and made Angi's gown in a honey blush shade of silk dupion and tuille, the corsetted bodice was finished with a pretty ribbon laced back, and the skirt was cut into layers and layers of asynmetric tuille, overlaid by and undulating layer of sumptious silk dupion …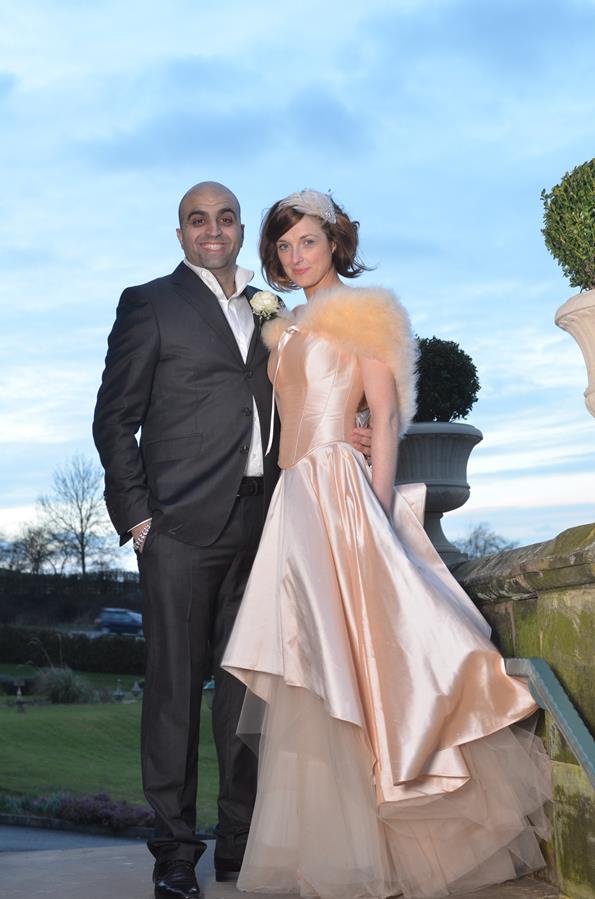 Doesn't she look absolutely gorgeous???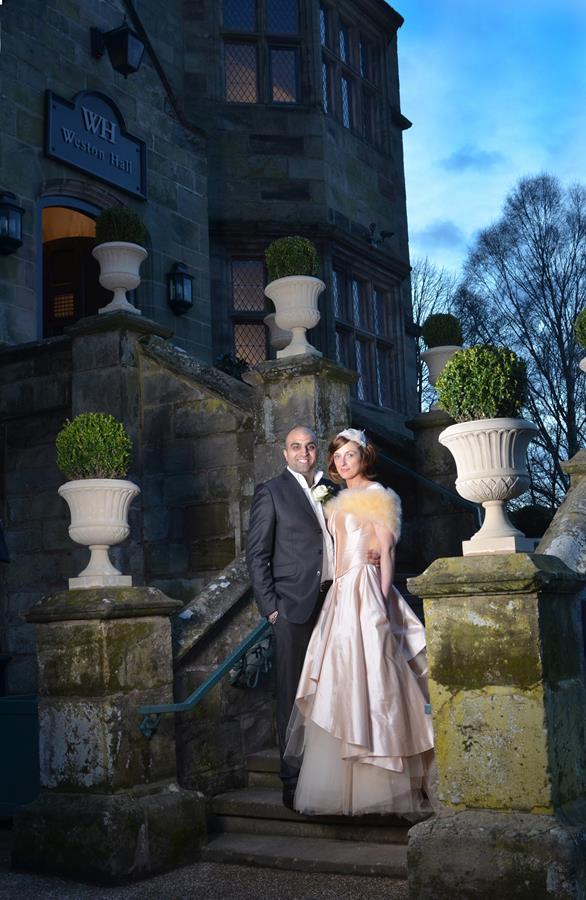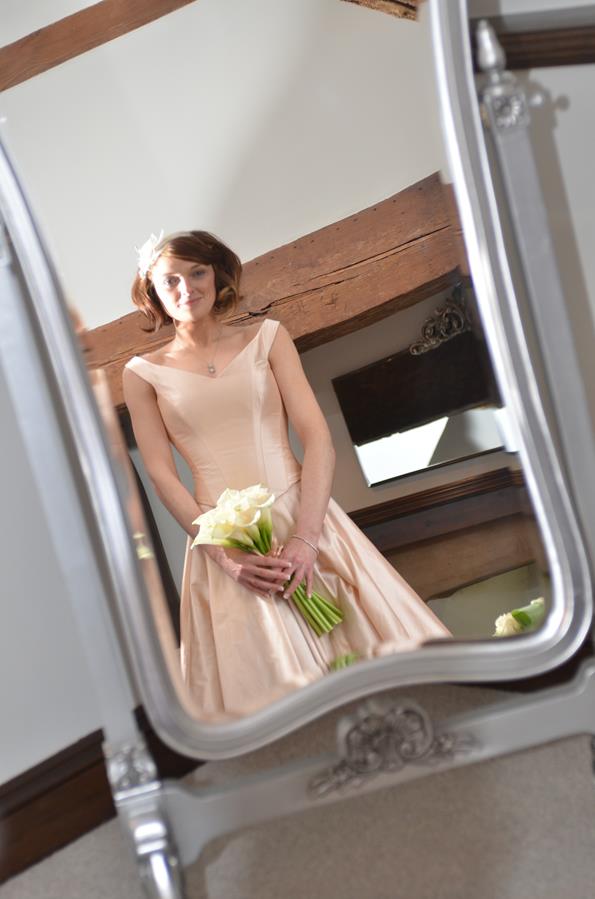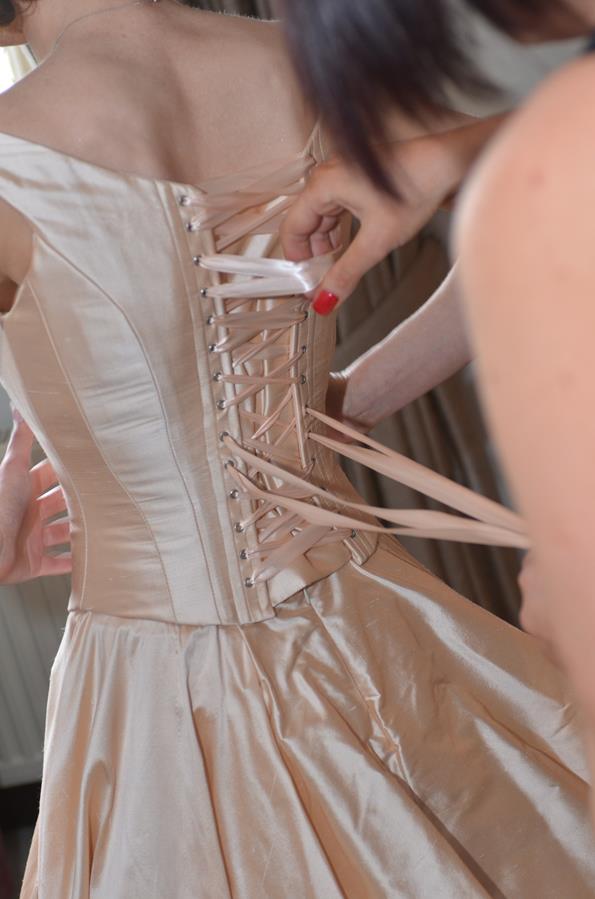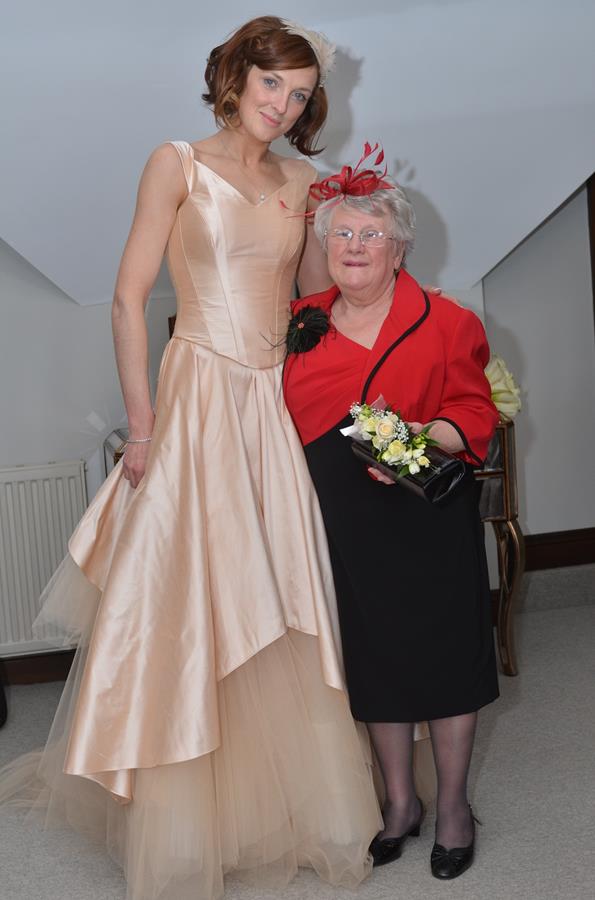 We also made this cute feathery fascinator for Angis hair, and the feathers tome beautifully with the tone of the gown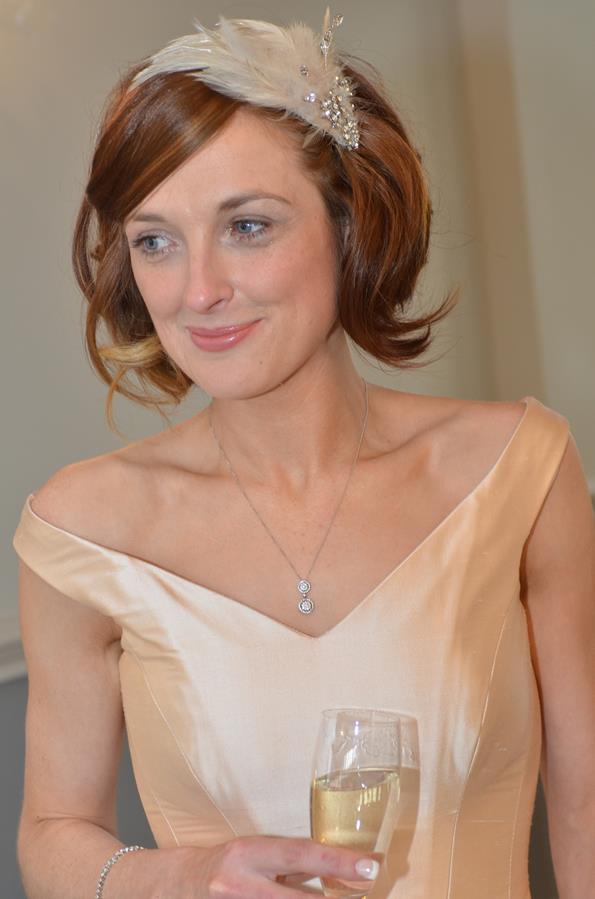 Thanks to Angi for this fabulous testimonial, we are so glad you came to us !!!
"We booked our wedding in January of this year for March 10th, leaving us less than three months to plan and pay for everything!! Unlike a lot of women I had no idea what type of dress I wanted. I had a little look online, but was overwhelmed with the choices .I went to a couple of wedding dress shops with my mom but nothing really stood out for me, I was destined for an ivory dress with lots of fancy lace n beads or just a plain strapless satin one neither of which style or idea filled me with joy!
I remembered seeing a wedding dress in a window at the custard factory, so I did a quick search online found their number and made an appointment that same day.
As soon as I walked into the shop I knew instantly this is where I would find my wedding dress. With rails full of one off beautiful creations in an array of styles and colours I was at last beginning to feel excited about my wedding dress.
Jo suggested I just try a few on so I could get an idea of what I liked and perhaps didn't like. There wasn't many of the latter!
 I very almost went for a short wedding dress unbeknown to my husband until now!! It was stunning in a deep ivory with bud like twist designs all over with a 'fifties' styling. I finally decided against it but I will have that dress one day too…how long do people normally wait to renew their vows??Jo asked me to have a think at home, maybe look around and send some ideas of what i liked.
I explained to Jo about my 'dream dress' and together we narrowed down exactly what it was that I loved about it.
At our next meeting I was simply blown away by what Jo had sketched out for me, her talent really did amaze me my dream dress had just taken on a new identity, to say i loved it was an understatement. I still have the drawing of my dress which I intend to frame along with some of the chosen fabric. From our conversations Jo had managed to design a dress better than I had ever imagined.
I had tried on another dress in her shop in a colour that I loved so I decided on that. I also decided on a skirt and corset design, which I am so pleased about as unlike many brides I can and will be able to wear part of my wedding dress again.
 The dress fittings were great and Jo and her team were very informative and understanding. Jo especially just instinctively knew what I wanted, fuller at the back, longer there, shorter here..it really was so much fun. Having a bespoke gown really is the way to go! I also chose my headpiece from there, it was again handmade and simply beautiful, along with a stole incase I got cold. Which as it snowed on the morning of my wedding was a very good investment.
On my actual wedding day everyone was complementing me on my dress all day. My husband described it as unforgettably stunning and said he was so pleased I had chosen to have a bespoke gown that was individual to me. Everyone said it was exactly my style and couldn't have been a better suited dress.
I would not hesitate in recommending The Couture Company to anyone, I have and will be singing their praises til the end of time . My friends and I talked about planning a joint themed party for our birthdays just so we can all have corsets made by Jo.
Jo Bromley I can not thank you enough." 🙂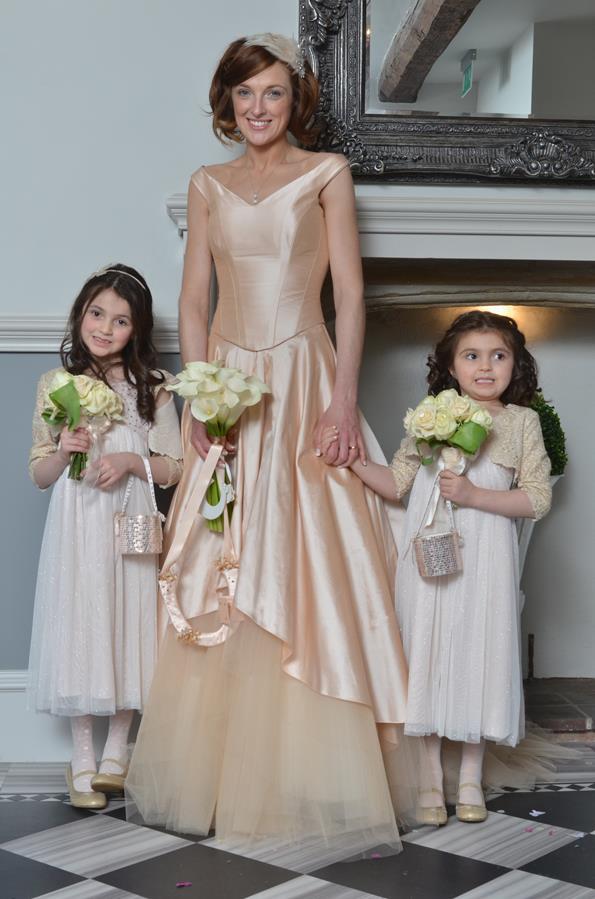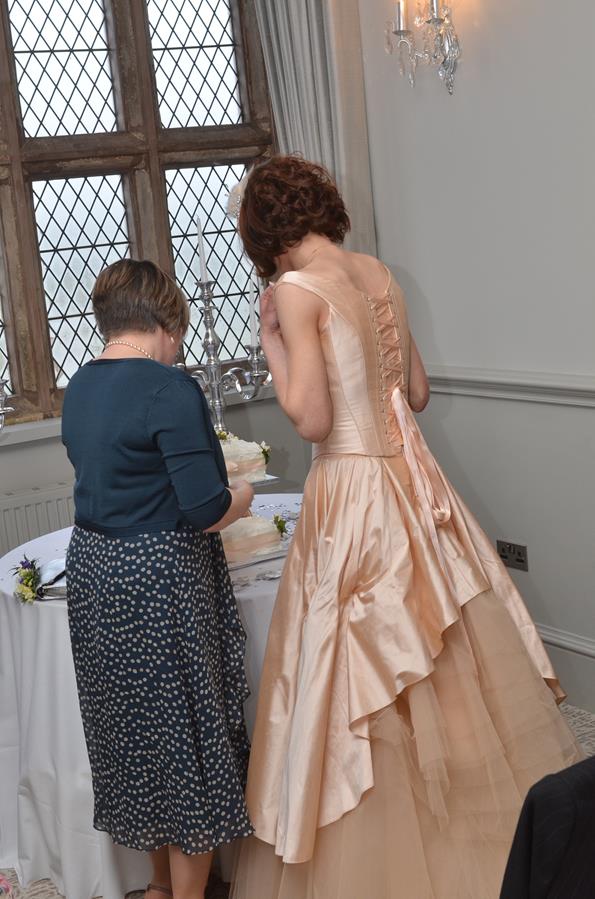 Photographs are copyright of Richard Battye
3 Jul 2013
Congratulations to the stunning Steph who looks just incredible in her Bias cut Deco inspired gown.
We were her first port of call on her wedding dress mission and she found her dream dress on that first visit. (if only it was that easy for all of you huh?)
Steph's gown is made from a beautiful drapey Silk devore velvet which has a delicate scroll pattern to its design, the gown is bias cut and has a low back with a soft cowl draping from her shoulders
Steph had the most gorgeous figure and it certainly is flattered by her choice of gown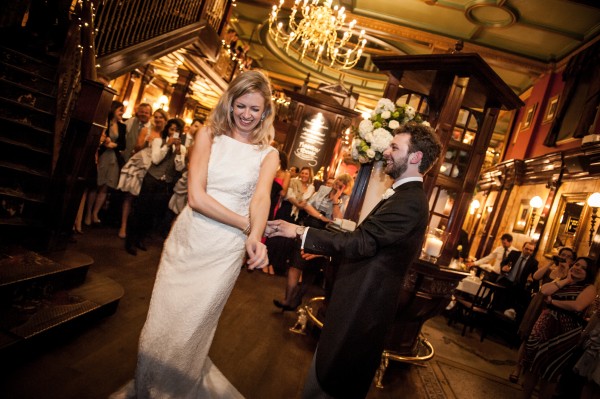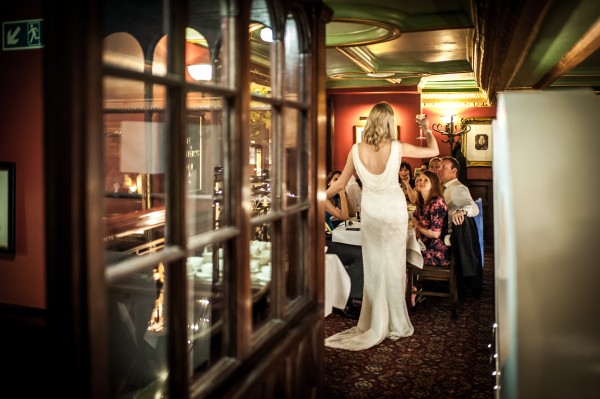 Thanks Steph for this wonderful testimonial
"The great thing about the Couture Company is the variety of Jo's beautiful designs – there really is something for every body shape, every taste and every type of bride.  I didn't know what I wanted so had a great time sifting through the variety on offer until I found my dress and loved the design so much that I booked one for myself on the spot (on my first day of shopping for a dress too!)
Jo and the team are so calm and caring and never overwhelm you with sales talk, they listen to what you want and give great advice when asked for it.  I would recommend them to anyone and am so grateful to them all for my gorgeous dress which was an absolute hit on the day!  I felt fantastic and it helped to make our wedding day as special as it was.  Thanks Couture Company!"
x
Photographs are copyright of and Thanks to  Samuel da Silva Photography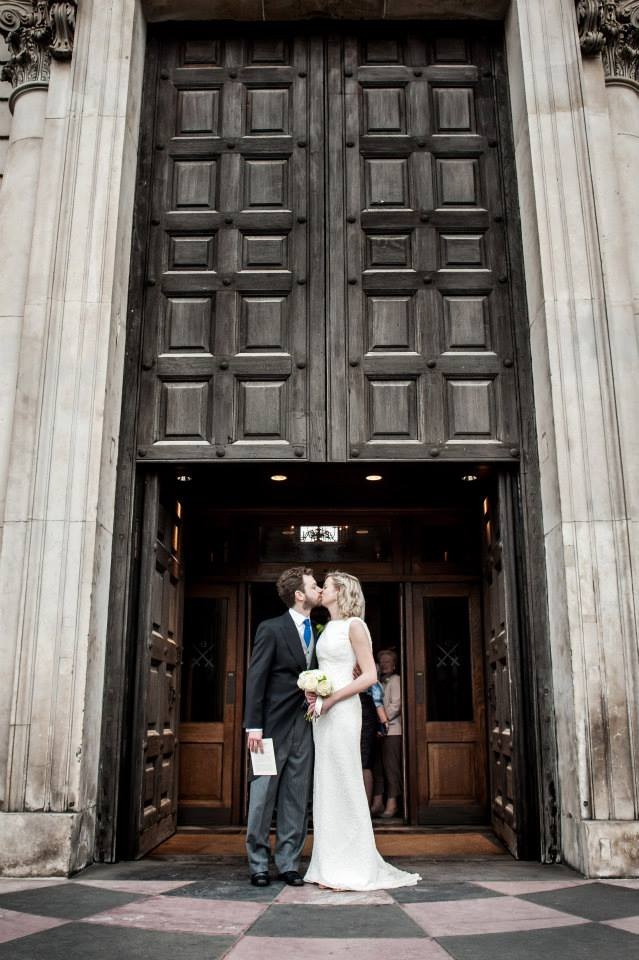 25 Jun 2013