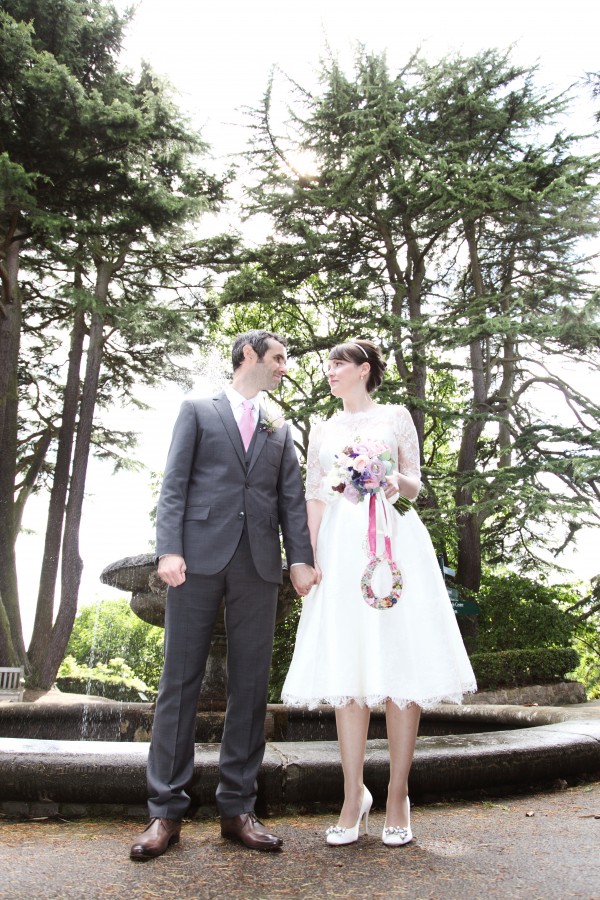 When we first met Sarah, she had a definate idea about the elements she wanted incorporating into her bespoke gown…vintage inspired,lace, sleeves and buttons…
Well we wouldn't want to disappoint now would we?? ….
So we got to work and designed a very pretty gown in a delicate french lace…the lace has a fine scalloped edge which we used across the neckline, and on the hem of both the sleeves and skirt. The lace is overlaid on a pale ivory dupion silk, and the back is finished with delicate covered buttons all the way down from the nape of the neck to the waist
Thanks Sarah for the lovely testimonial and allowing us to share you gorgeous wedding photos xx
"
I wanted a dress that reflected my personality and style and after visiting quite a few conventional wedding shops, where the dresses in stock looked identical, I started to doubt that this would be possible.
Thank goodness for Jo and her team at The Couture Company!   As soon as I met Jo everything started to fall into place.   She listened to my ideas, understood my anxieties and from start to finish the whole process was flawless.
I wasn't sure whether I would be a 'crier' on my wedding day or not.  I think I surprised quite a few of my friends and family by how relaxed I was.  Instead of crying throughout the ceremony I had fits of giggles and just felt so unbelievably happy.  I know that a large part of this was down to how beautiful my wedding dress was and how confident I felt wearing it; I was also very relieved that we had one day of sunshine!
I have had so many compliments about the dress and I cannot thank you enough for the care, attention to detail and absolutely amazing service that you provided in making my dream wedding dress.
I would wholeheartedly recommend The Couture Company to my friends and family.
Thank you so much.
Lots of Love Sarah x x x x"
Photographs are copyright of http://www.orchardhouseweddings.co.uk/