Ruby got in touch with us and asked us to make her dream wedding gown, with just one slight, ever so tiny problem… she couldn't make it to ANY dress fittings, why is this you ask? Because she lives in AMERICA!
We often get asked if we can send make bespoke gowns to be sent overseas and the short answer is a big fat 'YES WE CAN!' BUT making a dress without being able to physically see you comes with it's challenges and there are a few things that need to be done for this to happen and work for us both to make sure your dress is perfect for you!
The first important thing is to have a local dressmaker be happy to get involved and help with measurements and fittings, we make a mockup dress and send it over to you via courier, this is then pinned onto you in place to make sure that it fits you perfectly, under supervision and instruction via a live video call with our Designer Jo and the fitter and client. then it's sent back to us for us to take all the alterations, amend our patterns and cut and make in the fabrics and detailing chosen to make the final design in.
Ruby managed to find a dry cleaners in Pennsylvania, ran by an elderly Italian couple, who were adorable but not very experienced in the dressmaking/fitting department! After some fumbling over a zoom call trying to explain how to pin and prep the dress, we were all a little stressed and Ruby left feeling deflated. We had a big chat and decided to try again, but this time with her with her partner Chris being the pinner! And he was a total legend and only went and smashed the whole fitting (under Jo's guidance of course ;P what a Pro he was)! We had also sent videos over explain how to put on a corset and clear instructions of how to pin and where, then once Ruby was in the toile Jo gave her a call on video over WhatsApp, instructions were clear and he followed everything perfectly and without a hitch and he managed it like a true professional!  
Once the mockup dress was sent back to us, we made all the amendments and alterations we then we cut and made the dress in the silk fabrics along with the cool cute embroideries chosen by Ruby. we had more video calls together to decide on placement for the embroideries! Once the dress was complete, we sent more photos and videos over to make sure that Ruby was happy with the final creation and then sent it back overseas to the States!
We waited to hear from Ruby that her bespoke creation had arrived and all was good, and then it was just a little wait till her wedding day!!!
We were absolutely thrilled to see Ruby's pics!! so happy with how the dress transpired and we love the colours!!
 Here are some of Ruby and Chris's wedding photos by Allebach Photography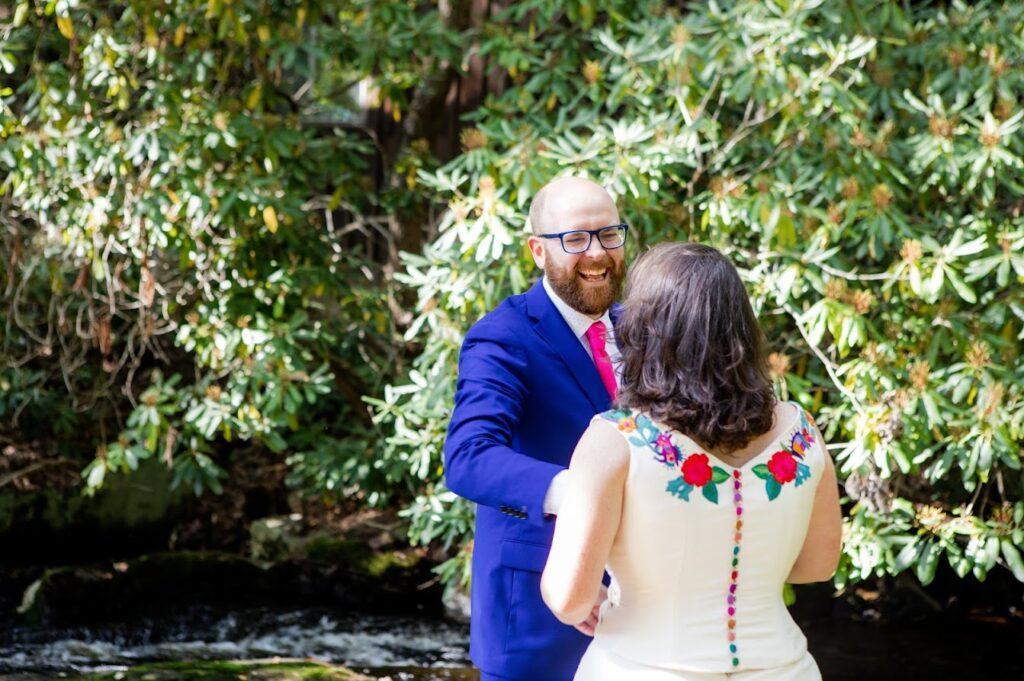 Ruby wrote us a cracking review too! Here's what she had to say!
"I don't have amazing enough words but I'll try! As a slightly bigger woman with big breasts, store room dresses weren't cutting it for me. It was clear in every conversation with Jo that she knew exactly how to work with all different kinds of bodies! She got my style immediately and never balked at revisions. Jo has a very particular and amazing style and I thought that meant she might not get or like mine, but she encouraged me to get what I wanted the whole time. Getting this dress made from across an ocean was not the easiest for me or Jo (mostly because I was in a place with few tailors and it was around prom season), but she held my hand the whole way and was very patient!! I would do it again in a heartbeat. I NEVER would have spent so much money on a dress in a store. I was seriously contemplating a $30 cotton white dress. No way would I pay thousands of dollars just to have someone else's idea off the rack. But the whole experience of having my dream dress made just for me made it all worth it. If you're considering getting a dress from Jo, just do it! You won't regret it!! People are still telling me how much they loved it a year later!!"