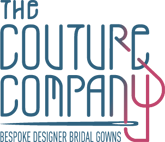 Here are our Covid guidelines for those visiting the  shop for a bridal appointment.
We can both wash our hands at regular intervals and use hand sanitiser

We all wear masks.

Any dress you try on will be put to one side to be

steamed  after

 you have tried it on, and the same will happen before you come for a consultation should any dresses have been tried 

Make sure either of us cancel the appointment if feeling unwell with symptoms of Covid19

You bring no more than 3 people with you and you

have  a

chaperone from your bubble to help get into the dresses/outfits (if you can), before I take over with pinning and fitting

Whilst we are

following  guidelines

, there will be a limit of 5 dress samples that you can try on.

If you cannot make the appointment for any

reason

please 

PLEASE

let us know as soon as you know.  We have much more limited time for appointments and a waiting list of brides wanting Saturday appointments in particular so it really will help us to know if you cannot make it or want to reschedule.

 
Don't forget you can buy yourself a new mask from our other company Millie's Masks.  Pre-order and collect from the shop or have them sent to you directly.