I have a crazy pal, her name is Anne, she is an excitable ball of energy and love, and when our Gentleman Jim (yes he is also a bit crazy) proposed and they announced not one but 2 weddings we all knew we were in for a treat!!!. We even formed a secret choir to perform/ruin some of their favourite tunes at at the wedding!!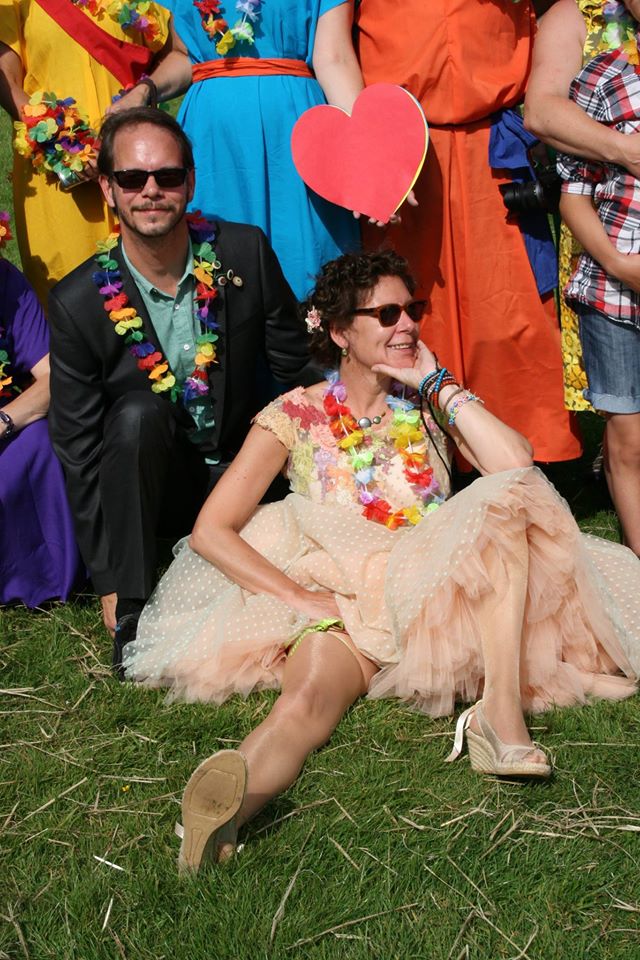 Its always ALWAYS a massive honour for me whenever friends or  family  ask me to design and make their wedding gown, it fills me with enormous pride that they trust  me to come up with something that is very "them".  No Pressure!!!! but in a way its also easier  as I know them and know their tastes.
I was especially doubly honoured that they asked me to be the officiant/celebrant at their festival wedding ….you might spot me in my dog collar 🙂
What a brilliant couple of days with brilliant friends and a BRILLIANT COUPLE!!! Big love and happy Anniversary to Anne and Jim xxxx
Excellent Sunglasses by Revive me Boutique
Excellent Party by Deckheds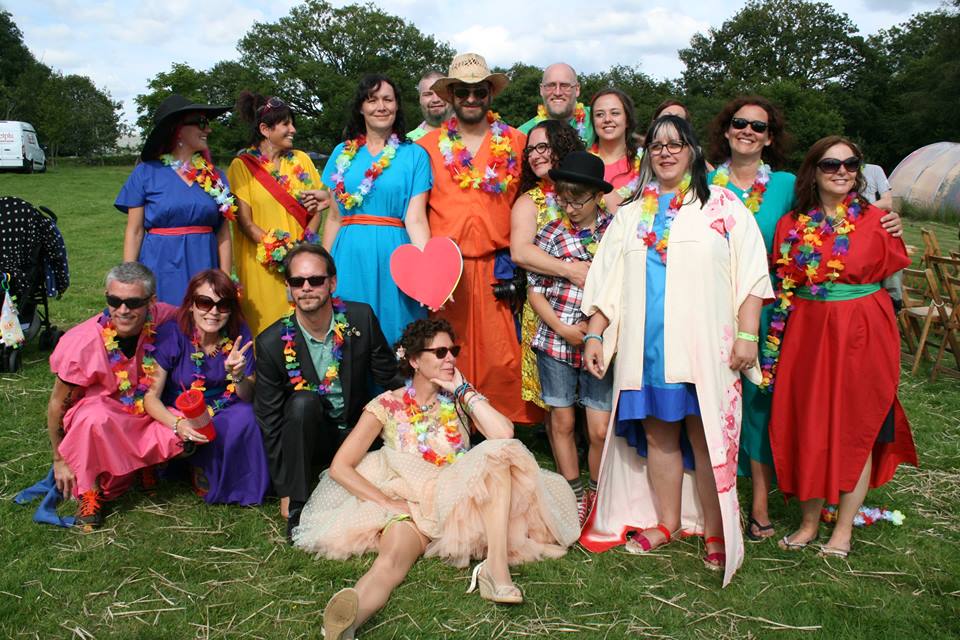 Anne tells her dress story
"I have known Jo for some time now and had seen some of her work before, being very impressed by the quality of the work and by the bold statements that some of her designs make. So, when my soul mate pushed me off the side of a mountain in Turkey (with a paraglider!!) and was waiting for me at the bottom with his proposal, I had to say yes! 
Very quickly my thoughts turned to what I would wear though!
Being an older bride and having been married before I knew I definitely didn't want anything traditional OR white! We had decided to have a festival style wedding because we spend most of our summer travelling around the country putting our tent up and down in various fields and enjoying friends both new and old and jumping around to some of our favourite bands and embracing some that are new to us, altogether, having FUN!
This in mind, I knew there was no way I was going to find what I was looking for in any old wedding shop. Thank goodness I knew Jo. As you will see from this testimonial, if I can say it in 20 words why say it 3! I hot footed it over to Jo and her fabulous team and started to explain what I was looking for. I was all over the place and was so nervous because this is a really important decision to make, all eyes are going to be on 'that dress'!!
From the initial chat on a night out to the moment I put my dress on for the final fitting I can honestly say that Jo and her fabulous team were amazing. They helped me to focus and offered advice when they knew better than me, because I am not a dress designer and they really do know what they are doing! This is where you really see Jo's talents too because she has a thoughtful and sensitive way of guiding you toward styles, colours etc that will suit you and work well without trampling all over your very definite ideas and desires.
My dress had to be fun. It had to flatter my slimmest point. It had to allow me to move and jump around. It had to cover the 'bits' I don't like. It had to reflect our love of music in some way and it had to have an element of 'greenness'. Jo's suggestion to have a record disc on a belt was just the icing to whole look. So many people have commented on my dress and I felt so wonderful the moment I put it on, it is so hard to do justice to the whole process in words.
If you are looking for a real statement on your wedding day then I would urge you to speak to Jo before you go anywhere else because she can take that seed that is bouncing around your brain and translate it into your boldest and most beautiful moment ever!!