Sara rocked her boho dress at her Custard factory wedding,and it looks like she had an amazing day!!!  we are so happy that Sara came to us and with this awesome testimonial, Sara tells it so much better than I could 🙂
'People always tell me that I have a distinctive style. What they actually mean is that I have peculiar taste in clothes and often dress like an lunatic.
I tend to be drawn to a whole host of random styles, shapes colours and patterns which rarely go together, usually don't fit me all that well and probably don't really go together. I don't really know what suits me. Only what I like. What I like most is being comfortable. After that basic requirement is fulfilled, some days I'll be in a fluorescent orange lace dress and heels and the next I'll be in jeans and a top meant for an 80 year old man. My fashion sense is bi-polar.
I think half friends and family imagined me turning up to my wedding in a leopard print catsuit and the other half imagined a more traditional dress. In truth I had no idea what I wanted. Only that I wanted it to be different and that I wanted it to reflect me.
With 3 young children, the youngest of whom I am still breastfeeding, my aforementioned 'distinctive' style and no clue where to start I was pretty daunted about the process of finding dresses I liked. Even more so about trying them on.
When I stumbled across The Couture Company it was a bright sunny day and I was visiting The Custard Factory to look at a wedding venue, The Old Library. A venue I later went on to book. I was having a window shop around The Custard Factory, my month old son in a baby carrier, mum and hubby-to-be in tow and with no plans to look at wedding dresses. As we peered in through the window, though, I was blown away by the beautiful dresses that I could see on the rails. More, the accessories and bits and bobs dotted around were totally my style. A crazy, ecclectic mix of beautiful things.
I shooed Mark away and ventured in for a closer look. (Not knowing it was by appointment only, sorry Jo!)
Jo came to say hello and handed me a leaflet and was so welcoming and friendly. I thought 'if only I could afford a dress to be handmade for me' and left, clutching my leaflet and dreaming of a lottery win – assuming from the luxe fabrics and unbelievable cuts that the dresses were out of my price range.
Several weeks later, with only 4 months to my wedding, I hadn't seen a SINGLE dress I liked online or in the shops. I hadn't tried any on and had no intention of doing so when I knew they'd be wrong.
 I'd had a few knocks to my confidence in bridal shops before when trying on bridesmaids dresses. I am no sample size and having recently given birth I wasn't feeling all that thrilled with the idea of standing with a stranger in a cramped fitting room trying to wriggle myself in to a dress I didn't like.
It was then I thought back to how perfect The Couture Company had seemed for me. The beautiful, crazy shop, the gorgeous dresses, how friendly Jo had been. I thought I'd look them up online. I was blown away when I saw more of the dresses that had been up on the blog – seeing them on real brides brought them to life. I just knew that The Couture Company was right for me.
I emailed Jo asking about the time frame I was working to and asked a few questions. I couldn't' believe it when I realised that I may have both the time AND the budget to get a dress made for me. I was really excited,then, about the consultation I had booked and, although I still had no idea what I wanted, went along pretty much knowing I would be ordering a dress that day.
I arrived at my consultation with only one idea: I liked the idea of a gold dress. With my gingerness and fair skin I knew that would suit me. I had no idea on shapes or styles and so when asked to pick out what I liked I picked up pretty much everything.
When I tried on a sample of my dress, albeit in a different colour-way, I knew RIGHT AWAY it was what I had been dreaming of. It was one of those moments everyone tells you about but you never really believe. 'You just know.' I felt brilliant in it right away.
Securing my dress order with a deposit that day I was so excited. And the subsequent fittings and appointments were a joy. I just loved my dress so much. Seeing it come together was a fab experience. The work that went in to it! I felt like such a lucky girl. Choosing the fabrics and colours was just so much fun and it felt so special.
One thing I distinctly remember after ordering my dress is thinking to myself, well, if I can feel this good in my dress so soon after having my baby, without having to punish myself with any sort of diet or ridiculous exercise regime, I am now going to celebrate my dress purchase with a GIANT lunch and celebratory drink. Fabulous. having imagined the dress buying process making me feel self conscious and horrible it was amazing for it to have had quite the opposite impact on me!
I also asked, at my first fitting, about having something designed for my hair. With only (again) a vague idea I was blown away when next time I arrived, only a couple of weeks later, I had a beautiful headband made from the fabrics of my dress and on a band that was exactly the same colour as my hair. How did they manage that? I still don't know.
When the day of my wedding arrived I felt fantastic in my gorgeous gold dress. It was just perfect. Mark absolutely loved it too. He said it was perfect. Perfect for me.
My 2 year old, Archie, said I looked 'fantastic' which brought a tear to my eye. (He's not always so complimentary about my clothes!)
Another thing about my dress that I loved was that it was the most comfortable and well-fitting thing I have ever worn. I wish The Couture Company could make all of my clothes. I ran around after the kids, swung them around the dance floor… I wasn't' at all restricted. And nothing fell off or down (quite rare for me!)
I'd like to thank Jo and everyone at The Couture Company for helping to make me the happiest bride in the world. I will be wearing my dress again. Possibly every day.
Thank you guys. You are amazing.'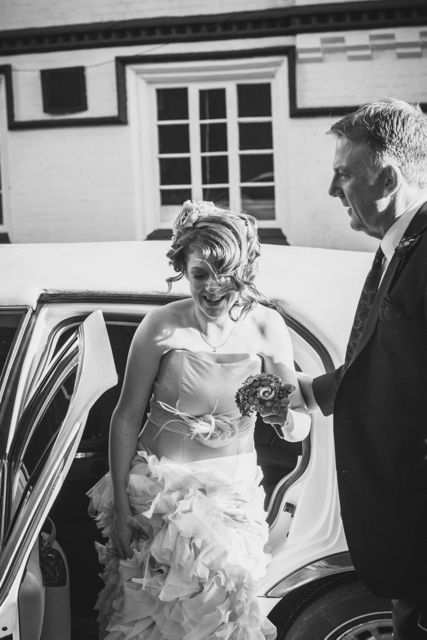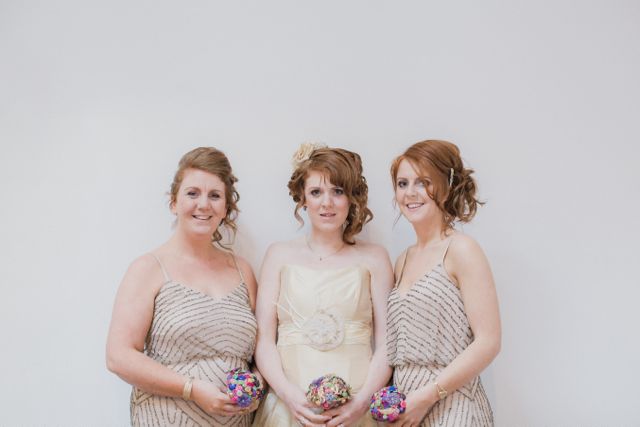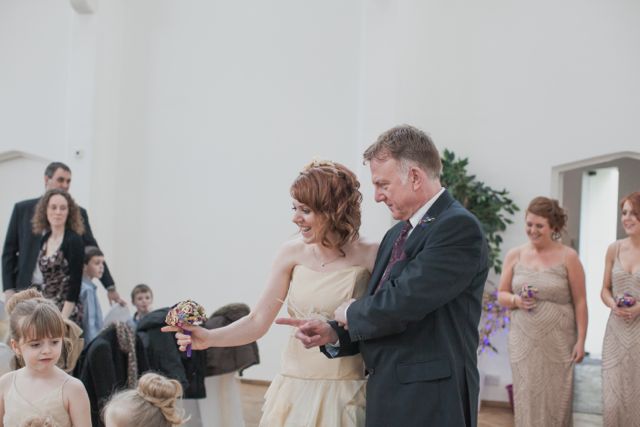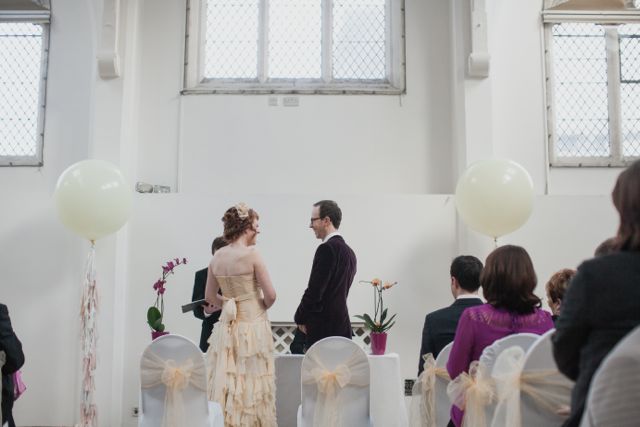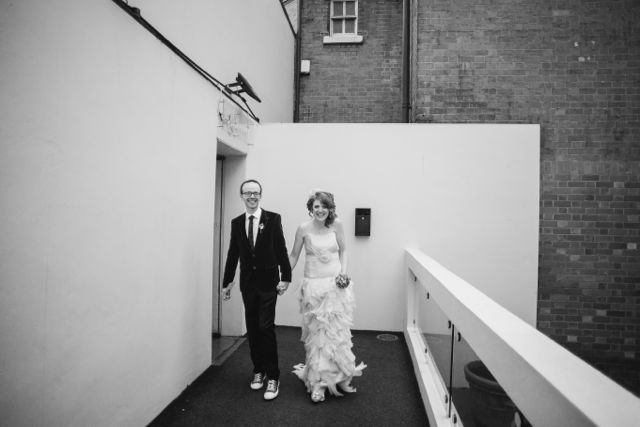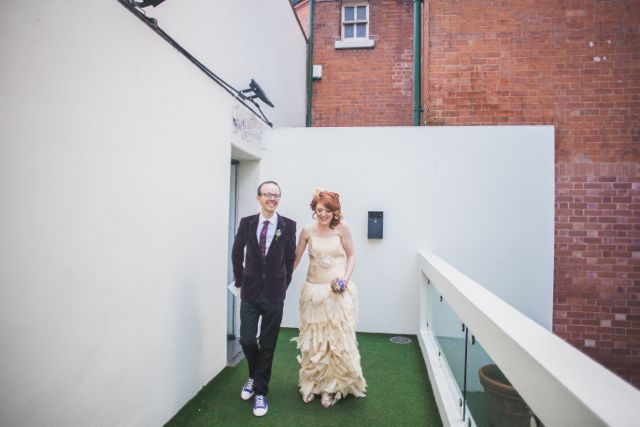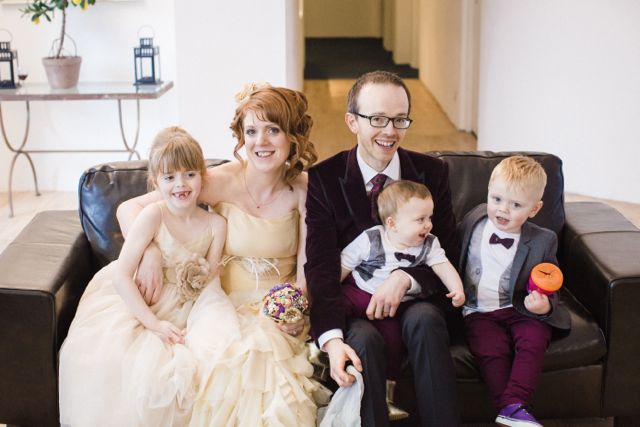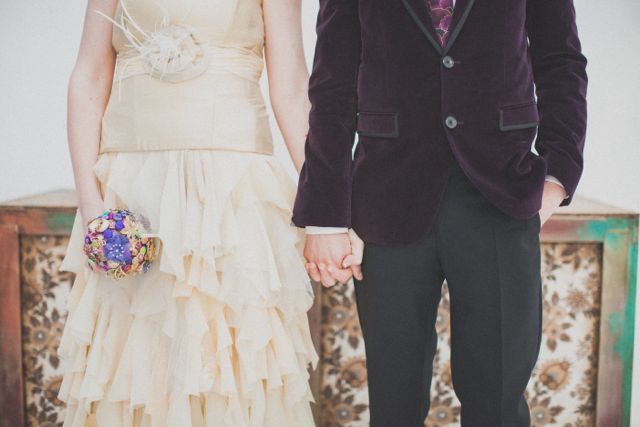 Photos are copyright of Jo Hone Photography