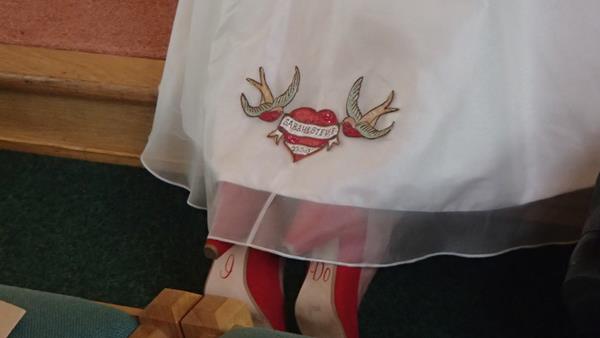 We love brides like Sarah who love to add personal details to their gowns and make them a truly unique and one off . bespoke gown. Sarah chose a pretty ivory 50's design but we added her wedding colours into the embroidery and beadwork – see  how the bridesmaids dresses match the embroidery of the daisy chain around the neckline and the swallows on the back ? We love the detail on the back of the dress, it is so pretty and really commemorates her wedding day! What better way to do this than add your names and the date of your wedding ???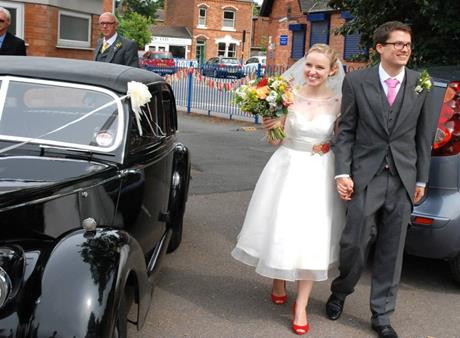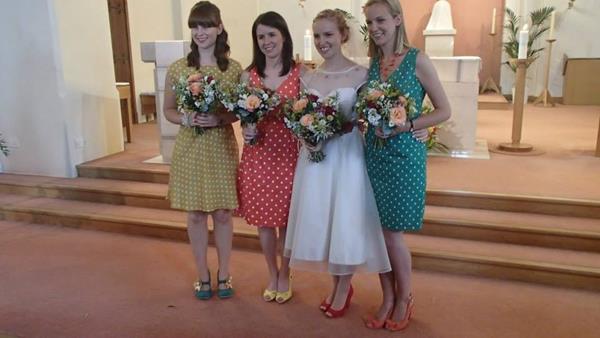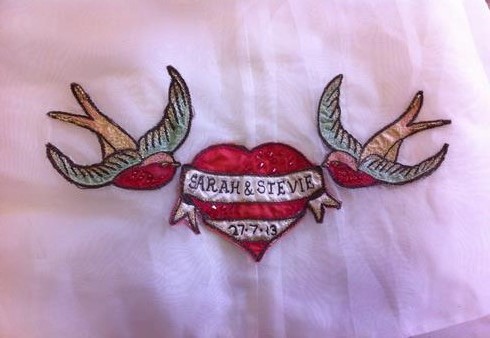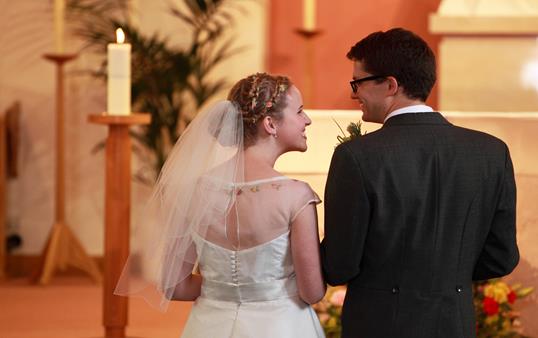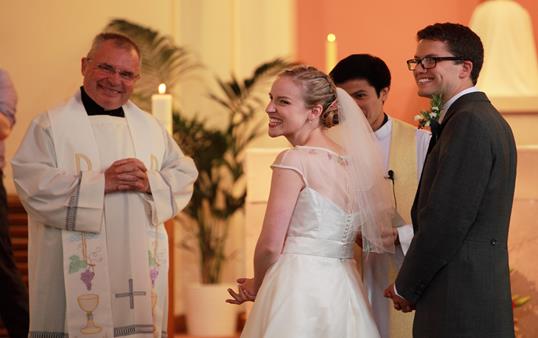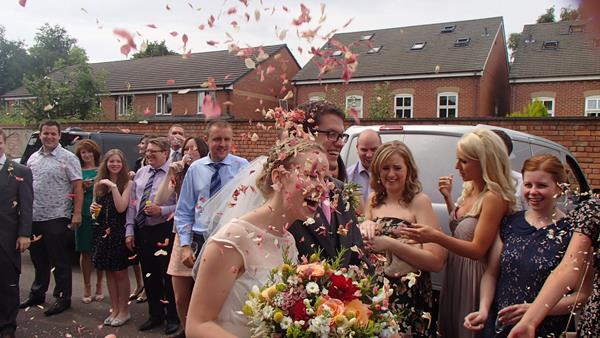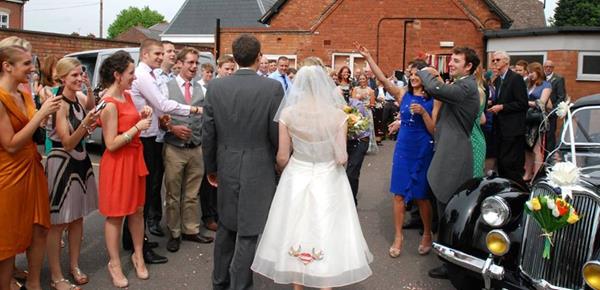 Congratulations Sarah and Stevie- Thanks so much for this amazing testimonial!!:_
Sarah writes
"Having a dress designed and made for me was the most wonderful luxury that I never would have imagined possible before I embarked on my wedding dress hunt.  I didn't have a huge budget and so I thought this would rule me out of working with a designer but visiting the Couture Company proved me quite wrong. After going to Jo's shop I was incredibly excited about the possibilities they had opened up for me in terms of dress shapes, colours, fabrics, embroidery, accessories…the list goes on! Jo and the team were incredibly helpful throughout the whole experience, listening my ideas and making suggestions of brilliant things that I never would have thought of.
I was extremely daunted by the prospect of searching for a wedding dress as I knew that traditional styles and fits weren't for me but once I had visited Jo I was relieved and delighted that the whole process became so enjoyable and inspiring. I knew I wanted to have some colour and fun in my dress whilst still looking elegant and more tradition bridal gowns just didn't offer this. I wouldn't have been able to find anything to even come close to my finished dress from anywhere else, the skill, passion and creativity of Jo and her team is clear in every stitch of my beautiful dress.
On our wedding day I loved everything about wearing my dress, it was just beautiful and I couldn't have been happier with it.  The unique, personal touch of the embroidery was beyond anything I could have imagined and even now it makes me happy whenever I think about it or see it in a photograph.  My husband and all the guests were amazed with the detail of the embroidery too having never seen something like it before, it was definitely a talking point!
Stevie loved my dress and said it was just perfectly 'me' which I agree with completely. He told me after the day that his brother, the Best Man was whispering a commentary to him as I was walking down the aisle and described me as looking vintage and very chic! Which I think is a great description especially coming from a man who knows near to nothing about dresses!
I can't recommend the experience of working with Jo and her team highly enough, if you are getting married any time soon I urge you to go and see them and find out what they could make possible for you.  6 months on, if I could get away with wearing my dress to go down the road and buy milk then I would, it is the loveliest thing I have ever had the pleasure to wear and I didn't want to take it off!
Thank you Jo and all at The Couture Company."