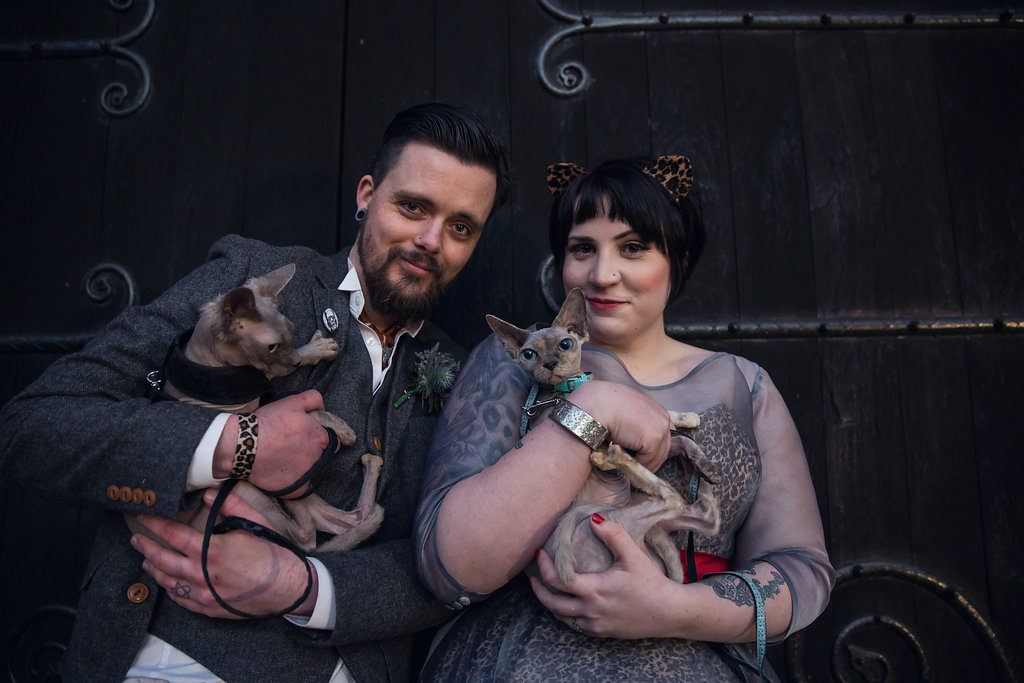 Well where do i start with this wedding ??? 🙂
Fran is just my ultimate bride, I was hooked on her wedding from the moment she got in touch!!! originally she had planned a Halloween wedding but gorgeous baby Nancy Stein's arrival had some influence on that getting put back a little 🙂 so fast forward to March this year, and Fran and her beau Lewis were married in castle, they took their 2 sphynx cats, their family and had an awesome day at Tutbury castle and its ruins. We love Fran, totally gorgeous girl that she is, she rocks her curves like I only wish I could, and I absolutely love her awesome photographs by Assassynation
an I cannot Thank you enough for this beautiful testimonial ( it made my eyes leak !) x
The Dress- Ok so Fran is obsessed with leopard pattern print, so when she told me this we had to have it in the dress, but we didnt want it "in your face" leopard, we wanted to give it a subtler look, so we over laid the corset and skirt with a gorgeous silk organza over dress in a really lush charcoal grey . Then because we had achieved such a magnificient corsetted  waistline   we had to show that off with a bright red colour pop belt, and Fran asked us to do a Heartogram in jet beads, which of course we did on a back drop of beaded leopard print!!! Of course we did !! I love how the organza covers the corset and skirt but shows them off at the same time, and I love the organza over her beautiful tattoos, just gorgeous !!!!
This wedding makes me very proud of our Team at The Couture Company , and proud of what a great team we make 🙂
Fran wrote these lovely words….
"I was planning my wedding but knew that I would eventually have to face the awful prospect of wedding dress shopping. I had been to traditional wedding dress shops with friends for their weddings, and absolutely dreaded walking into a shop full of long white dresses, diamante and disapproving glances at my above average size. My fiancé and I trawled through sites – each one pushing me further into despair until we thought of alternative wedding dresses. I saw a photo of a beautiful black gown from the Couture Co, which made such a vivid impression I knew I had to go there. I assumed they must be in America – a wedding dress shop this amazing couldn't be in this country – but it was and only a 25 minute drive from me! I couldn't believe my luck! I rang and made an appointment straight away. A few days later I was in the shop with my mum and sister and knew immediately that it was THE shop for me. There was no point in looking anywhere else!
I was really nervous – I'm not the most confident of people, bigger than most and have no idea what suits my body – or what I really wanted in a wedding dress. I have so many interests but no particular style. I love 50's fashion, but I'm also a bit gothy with some grunge thrown in. I usually wear film/band T shirts and shorts or jeans with Dr Martens, so the prospect of choosing a dress scared me to death.
Jo made me feel so comfortable straight away. She asked me what I was looking for and I think she knew I didn't really have a clue. She asked about my interests and passions, and about Lewis and his ideas for Groom suits. My only helpful idea at this point was that I wanted sleeves! I tried the black dress on that I saw online, but it wasn't really me. Jo didn't make me feel terrible – that it was somehow my fault that the dress wasn't right – something that terrified me from ordinary wedding shops. Jo suggested that I tried a corset (which I ADORED) and there was no going back. It was beautifully made and my waist looked tiny, which is always good. I remember walking around the shop in just a corset and underskirt and I would have happily walked down the aisle like that! My mum mentioned my love for Leopard print, which I never thought I could incorporate into my wedding dress…but when Jo brought out some material and I instantly fell in love.
Jo drew a sketch of the overall dress and it was amazing! We were all so excited– everything came together so perfectly. Jo is so talented – she had amazing ideas and she never once made me feel like I was too fat or ridiculous to wear this fantastic dress. She seemed to understand me, putting my personality into the dress and checking that I was happy with her interpretation. I didn't feel pressured or railroaded into something that would make me feel uncomfortable – Jo has such a lovely way of making you seem the most interesting person in the room. I actually said to my mum on the way home that I felt that Jo had dived into my head and pulled out my perfect wedding dress.
I was so excited for every fitting, and Jo and her team made me feel so comfortable. They are also really adjustable and compassionate. I was measured for my dress, but a few months later I emailed Jo to say we were expecting a baby! My wedding date changed and the whole wedding dress ended up being nearly two years in the making. I stayed in contact with Jo, who was really understanding when it came to extended payments and fittings and the change of wedding date. I doubt this would have happened anywhere else!
I'm so glad I found Jo and the lovely Couture Co. I felt so amazing and gorgeous on my wedding day, and Lewis couldn't stop looking me. We had kept the design a total secret, so the reaction when I walked into the castle for my wedding was incredible. I had gone from uncomfortable, worried to death bride to confident 50's leopard skin vamp (complete with cat ears) in one go. I had never felt so good about myself – and Jo had made it all happen. I honestly couldn't fault a single thing – my dress was perfect for a formal castle wedding to jumping the broomstick at our handfasting ceremony – I just wish that Jo could design and make all my clothes! I cant thanks Jo and her team enough!"