What a sweetheart Lorna was!!! we loved working with her on her gown…..
Lorna chose a version of our Dorothy Dress, in Polka Dot silk organza abdadded her own flash of red to the belt and petticoat trim, it showed off her gorgeous figure perfectly!!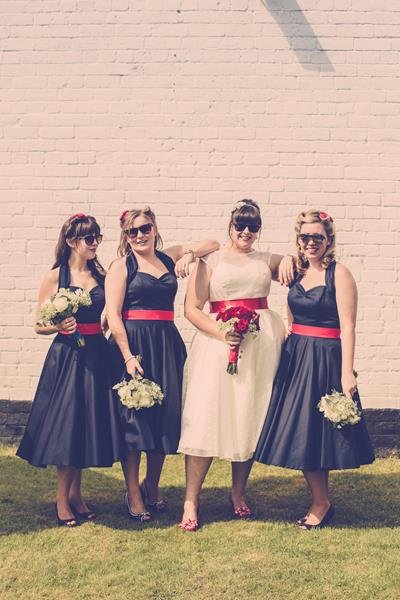 What can I say about Jo and the team?
A breath of fresh air?
I knew I wanted a short dress and ideally something a bit 50's…I trawled all the local (and not so local) traditional bridal stores in search of 'the one'.
But what I found was pushy staff, taking one look at my size and directing me to the 'loo roll' holder dresses. I must have heard it at every store, "you don't want a short dress, full length will be more slimming".
Not that many dress shops even had a short dress in stock…
I was miffed off; I knew what I wanted…this shouldn't be so hard!After lots of googling I found the Couture Company website…yay!After looking over the site with large excited eyes, I emailed Jo for an appointment.
Me and my Bridesmaid headed off in the snow last January 2013 to meet Jo and the Team, and it was totally worth it…So many beautifully quirky dresses for all sizes, and there, amongst the satin hung 'the one', well as close as I had got so far. A polka dot 50's frock…love at first sight!
I visited again with Mum in tow, and Jo sketched out the tweaks I was after…I still have the drawing…there, on that little sketch was my wedding dress…bespoke for me!
What more could a girl ask for??
Every time I visited Jo and the team I felt welcomed and nothing was too much bother and it was great to see my dress evolve from the doodle, to the mock up – to the final version…
And the result, was my perfect dress (and a lush corset to match) – I felt amazing and best of all, I felt like me.
So many of my friends have spent a small fortune on their dresses and an array of alternations, which still led to an ill-fitting dress. With Jo and the team, I got my dream dress, bespoke to me, which fitted like a glove for the same price as an off the peg.
I felt amazing on my wedding day and I had so many compliments on my frock and how it was just 'so me'.
I couldn't recommend Jo and the girls more – thank you!
Lorna
xx
Photos happily supplied by Shepherd Photography.
Photos happily supplied and are copyright of Shepherd Photography.