Posts from the 'testimonials' Category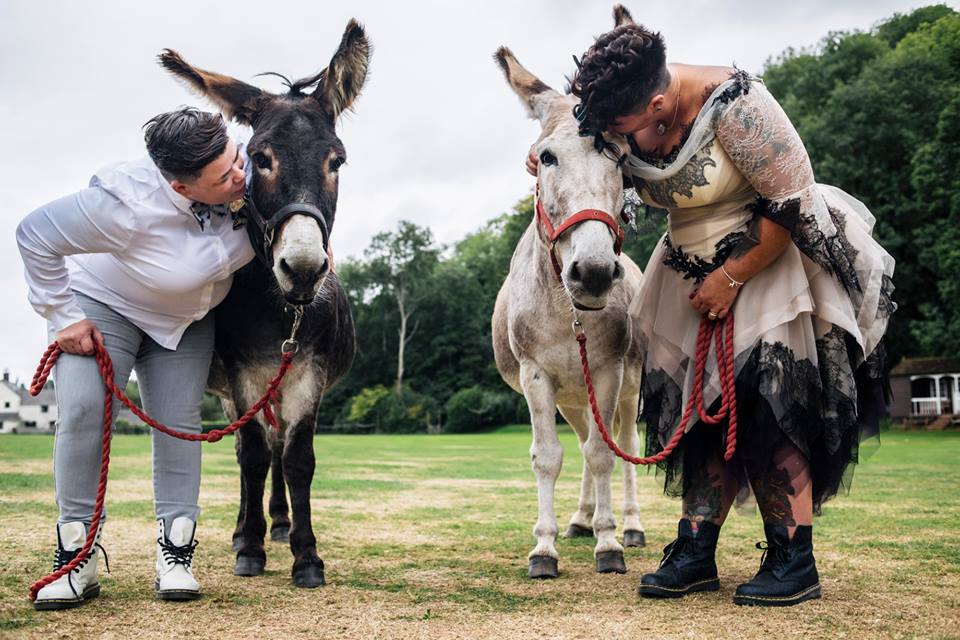 It is my absolutely pleasure to bring you this wedding of pure cuteness and Jo…this is the one that Cheryl and Sasha got married at The Donkey Sanctuary, and Sasha had one of the gorgeous donkeys as her bridesmaid!!
Sasha found us  via The Eclectic wedding Extravaganza , and headed over from sunny Wales to have her dress designed and made by our team!!
We have THE best clients
We asked Sasha to tell us about their wedding so here goes
" I had a donkey bridesmaid at the donkey sanctuary! One of our dogs was also our ringbearer and at our reception we had some donkey guests hanging out with everyone getting cuddles. We also had a hand fasting ceremony and jumped the broom at our reception which was really meaningful and a chance to involve our friends and families.
We decorated our reception with plants and flowers we had collected the day before from the local area with family, and Cheryl's dad made an amazing board with loads of photographs of us as kids and growing up. We also had a stepladder next to our top table with photographs of my mum, dad, nan and grandad. They've all passed on but it was important for them to have a presence on our big day.
Our Wedding was also environmentally friendly. This was really important for both of us, all our cutlery and tableware was made from bamboo, and at the end of the day we only had two small bags of non recyclable waste which I think is amazing as we had over 100 guests!
Top tip
Get the right photographer! I had been told this beforehand and it's absolutely true. The day goes so fast, it's been great being able to go over the pictures and be reminded of it all. Our photographer was also great at taking candid shots of our guests which was a brilliant addition. We got to see everyone having fun and saw different sides to the day which was lovely."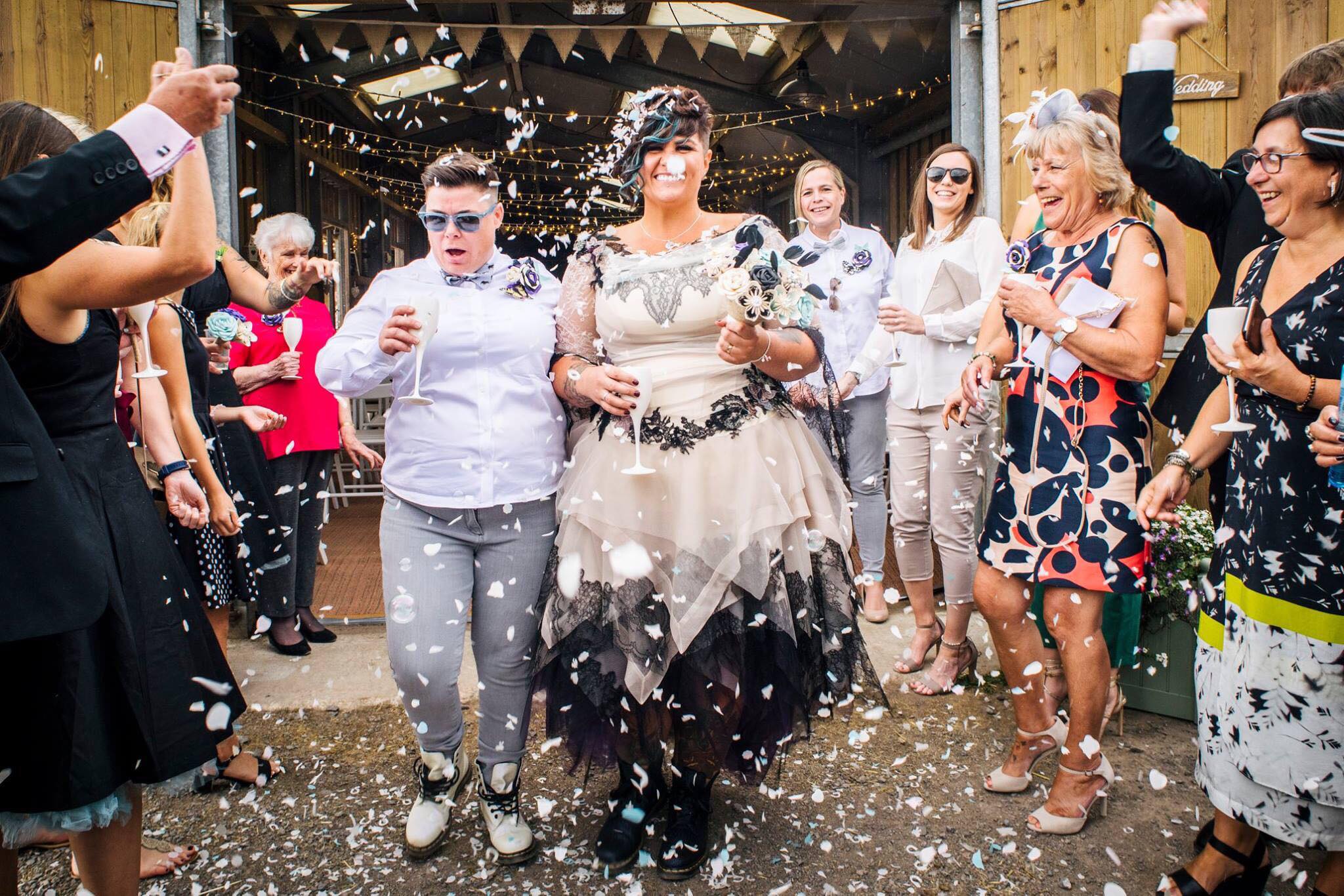 Sasha also had some kind word to say about us "My dress was perfect! I am not a "dress person" but jo was brilliant and helped me figure out exactly what I wanted. The detail on my dress was perfect and I just couldn't imagine wearing anything else. Thank you Jo and your team for being so approachable, knowledgeable and skilled. Loved the whole experience 
:)" 
Sasha's gown was based on our Lolita design, but has unique twists and colours that were Sasha's favourites. It was made from silk organzas, tuile and french lace and was adorned an embellished with embroidered leaves and appliqued french corded lace …Such a gorgeously gothic combo, and how cool does it look with sparkly doc martins??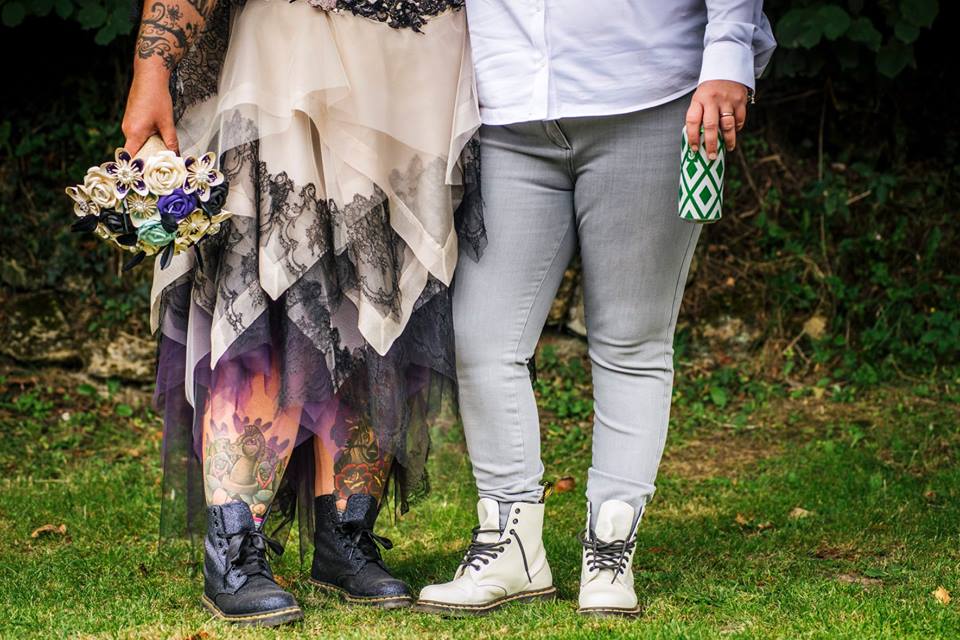 So Girls if you are looking for a badass bespoke dress then we could well be the company for you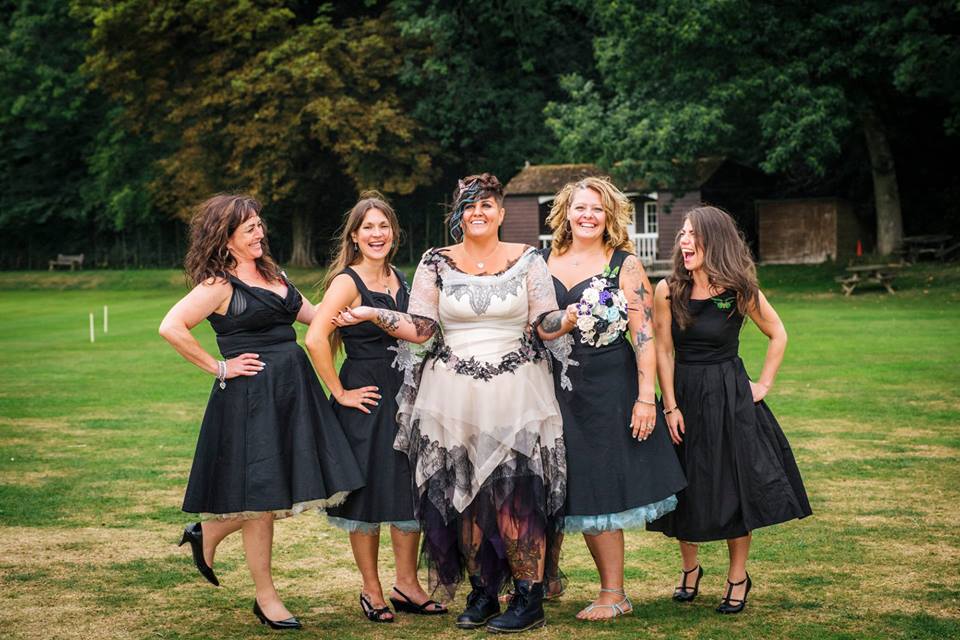 All these wonderful photos were taken and are copyright of Mandy Thomas Photography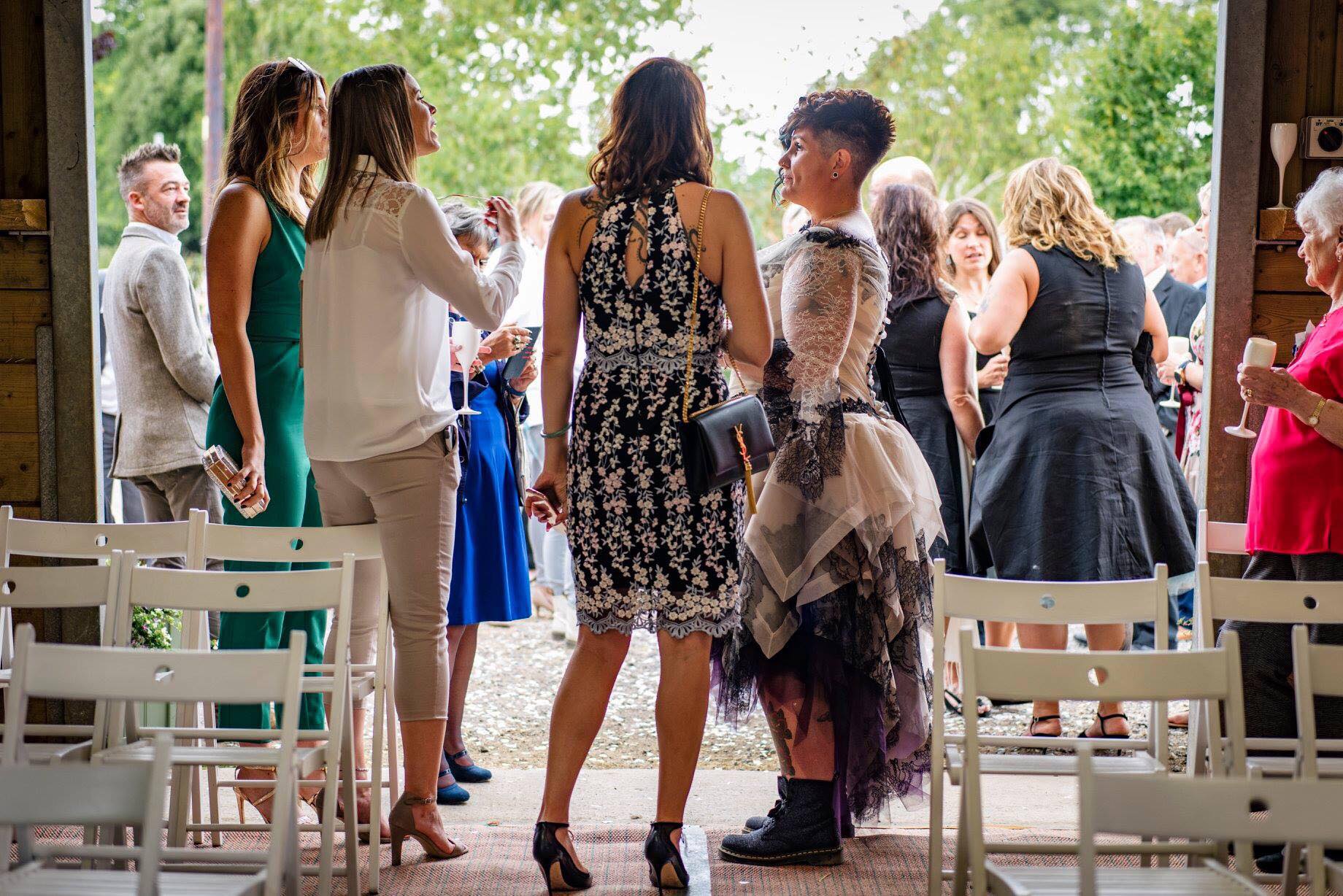 21 May 2019
We have the best job in the world, Have I told you that before?? a few times maybe…we have the most wonderful, awesome adventurous clients, and Nicola was no exception…..she planned her Vegas elopement with total badassness (is that a word???)
We were beyond excited to see her wedding photos and just love Paul at Forged in The North's shooting style
I just couldn't choose just a couple of my favourites so I have pretty much shown ALL the photos in this post 🙂 Enjoy!!
We were then doubly delighted to receive such an awesome testimonial from Nicola about finding us and her dream dress.. Thanks so much to Nicola
"Once we'd decided on having a Vegas wedding, I knew I had to have something special for my dress. I'm a huge fan of glitter and thought a glitzy old style Vegas glam dress would be perfect. I had a look online at dress styles and through Rock n Roll Bride magazine and found a general idea of what I wanted. There were some shops on ebay and other websites that had similar dresses but the glitter looked tacky.
Continued further down….
It was only when I was flicking through an issue of Rock n Roll Bride that I came across The Couture Company and as soon as I looked at the pictures, I knew it was the place to make my dress, and it wasn't far for me to travel which was a bonus. My only worry was that there wouldn't be enough time to get it done.
There was no need for me to worry. I went to my first appointment, pictures in hand, and explained the dress. Jo was fantastic at telling me what would suit my figure and how best to do it all…and it could be completed before we flew to Vegas!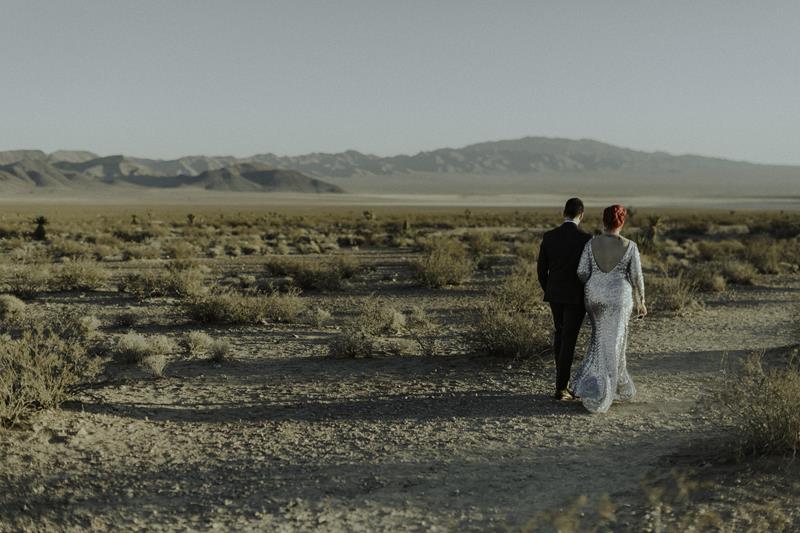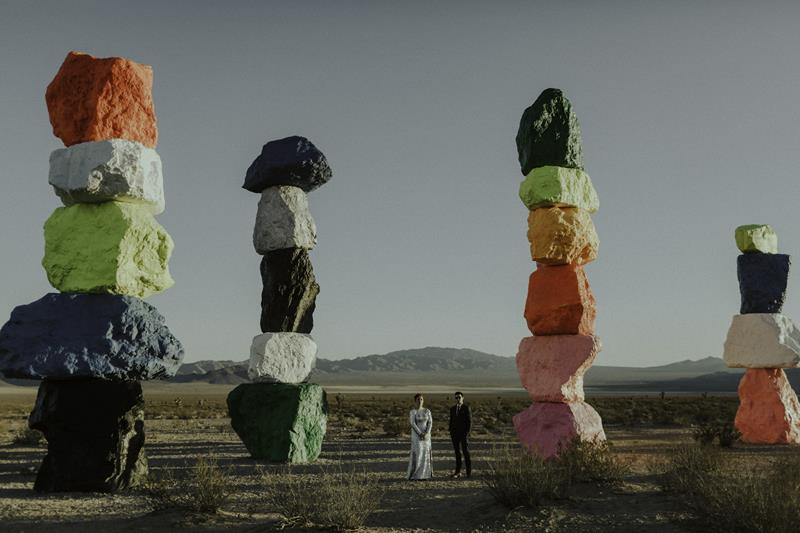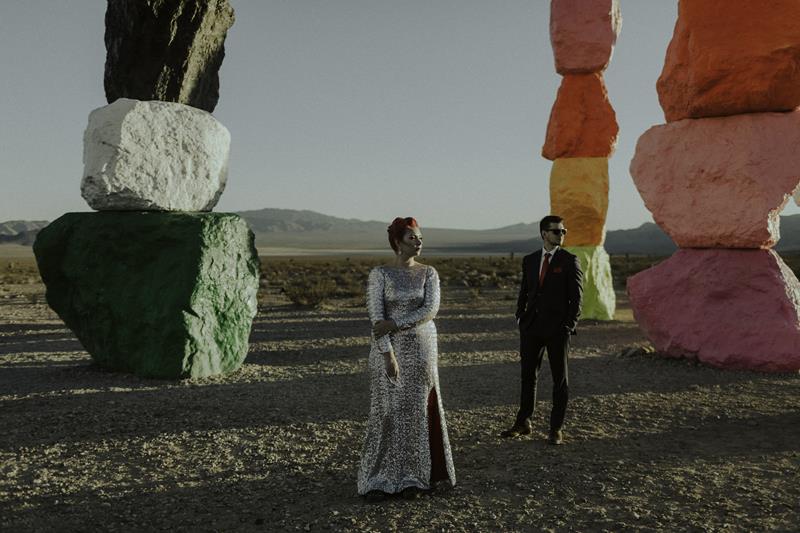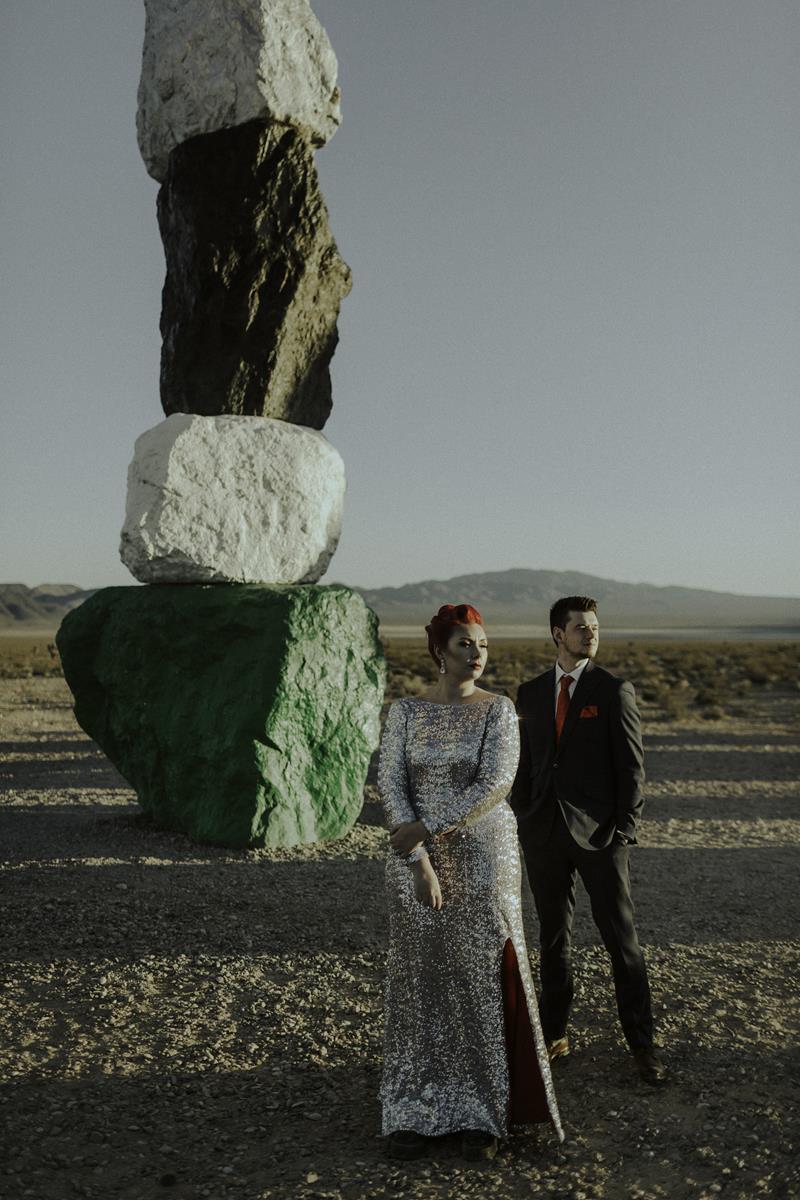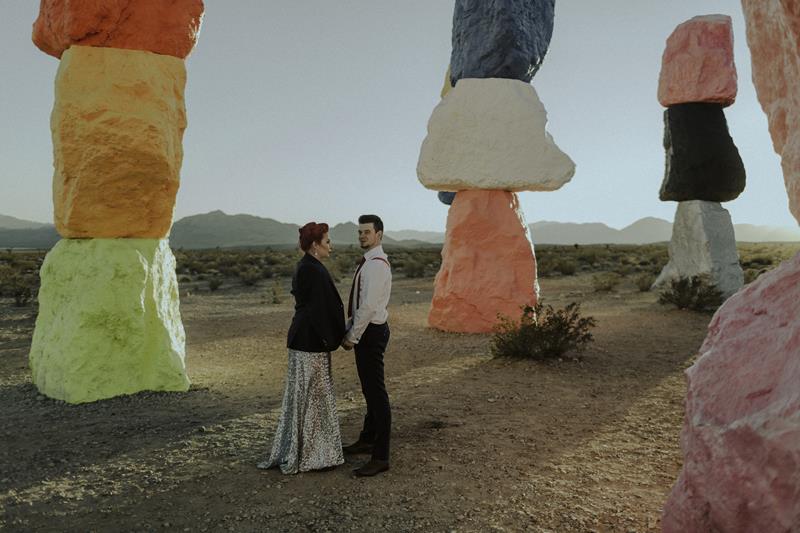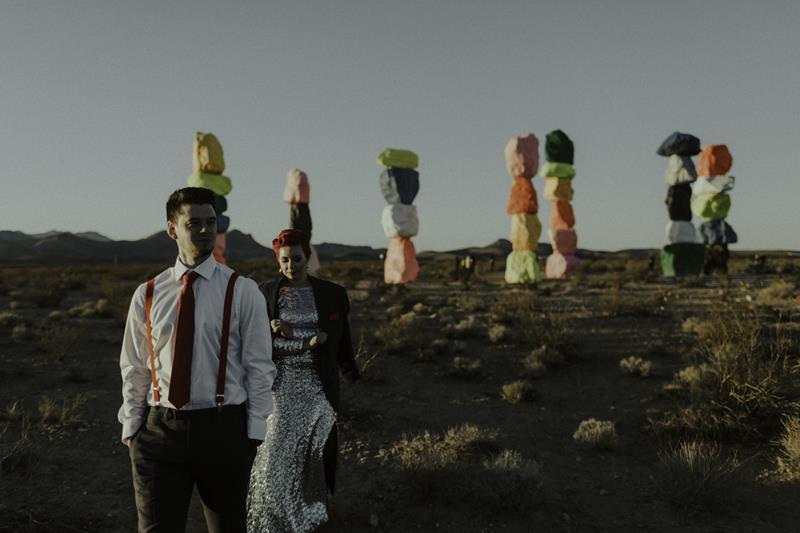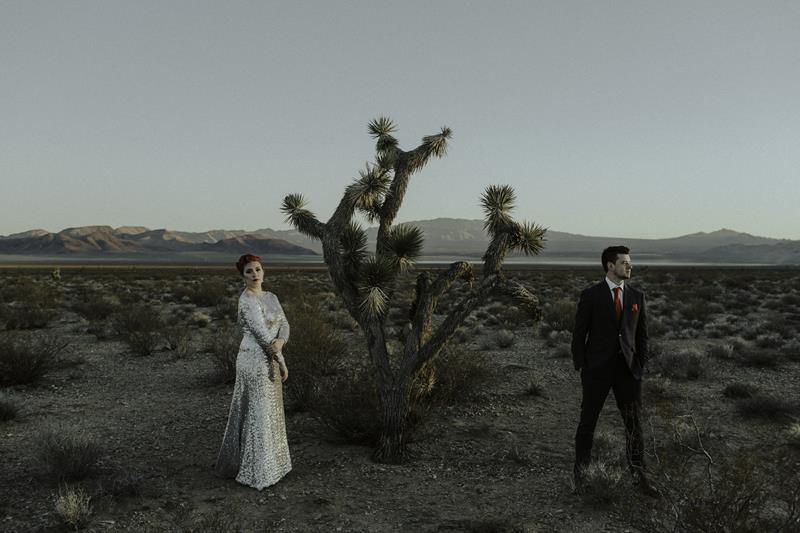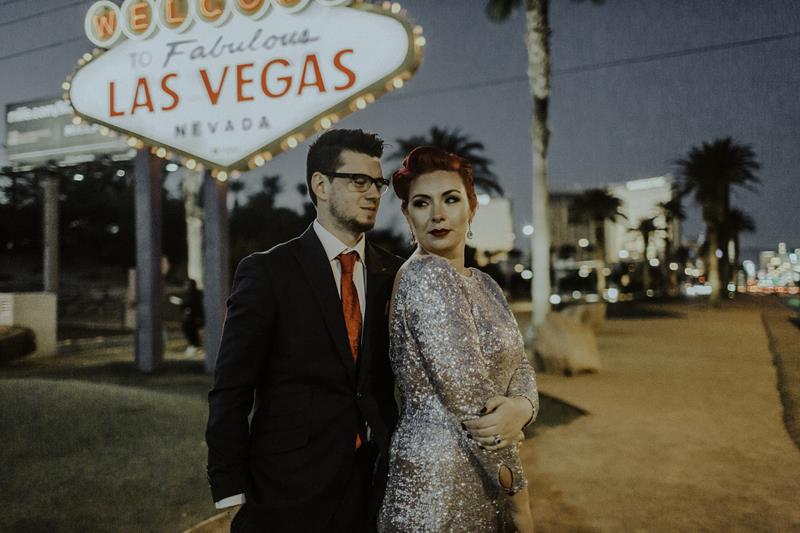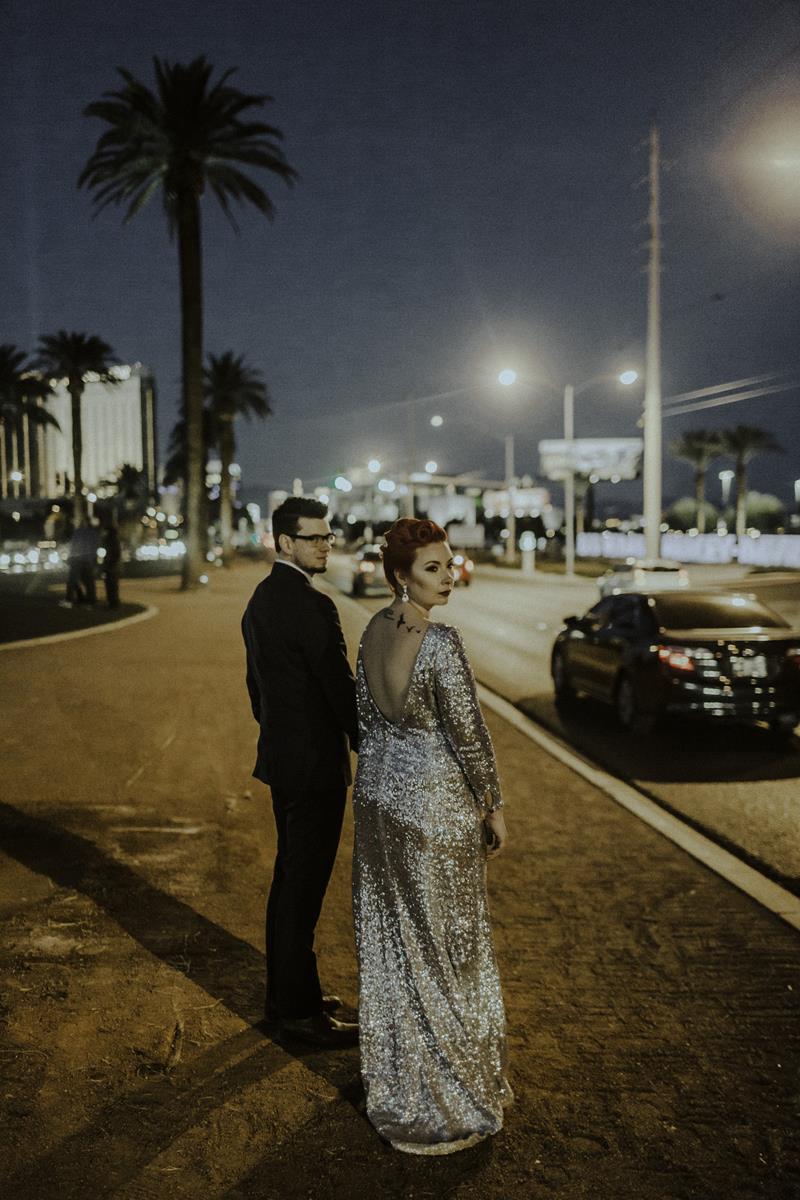 I was so excited for each appointment, and when I saw the fabric for it, it was perfect and such amazing quality. I was expecting to leave a trail of glitter behind me and for the dress to be bare at the end of the day but I didn't lose a single piece. I loved going to the appointments and standing in front of the huge mirror and seeing it all come together.
On the day, I had so many compliments from strangers about the dress. How glamorous I looked, how it was a film star dress and I truly felt fantastic the entire day.
After all the photos were taken, we walked down the strip in our outfits and bought a 30 inch pizza and carried it all the way back to the hotel. People were cheering and taking pictures of us along the way. Was absolutely our dream wedding day and the dress was definitely the star. Thank you so much Jo for all your hard work!" Nicola D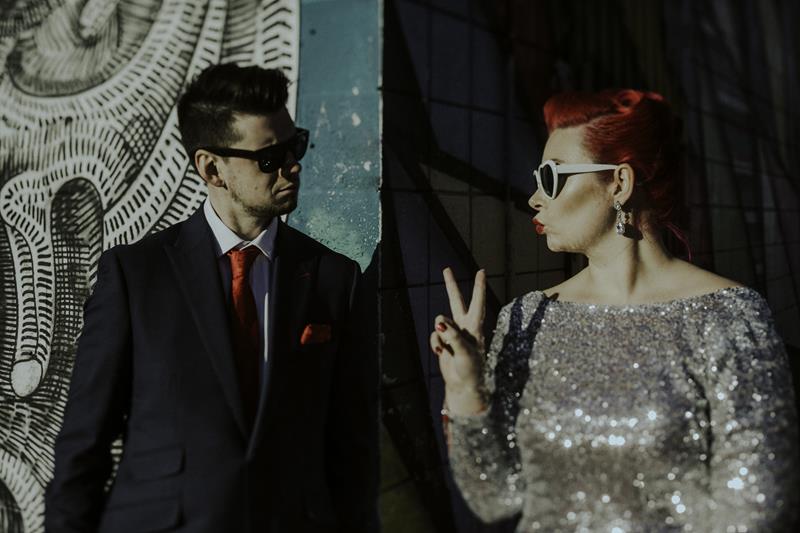 If you are heading stateside to get married  be sure to check out Forged in the North ….
12 Aug 2017
Is this dress just the cutest most fun dress we have ever made?? I really think it is…I have been waiting to see the photos for a while and boy was it worth the wait. Krissy was just the loveliest bride, right up our street….she absolutely loved what we do and was so excited at every meeting and fitting…. We created  Krissy's dress in silk organza and appliqued handpainted lace flowers around the waistline and skirt, and finished it off with the brightest rainbow petticoat and buttons 🙂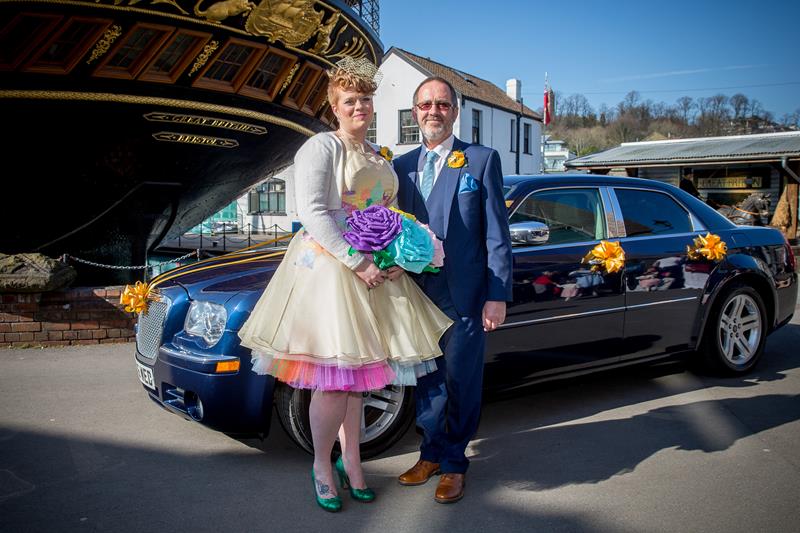 We are so lucky to have so many amazing and unique brides!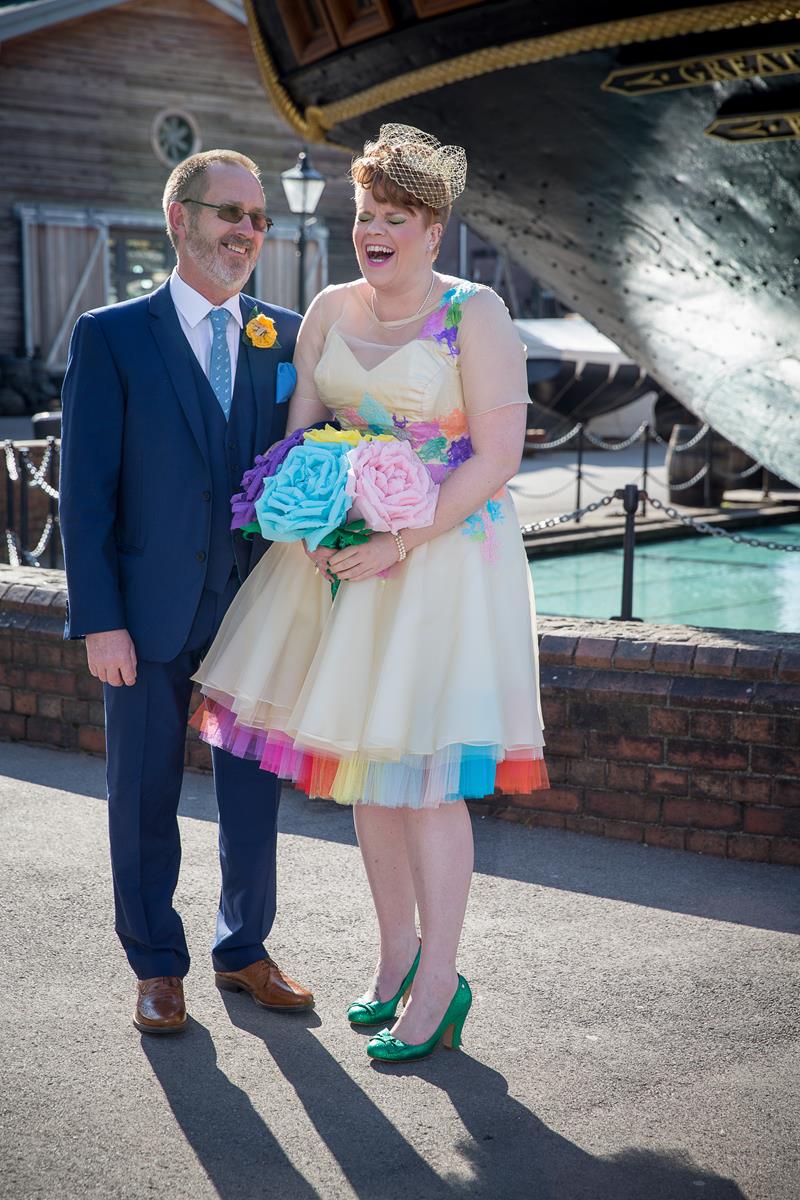 Thanks so so much for this lovely testimonial Krissy  "Thank you so much for the wonderful wedding dress you made me. I had a lot of anxiety around being 'a bride on display', and when we were planning the wedding the worst bit was thinking about the dress, as someone with poor self confidence and body image i was terrified, and felt i would never find anything i would be comfortable with. Thank glob we found you. The minute i walked in i was stunned by the dresses on display and sally made me feel so comfortable during the first fitting. Nothing was too much trouble, it felt like a true collaboration. Most importantly I felt comfortable, beautiful and super excited! After that day i had no more worries about how i would look on our big day. I was so excited about each fitting and knew i would always be met with a warm welcome. When we came to collect the dress and i tried it on i couldn't believe it, i know it would be fabulous but you exceeded my expectations. You took my dreams and made them a reality. On our wedding day i felt beautiful and confident, and I know that Matt loved the dress too. I got so many compliments and even now over a year later people still talk about the amazing wedding dress I had. I haven't been able to put it away and still have it hanging up so I can look at it! I would highly recommend Jo and her team of wonderful ladies for anyone, especially if you want something wonderful! Worth every penny. Thanks so much! "
Photos by Nick Williams Photography
26 Jul 2017