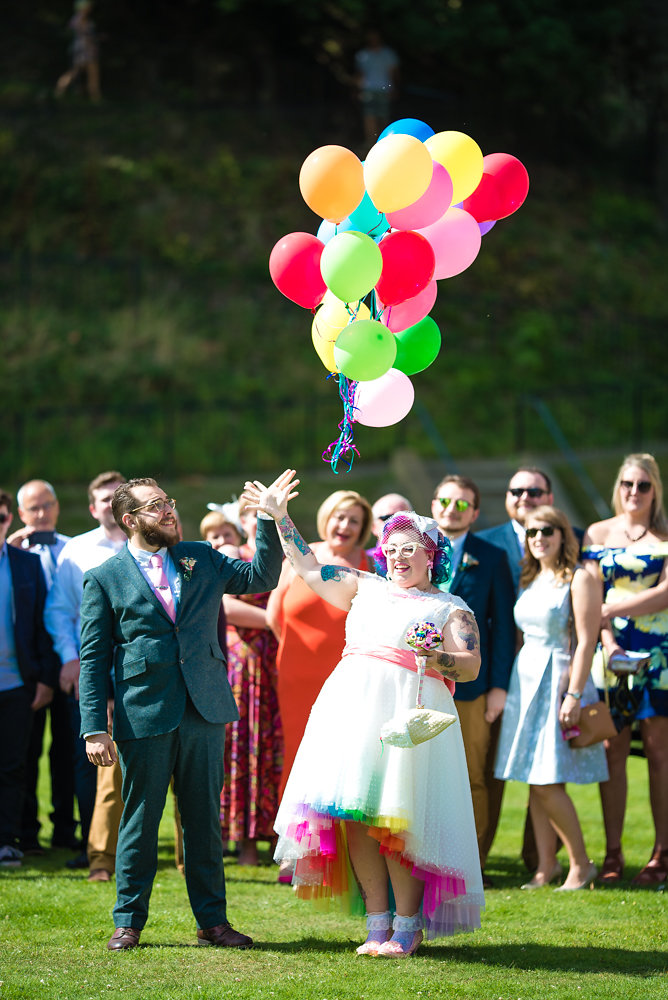 Ashley and Ben were married last year and boy did they have a colourful wedding!!
We LOVE these photos, so much fun, so happy!!!
Thanks so much to Ashely for this amazing and honest testimonial
" So my original budget for a dress was around £500 I never cared (or thought so) much about what dress I was going to wear I just wanted a 50s cut style with a rainbow petticoat so was just going to get a cheap one off of eBay or rack from a conventional wedding dress shop. The plan was always to spend more on bens suit because he cared more. But when I found you guys on Instagram and visited your workshop/store I instantly fell in love ? the idea of being able to have a dress completely tailored to me was like a dream! I live in handmade dresses so it only seemed natural. As a larger lady I knew what shape would suit me and I knew I wanted rainbow somewhere on the dress but also as much as a pastel bright pink outrageous dress would of been awesome I wanted to look as much like a bride as I could because you only do it once (if your lucky) ?
You guys made every appointment comfortable and welcoming especially as I was on my own with 3/4 of them. You listened to what I wanted and designed it down to a tea. I never felt like my ideas where not right and forced into a look I didn't want. You helped in so many ways and create me a dress I couldn't of dreamt of.
My husband semi knew about my dress and the style, colour and design as he came to one fitting with me (I didn't let him see me in it though) I really care about his opinions because he gives good ideas as he's a bit of a creative type.
When he saw me in my dress walking down the isle on the big day he saids I look happy with the way that I looked and that was the most important thing to him and beyond anything else I looked appropriate for the day we were planning to have.
Of course he saids I looked beautiful and what not but let's be realistic he would say that. He just loved how relaxed and comfortable I was wearing it and that makes him happy too.
Thanks a bunch!
Ashley oxo"
If you want to follow Ashley on Instagram for her Kitsch-tastically cute
antics then go here >>> My Little Kitsch
These colourful awesome Photos are by the fab  Jeanie Jean
weddings http://jeaniejean.com/portfolio/weddings/