BOOOM!!!
Not gonna lie, this collab is a massive thing for me and the team at The Couture Company, collaborating with Kat from Rock n Roll Bride really is a dream come true!!!
We are so so super excited and proud to bring this
beautiful range of Bad Ass jackets and accessories to you.
Made in any size from 6 to 24,
Made in leather and Faux leather,
Made in England,
Made with Love and
Made for YOU
Having followed/stalked /fan girled Kat for nearly 10 years, I am sure  you can imagine my glee when Kat messaged (after seeing some embroidered jackets we did) saying "we really should work on a Rock N Roll bride embroidered jacket" and "specifically with brides in mind, but for an investment garment that they could love, cherish and wear long after the wedding!"
OH YES PLEASE!!!
Here we have the results of many, many hours of hard work and crazy late night messages…
 AND… not only that but we have some belts and brooches for you to accessorise your Rock n Roll wedding whichever way you choose \m/
 
OUR HISTORY TOGETHER
Back in 2009  I discovered an alternative universe in the wedding world!!!  I found Rock n Roll Bride 🙂
Lucky me!!!
I had always been a bit of a "fish out of water " in wedding land. I set up my wedding business in 1992 after graduating from my fashion degree and fell into weddings if I am honest. I never dreamt as a little girl " I wanna design wedding dresses for princesses"  but circumstances after my dad passed away led me along a path to wedding land… So like I say I was always the outsider, turning up at my mum's wedding shop in doc martins and a cut off t-shirt for my mum to tell me off saying "that's not how a designer should dress" – bless her, quite a traditionalist she was at heart… I always tried to design crazier more colourful  wedding dresses but ended up watering them down and succumbing to outside pressure to be "more commercial"… I wasn't really feeling it…
So fast forward to 2009 and my discovery of a wedding blog by a cute pink haired weirdo called Kat Williams. I started emailing Kat in a stalker/fan girl type fashion, she kindly ran a feature on my business and we got some lovely comments and interest as a result. I followed her blog avidly each day to get my fix of truly amazing weddings and slowly we began to see more and more of our bride's weddings featured on Kat's blog, which was the absolute cherry on the cake for us 🙂

Photo: Steve Gerrard
One day I had the  idea to do a tattooed wedding dress, putting old school retro style Sailor Jerry tattoos on a wedding dress which could be bespoke to the individual bride and her wedding. I was so inspired by Kat's blog and also the amazing Amy Winehouse, so I messaged Kat to ask " have you ever seen an actual tattooed wedding dress?". " Errr no not yet " she replied… and with that I got my ideas together and worked with my embroidery designer Sally on a whole new world of bespoke wedding dresses and we designed our first Inkspiration gown.
My attitude was that I was not really bothered if anybody else liked it, I loved it and I wanted to see what it would look like, so it was a lot of fun creating it. Thankfully Kat featured the photoshoot we did for it and the rest is history! The INKspiration frock has had many outings in various tattooed incarnations at weddings that have been on Rock n Roll Bride… not only is it one of our favourite design's but it's also one of our best selling dresses of all time, so the lesson here is " Follow your gut instincts"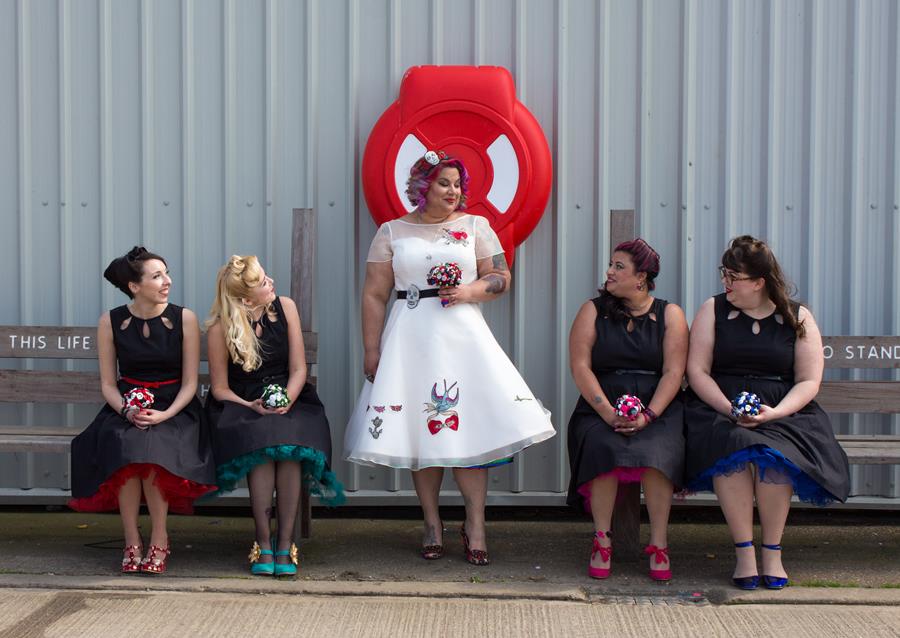 I am most blessed that through Rock n Roll Bride I found my very good friend, amazing super human and now my business partner in the Eclectic Wedding Extravaganza, Sassy from Assassynation… the gift that keeps on giving eh????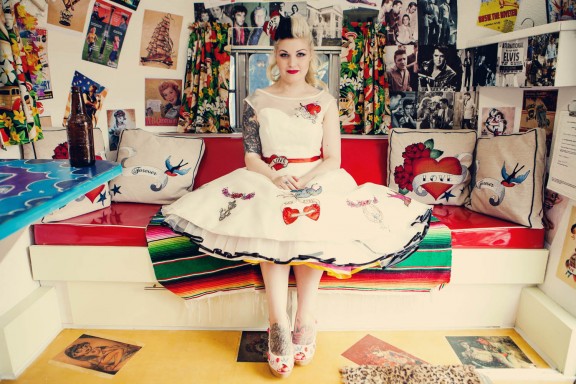 I have met many many wonderful talented people in our weird wedding world and I am very happy to have found a place where people want and love the designs that spill from my brain.
So here we are nearly 10 years later, following up on an epic adventure culminating in The Rock n Roll Bride X The Couture Company collection 🙂
Read all the details and how to order here on Rock n Roll Bride !!! EEEEEK! Enjoy!!!
Thanks to Lisa Jane Photography for these wonderful photos
and Camera Hannah for our awesome film
and Sarah Russell for our Hair and Make up…so good 🙂