Wow!!! Rachel wrote us an amazing story and testimonial,I'm speechless, I have no word's I will let her tell you her story 🙂 Thanks Rachel, you were  dream client xxxxx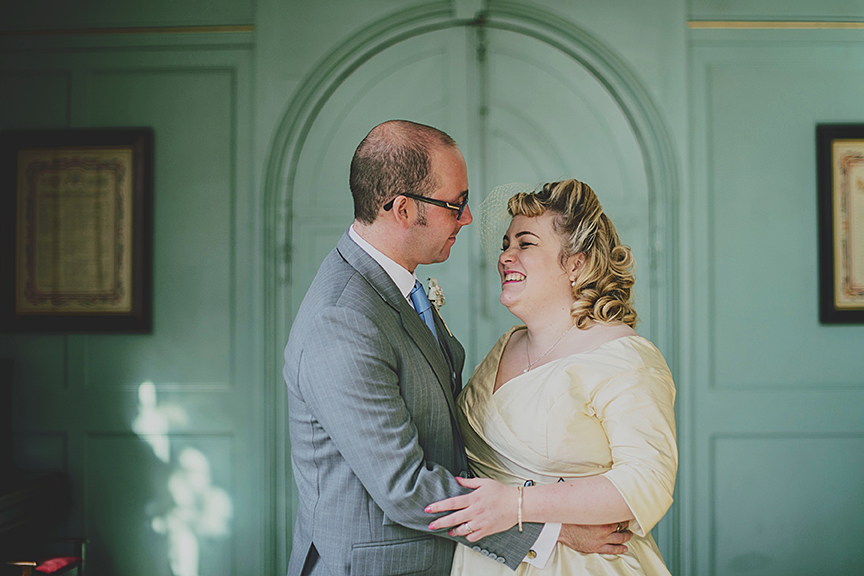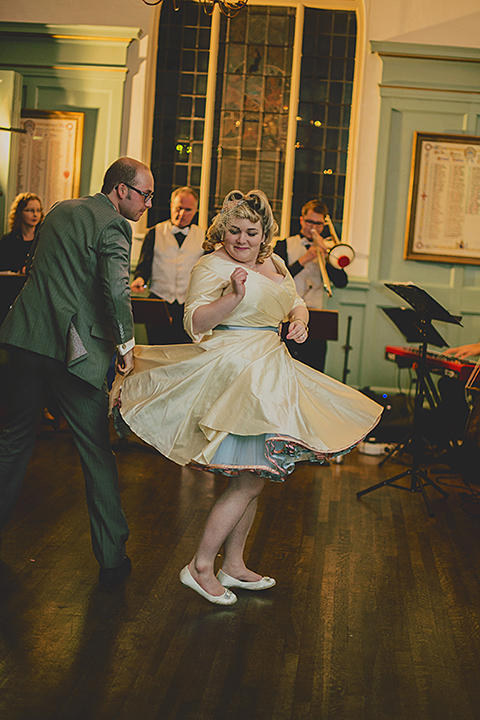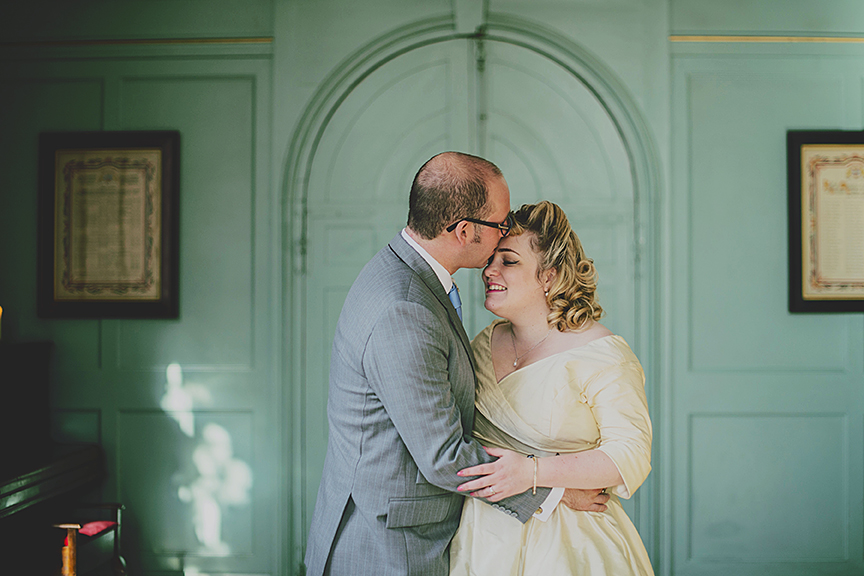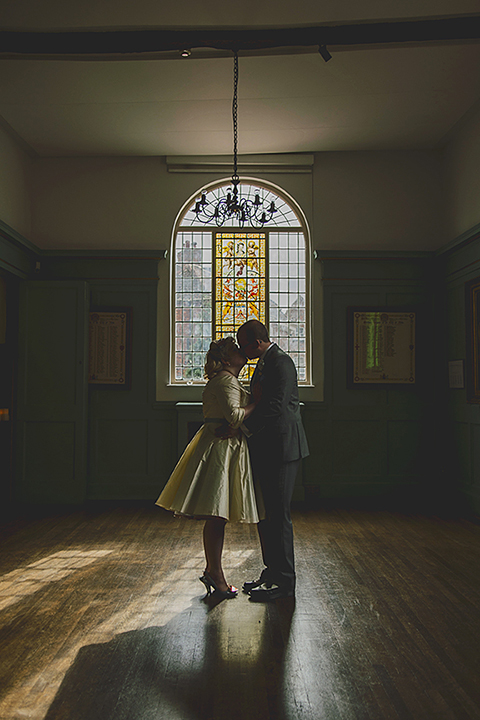 Rachel writes "In February I left my husband-to-be, Kieran, in a snug coffee shop and popped around the corner to visit The Couture Company.  Less than an hour later I came back to find him, flushed with success, a receipt for my order in my hand. Kieran blinked, surprised. "That didn't take long," he said. It's true; that initial meeting with Jo had gone incredibly smoothly. But that reflected both my general approach to wedding planning, and Jo's professionalism and imagination.
The idea of wedding dress shopping was something I had always found challenging. I love clothes and am very feminine in my fashion tastes, so you would think wedding dress shopping would be right up my street! But I had many friends who had told me how difficult, even humilating, dress shopping could be. As someone who is short, round, and very busty, I hated the idea of being clamped into an off-the-peg sample dress four sizes too small. I looked at dresses aimed at curvier brides and saw that most of them were ugly, and seemed to be about hiding your body, not celebrating it. I knew any dress I bought in a bridal store would have to be massively modified to fit me. So instead of dealing with all that, I started thinking about having a dress made-to-measure.
I did a lot of research online, and The Couture Company was a place I felt very excited about just from its website. There were fun, flirty dresses, darkly romantic dresses, coolly elegant dresses… And they were modelled by women of different sizes. I decided I wanted to see the dresses in person, and so in November we went to the first Eclectic Wedding Extravaganza. There I got to see Couture Company dresses in action, and they were as beautiful as I'd hoped! And as a bonus, I won 20% off a commission as part of a EWE-related competition. That made up my mind.
I spent the next couple of months happily honing my Pinterest boards until I had a pretty good idea in my head of what I wanted. I knew I wanted a 50s style dress with sleeves, a full skirt and petticoats, and I wanted soft vintage shades. I took my trust iPad along to meet Jo, and she suggested I try on the Steph dress. I loved the way it swished, and the shape of it was very flattering. From there we discussed sleeve length, petticoats (lots please!) and colours. I knew I didn't want a white dress, but I wanted something a little bridal. Jo brought out some lovely cream dupion silk and I was sold by its warmth and texture. I chose coloured silk for my belt and to trim my petticoats. And then Jo had the great idea of coloured buttons running down the back of my dress – just the kind of cute detail I like! It was a very smooth, simple process, because I already had a good idea of what I wanted, and Jo was very easily able to translate that into a design. I also ordered a corset, to give me a good silhouette and so I wouldn't have to worry about bra straps peeking out!
Over the next few months, things continued to go very smoothly. I watched The Couture Company's facebook page, and one day I saw a dress with a flash of brightly-coloured petticoats underneath it. "That's what I want," I emailed Jo, and she was very happy to tweak my order to make me pale blue petticoats. I loved going to fittings; I could see my dress slowly unfolding. It's a leap of faith to order a dress from scratch, but having seen so many of Jo's designs in person and online, I was very confident in The Couture Company's ability to deliver. I liked knowing I was supporting British industry, not buying a dress made in a factory in the Far East where workers may be paid a pittance.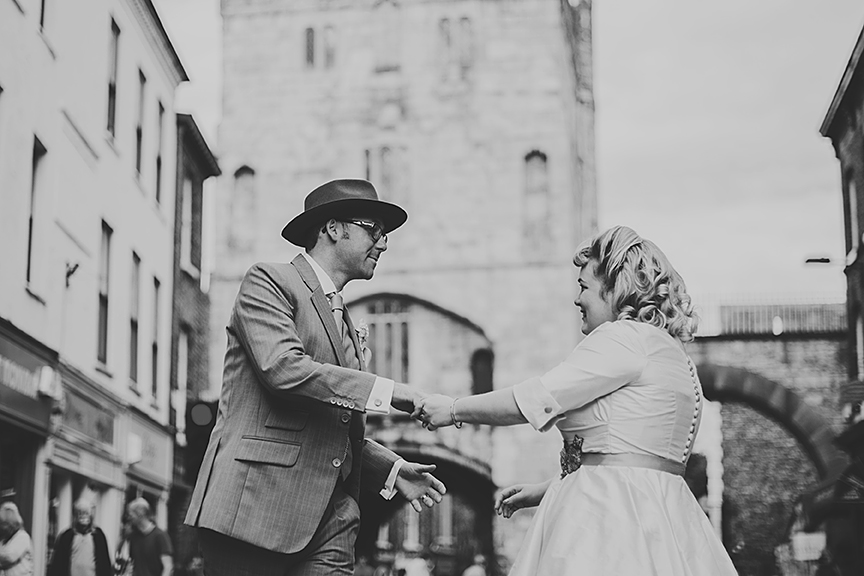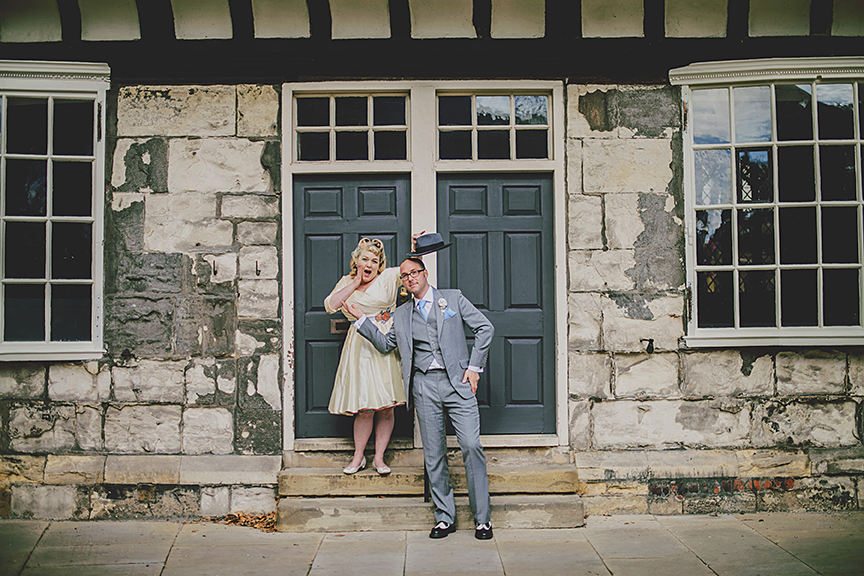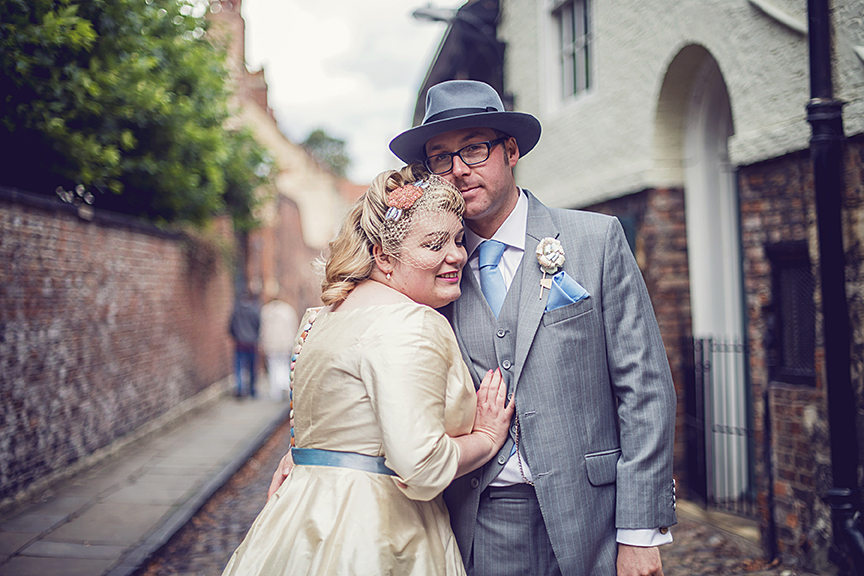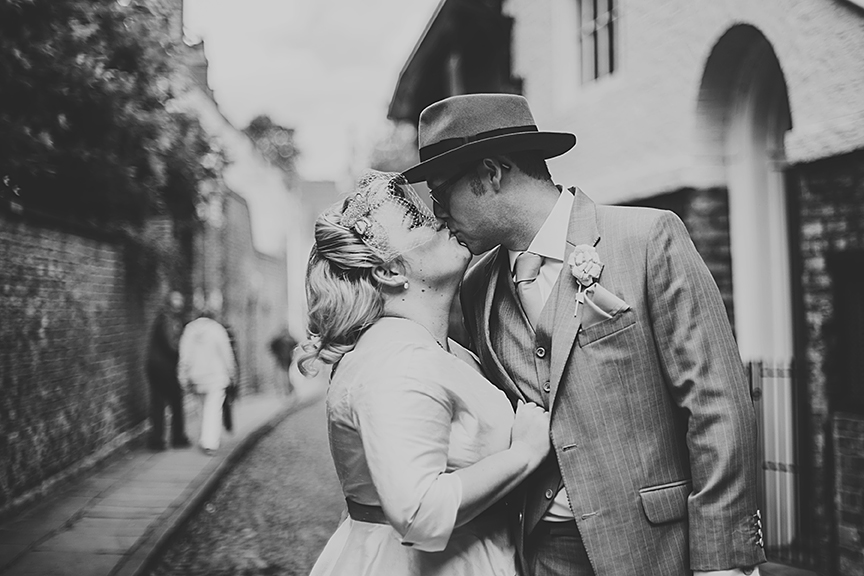 When it came to my final fitting, there were no tears. I've never cried because I've looked at myself, and I didn't feel the need to cry this time, either! I've heard of brides saying they didn't recognise themselves when they tried on their dresses. But I looked in the mirror and saw me. Me in a wonderful icecream-toned dress with petticoats that swirled in just the way I imagined. And I was very happy, because I had a dress that was about me, not about how anyone else thought I should look.
Our wedding day was wonderful, and my dress was a big part of that. It may have taken three bridesmaids half-an-hour to lace up my corset, when Jo had done it in five minutes by herself, but we got there in the end!  Two hours later I was walking down the aisle, and Kieran's face lit up. As I reached him at the altar he said I looked beautiful, and I believed him.
Now my dress is zipped up in a bag in our spare room. People still talk about how much they loved my dress. I hope I'll wear it again some day. But whatever I do with it now, I'm very grateful to Jo and the rest of her team for making me a dress that reflected my tastes and values. That's a wonderful sort of gift. "
These glorious photos are shared  with Permission and copyright of Claire Morris Photography
rachels Hair and makeup was done by the wonderfully talented  girls at The Vintage Salon