This is Gemma's story of how she found her dress- she cried, they cried we all cried 🙂 we LOVE our brides!!
Huge congratulations to Gemma and Olly  xxx Thanks so much for this awesome testimonial xx
Gemma writes…….
"The Dress
I first met my groom to be in Sutton Coldfield in our local pub five years ago. He proposed to me on my 30th birthday as I blew out the candles on my cake, in front of all my family and closest friends – it took nerves of steel!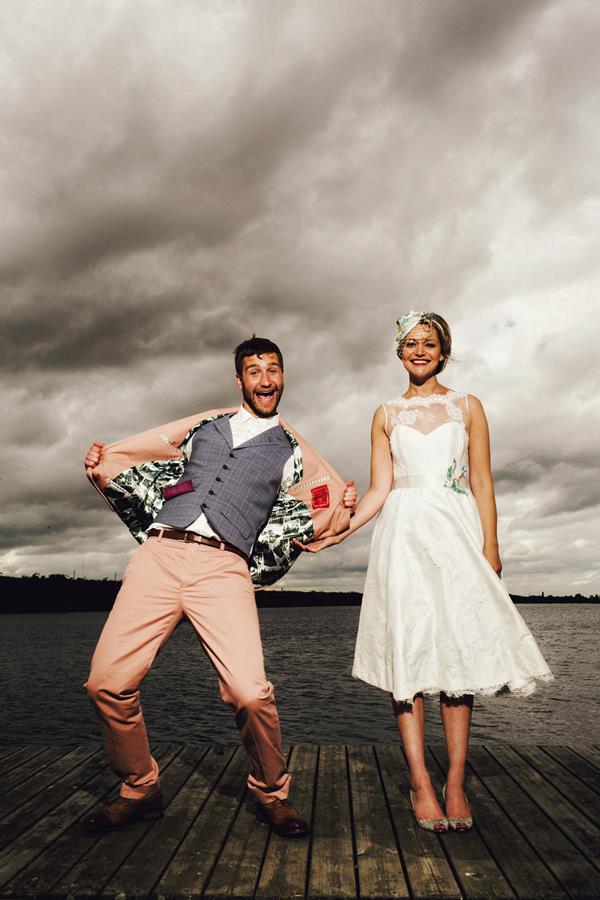 From the very beginning of planning our wedding we knew we wanted a traditional church service and we were married at Holy Trinity Church in Sutton Coldfield. This was followed by a far from traditional festival themed reception with guests camping overnight – if they were brave enough!
When thinking about my dream wedding dress, I knew what it wouldn't be before I knew what it would….. Not long, no frills and most definitely no bling. In reality I found my dress on the very first day I set out to look for it. Accompanied by my Mum and Mother in law to be, we set out for a girlie shopping trip to mooch at wedding dress. I hadn't planned on finding a dress that day, as I was still unsure of what I actually wanted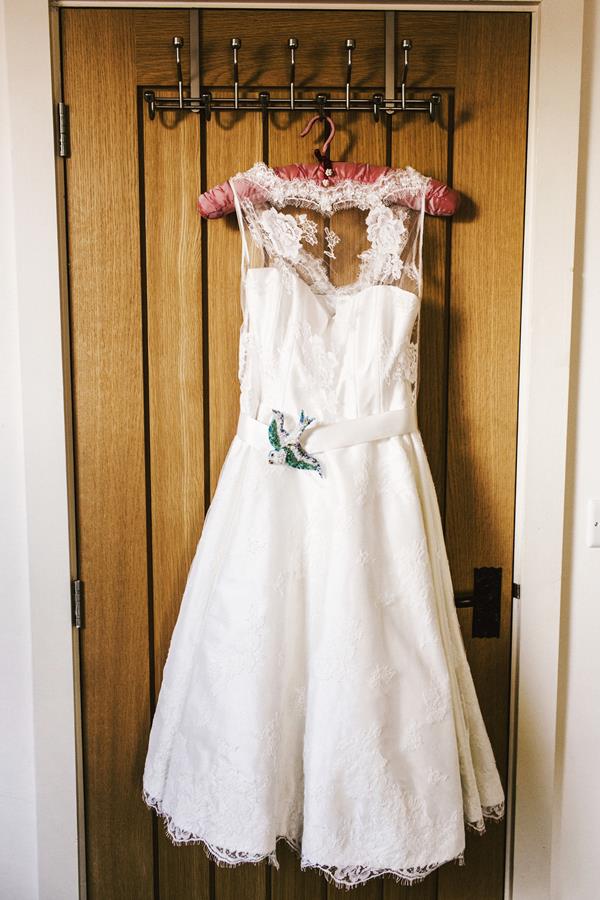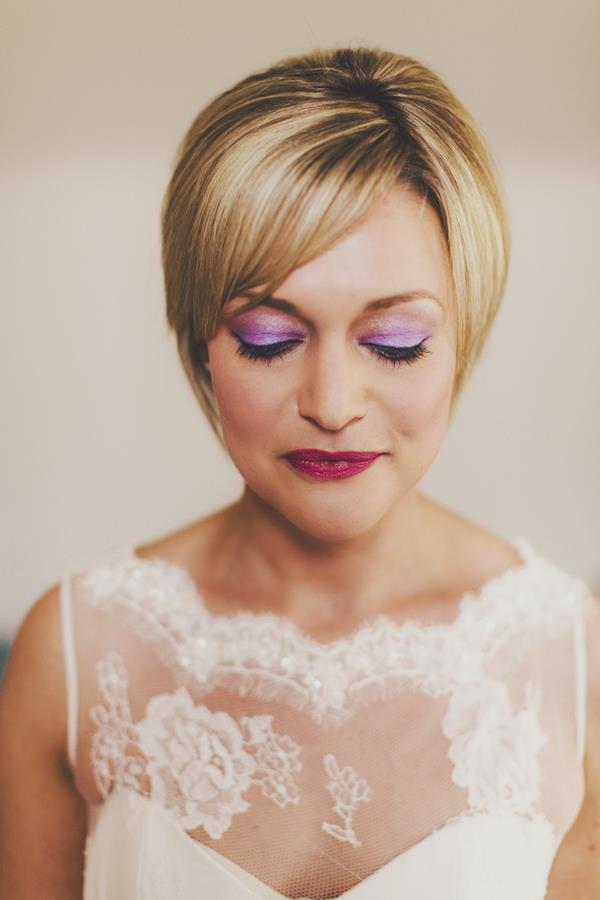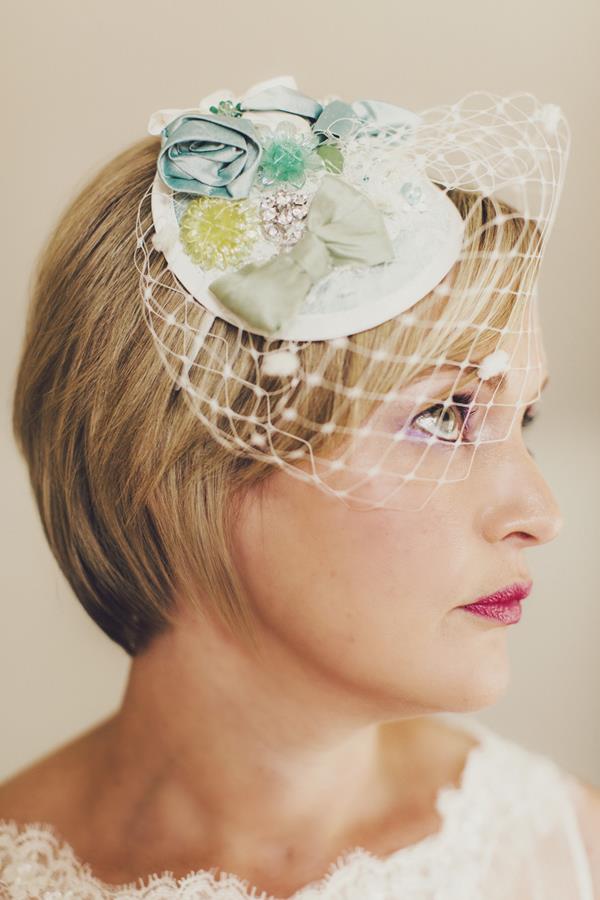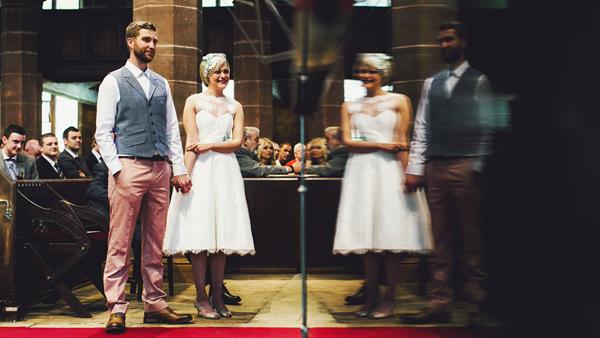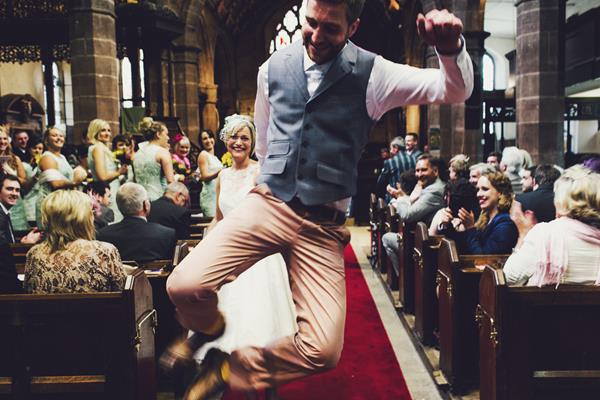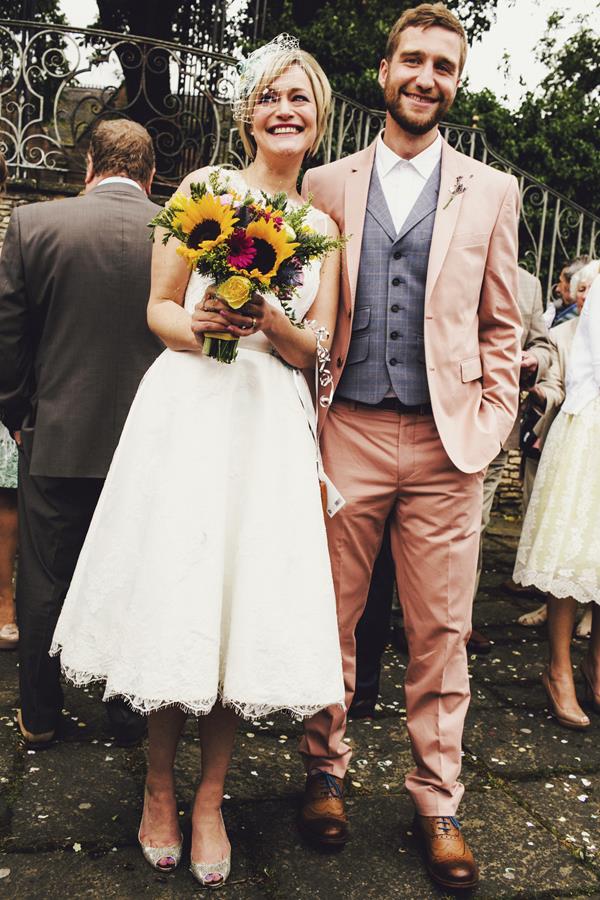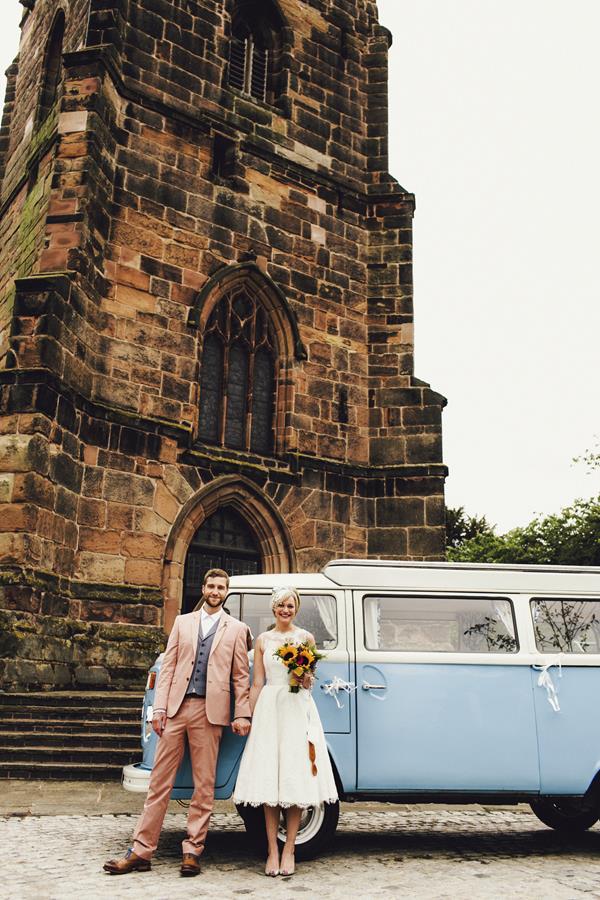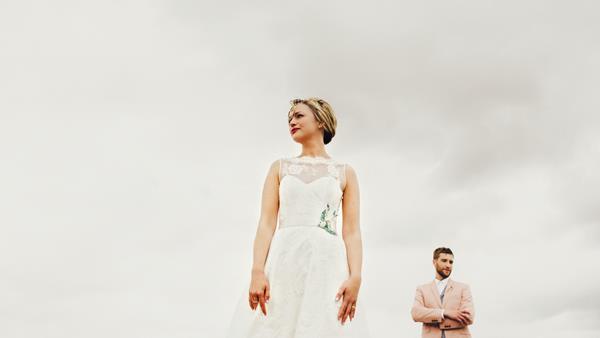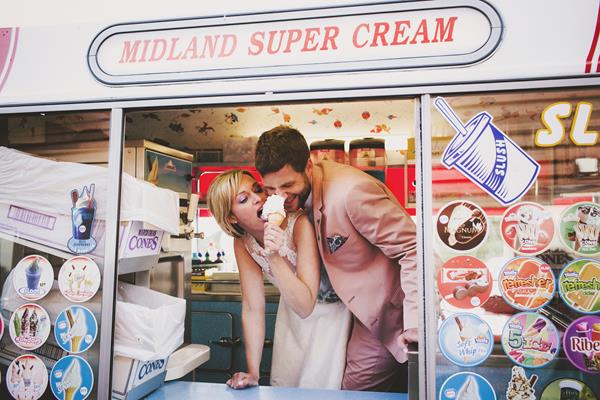 , although I had decided, I wanted a dress I could be comfortable in all day and LOVED lace, so it was a small start. We headed to the Custard Factory, Birmingham for breakfast, It's a lovely eclectic part of Birmingham with a vintage feel to many of the shops there. I had often shopped in the vintage shops around the Custard Factory before so I knew there was a wedding dress shop there, so I guessed it was a good place to start. After breakfast we wandered over to the Couture Company, the wedding dress shop I had seen previously, I had always admired the dresses on display in the window. It was a miserable day, pouring with rain outside so we were pleased to be staying undercover. Walking up to the shop I stopped my Mum and Mother in law in their tracks, because there, in the window, was my perfect dress. We were warmly greeted by Jo on entering the shop, I had previously booked an appointment 'just in case' there were any dresses I wanted to try on.  Without hesitation I asked to try on the dress in the window. As Jo was helping me into the dress, before it was even fully on, I burst into tears, It was only the second dress I had tried on but I knew it perfect and I had found 'the one'. After stepping out from behind the screen and seeing my Mum and Mother in law's faces well up when they saw me in the dress – it sealed the deal!
I made several customisations to the dress and the headpiece to ensure it fitted perfectly to the theme of the wedding. All of these changes were as easy as telling Jo what I wanted and she fixed it, easy as that. Jo's creative flair helped with some of the design decisions, in fact finding and altering my wedding dress was the easiest part of the whole planning. My bridesmaids were all to be dressed in a lace mint green shift dress, so we co-ordinated the underskirt ribbon to match perfectly. The headpiece design was based on a collaboration of other headpiece designs within the shop, and again the mint green colour was used, highlighting the look and feel I wanted. The last thing I customised was the waist band, as my husband to be has a swallow tattoo – this influenced a lot of the design for other factors within the wedding, the invitations for example had swallows on and so did several other key pieces within the wedding. The most beautiful sequined swallow was made for me to pin onto my waistband – I felt the dress was now more than perfect! As a last minute thought I asked Jo to make me a small wrist purse in the same material as the dress to put my lipstick in, I roughly sketched my idea on a piece of paper and once again Jo produced magic and created just what I wanted.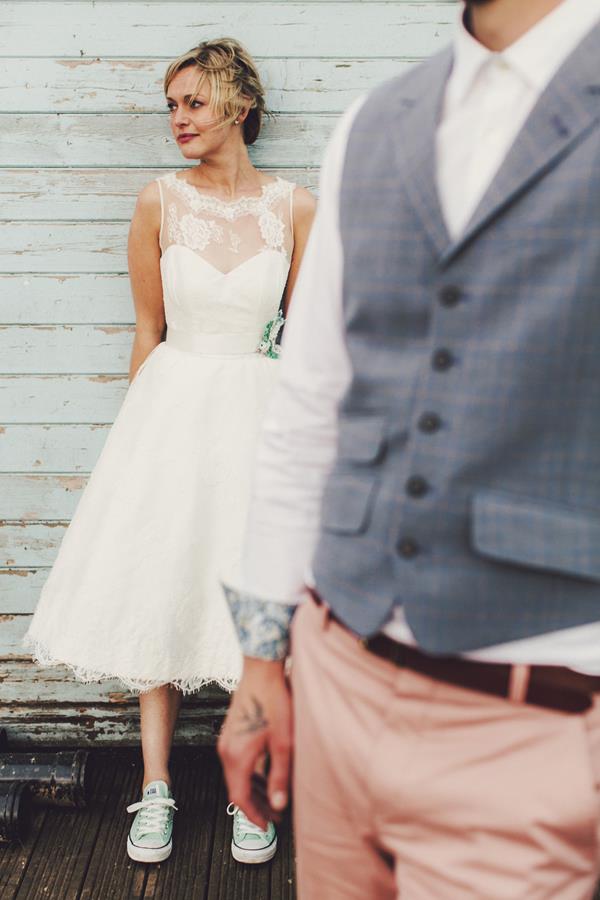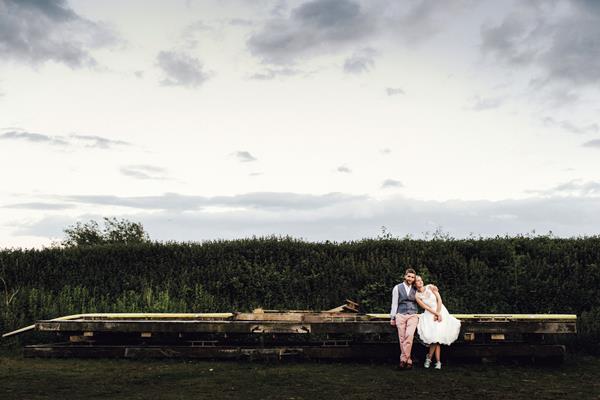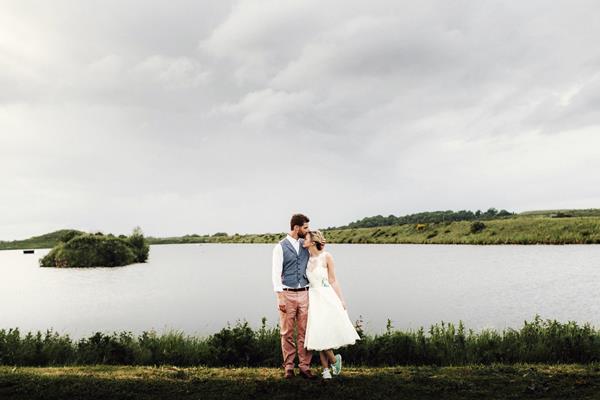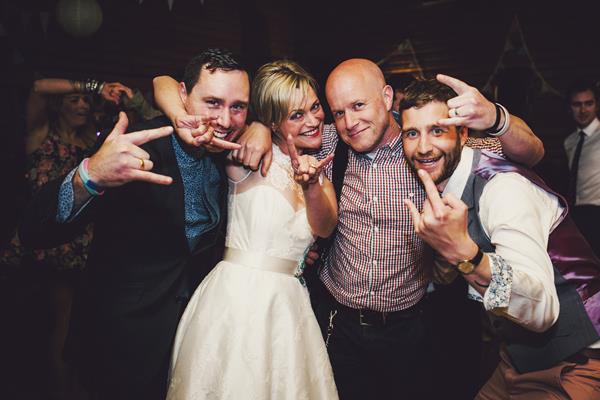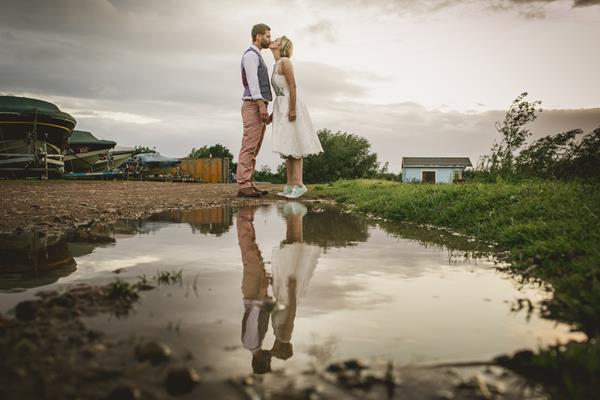 All in all I couldn't recommend Jo and the Couture Company highly enough for any bride to be. All my visits to the shop, from the initial visit to the final fitting and collection were all stress free and so exciting. Jo and her team made the whole dress experience a pleasure and I was more than ecstatic with the final result – My dress was absolutely perfect, and I thank them all from the bottom of my heart.
These epic photos are copyright of photos are copyright of Montreal wedding photographer Steve Gerrard, be sure to visit his website