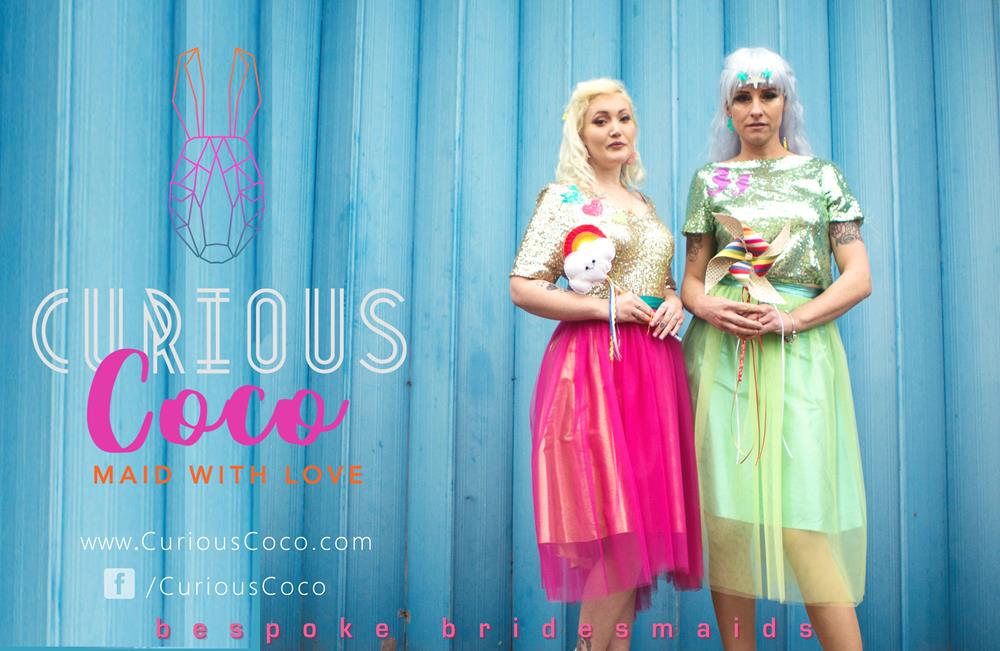 Introducing our little sister company CURIOUS COCO, specialising in bad ass, gorgeous frocks for your bridesmaid to wear for your wedding and beyond!!!
As alt wedding dress designers we get  asked about alternative bespoke bridesmaids gowns so much, "where can people get them?", "everything is off the peg and mass produced" we hear folks complain, "why cant we find a place like the Couture Co but for bridesmaids? "….well we listened  to the requests and  designer Jo has teamed up with the super talented designer and co-producer of The Eclectic wedding Extravaganza , Yasmin and they have come up with this super cute range that compliments the Couture Company feel perfectly, and to prove it we did a photoshoot featuring both Curious Coco and Couture co gowns…..
As with our wedding gowns ,The bridesmaids frocks can also be  tailor made in many choices of colour , differing lengths , with varying sleeve shapes and necklines , and adding motifs of your choice….just drop them a line  via the  facebook page and see what they  can do for you,
Here is the full and fabulous credit list of Everyone involved in this badass colourtastic shoot 🙂
Photography
Haywood Jones Photography
 http://haywoodjonesphotography.co.uk/
FB  https://m.facebook.com/Haywood-Jones-Photography…/.
Bridal Dresses
The Couture Company 
http://www.the-couture-company.co.uk/ 
https://www.facebook.com/The.Couture.Company/?fref=ts
Bridesmaid dresses
Curious Coco
FB https://www.facebook.com/curiouscoco/?fref=ts
Models
Emily Fisher     www.mermaidgossip.com
Laura Salmon    https://facebook.com/vintagedolllaura?hc_location=ufi
Jane Titne Lavoix Ward   http://www.titinelavoix.com/
Make up
Natalie Flewitt
FB https://m.facebook.com/natalieflewittmua/
Hair
Chez Titine 
Accessories
Jamball- felt wand, flamingo headpieces
 https://www.facebook.com/jamballcreations/
http://www.jamballcreations.com/
Working Clasp- laser cut crowns and jewellery
  https://www.facebook.com/Working-Clasp-Jewellery-165594400128258/    http://www.workingclasp.com/
Shoes
Iron Fist Clothing
Fb https://www.facebook.com/ironfistclothing/?fref=ts
Paper Decorations
Pulp Cards
FB  https://www.facebook.com/Pulp-Cards-Thomas-Street-Urban-Candle-Co-241470042605839/
Animal Masks made by Yasmin and
designed by Wintercroft Masks