A badass kick ass Rock n Roll wedding at the seaside- Alternative Wedding dresses
We really love our brides, we are so so lucky that we get to work with such awesome people!! Tahmina is no exception, we loved creating all her bespoke tattoos to go her dress, and our skull design "boris" got an outing too!!
Tahmina was having a Metal Festival wedding down by the sea in Whitstable- so her dress tattoos reflected her and Tom's favourite bands. This wedding looks like it was BAD ASS and a LOT of fun!!
As if Tahmina wasn't one of our alltime favourite brides already , she went and got Tattoo maestro Tim Hendricks to emulate one of our Tattoo designs on her skin, so she has apermanent reminder of her day and her dress….. #ourbridesrock #weloveourbrides
Check out these awesome photos by Bella Poco Rae Photography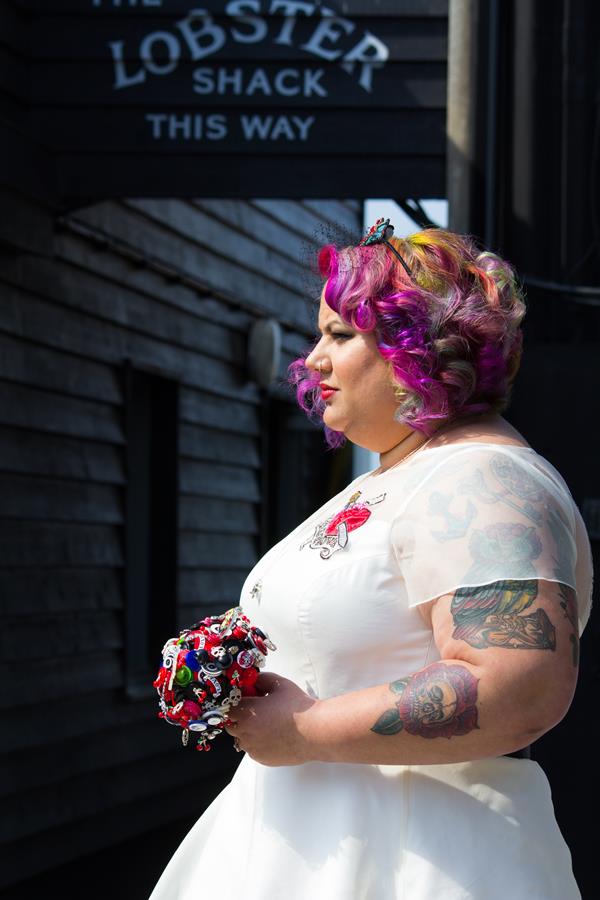 Thank you so much Tahmina for coming to us and your lovely testimonial
"When I got engaged, dress buying was the least important part of the wedding planning…having been to a few wedding dress shops with friends who were getting married , i just knew no"regular" shop would have anything that firstly I would fit into and more importantly would suit my weird style. My best friend then sent me a picture from the "trailer trash" shoot with the Inkspiration dress and instantly I knew The Couture Company would be the one for me! I swiftly made an appointment and I can honestly say, it was the best decision I ever made! The dresses were all amazing and the one i picked was perfect for Heavy Metal Festival theme wedding. The tattoo designs were personalised to go with our theme, the bands we love and the tattoos we have. From the very 1st e-mail right up until I collected the dress, Jo was amazing and had great suggestions and came up with the most perfect dress that I felt fantastic in! I loved visiting the beautiful shop and never felt awkward at all! On the big day itself, everyone commented on how beautiful it was! Even my mum who wanted me to wear a traditional dress admitted that there is no other dress for me! Thank you so much Jo and the Team. You guys are brilliant and you made my day extra special! Anyone thinking about using the Couture Company….do it! It will be the best thing you decide for your wedding! xxx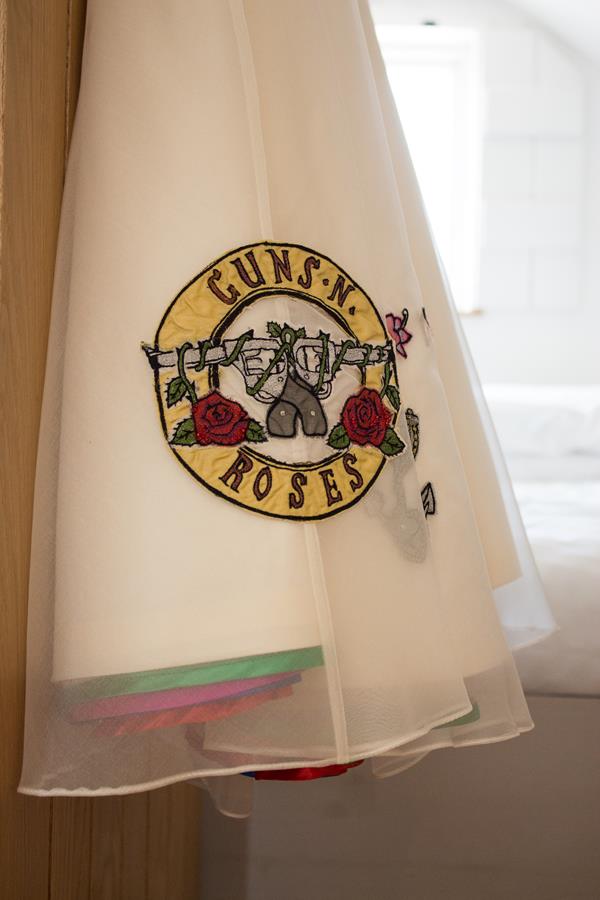 Tags:
1950s
,
50s
,
alternative bride. unique
,
alternative wedding
,
cap sleeve
,
corset dress
,
covered buttons
,
curvy bride
,
embroidered detail
,
embroidery
,
plus size bride
,
quirky wedding dress
,
Real Bride
,
Rock and Roll Bride
,
short wedding dress
,
tattoo
,
tattooed bride
,
Tim Hendrix tattoo
,
vintage inspired
Posted by Jo Couture on November 15, 2016