Hayley first conatcted us, telling us she dreaded dress shopping, as she wasn't a "girly girl" and didn't wear dresses, but she LOVED our Inkspiration tattooed gown that she had spied when searching the web, and she ended up falling for it hook line and sinker, there were even a few tears!!!
Hayley is very much an outdoors person and she wanted her wedding to reflect that , lots of fun, and lots of dancing, and she wanted to wear something that would have room for both

Thanks Hayley for your pics and a very honest and lovely testimonial

Hayley writes "Well, I never thought I'd be faced with a decision to choose a wedding dress. I don't do dresses. Or makeup, or much girly to be honest. I'm an outdoor girl, climbing, snowboarding, and playing in the alps. Not much scope for dresses.
, After being dragged kicking and screaming into a local bridal shop with my sister. . (Which was horrendous!!) , I started scouring the Web  and I spotted THE dress. Half joking with myself, but also in the knowledge it was the closest I'd come to wanting to wear one.
It had tattoos all over it. Was fifties style, funky, and not the norm. Much more like it. As my husband to be was to wear a "shite shirt"….. I'll let you look them up. . . A proper traditional  frock would not do.
I contacted Jo at the couture company, and made my appointment.
I honestly didn't expect to burst into tears, in a good way, because I loved it so much, but also cost was not what I'd ever considered to spend, especially not on a dress!
A can of coke and piece of cake, phone call with tears to stew later, who informed me if I was crying over a dress then I'd better have it, as nothing else would do . . . Done deal. I'd have to work my butt off for the next eight weeks to have it. And so would Jo and her team as it was rather last minute.
Jo dealt with my tears and dress fear well, creating with me something exactly that I wanted, tattoos, sleeves, v neck shape, none of that satin stuff inside. . Instead some cotton, and definately not puffy. I think I became a bit bridezilla ish for a while!
My first fitting arrived, I was so excited and nervous.
Everything I had decided on went out the window, off with the sleeves, and on with the puffy. . Lots of it too. I wanted this dress to twirl when I danced. Jo altered everything, swapping and changing to my demands. Finally collecting the finished dress, with my mum in law to be. . Who was a little dubious of my plans. . .It was fantastic. And she loved it too . "Very you" she said. I just couldn't wait to wear it now.
And it is the most wonderful dress in the world, embroidered with "bloke and bird" as we affectionately call each other! Wings on the back, and love hearts Bon Jovi style round the bottom. Red and black hem underneath. Just amazing. Loved wearing it so much, coupled up with my red doc martins


We were to marry on the Isle of skye, outside, underneath our favourite mountains.. The black Cuillin.
The weather had other ideas, tail end of hurricanes from the Atlantic lashed the north west.
We were not dampened. . . The ceremony was held inside the Sligachan hotel. It was brief, no fuss, and we were married.
We did pop outside for some wet blown away photos. . . Which to be honest summed us up perfectly rather than looking all posh and groomed, hair everywhere. . Situation normal.
My dress swung round fabulously when we danced, and blew around in style in the wind outside. Everyone spent the day photographing up close the tattoos, and the comments of admiration for it made me feel a million dollars.
You made the dream dress for me Jo and I never thought that possible. I can't ever thank you enough, it was worth every penny and more.

xx "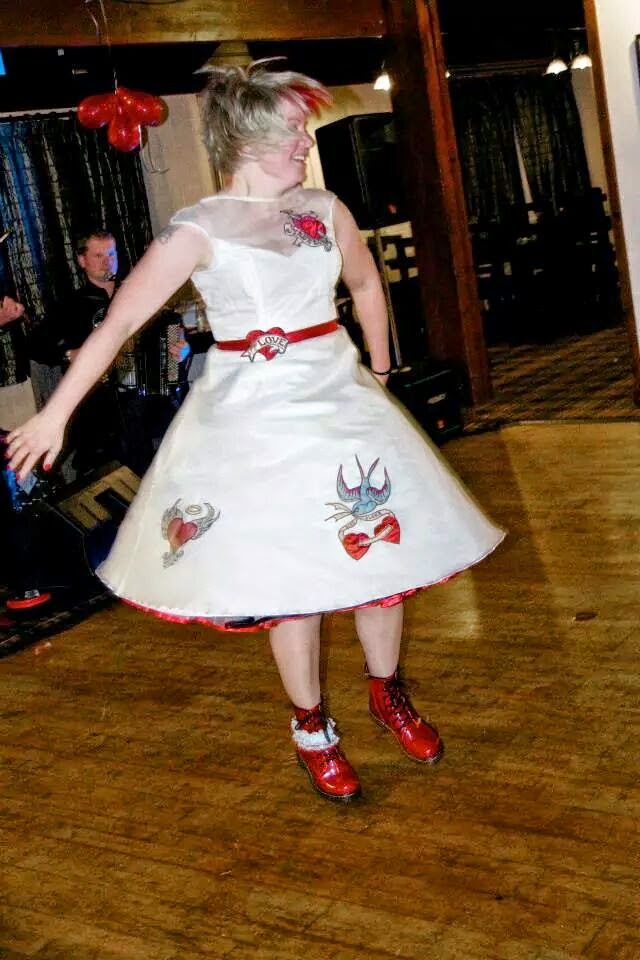 25 Apr 2015