Posts tagged 'vintagesque'
Well , I am very very excited to share this gorgeous wedding with you because we just LOVED working with Lina on her gown!! the brief was "Dark Fairytale" and we loved it!! We created the embellishments and hand painted the hem line and Lina created most  the colourful creatures  on her dress!! . When she told us she was wearing antlers and elf ears for her Swedish waterside woodland wedding we knew this was going to be an amazing wedding !!. We love everything about this and think that Lina and her new husband Karl look like absolutely magical creatures too
Photos with thanks to Studio 56, Sweden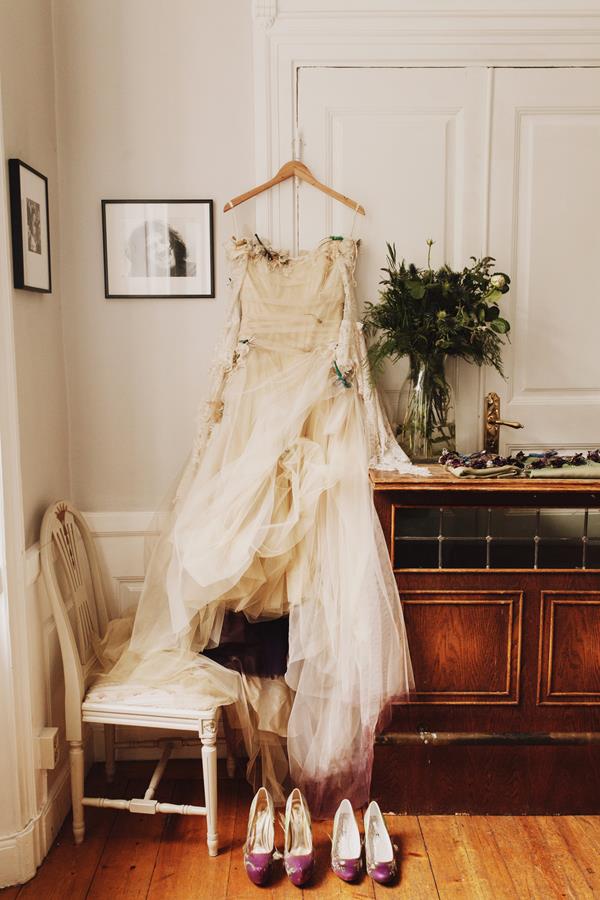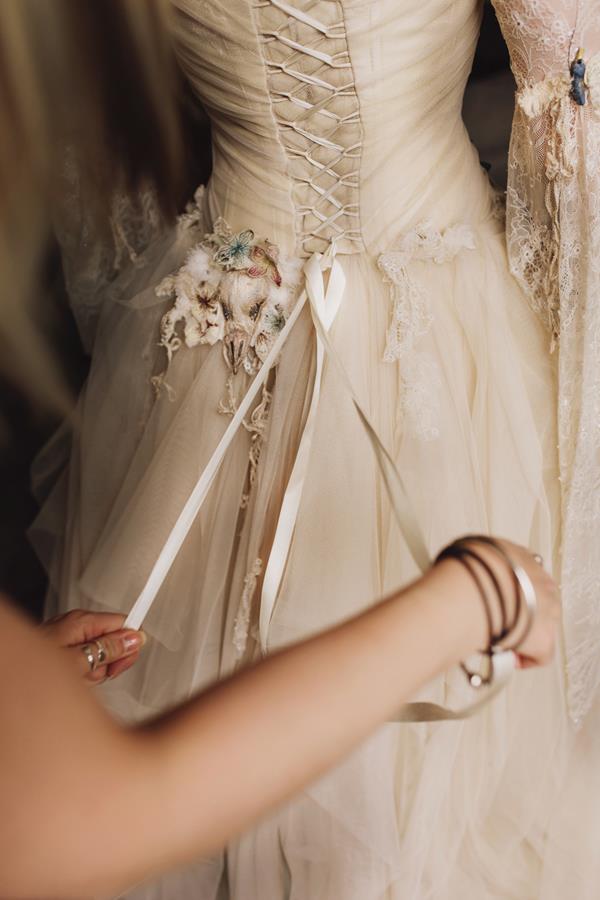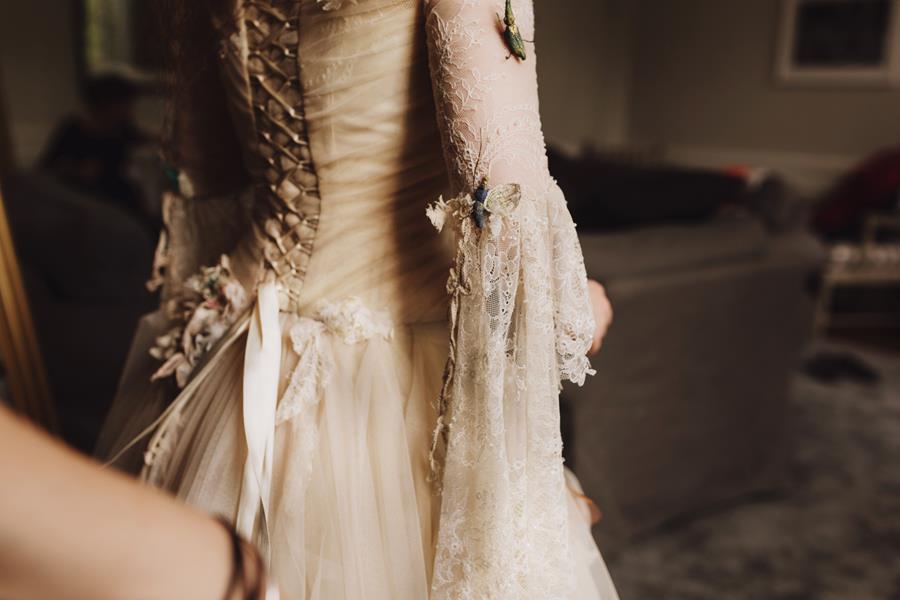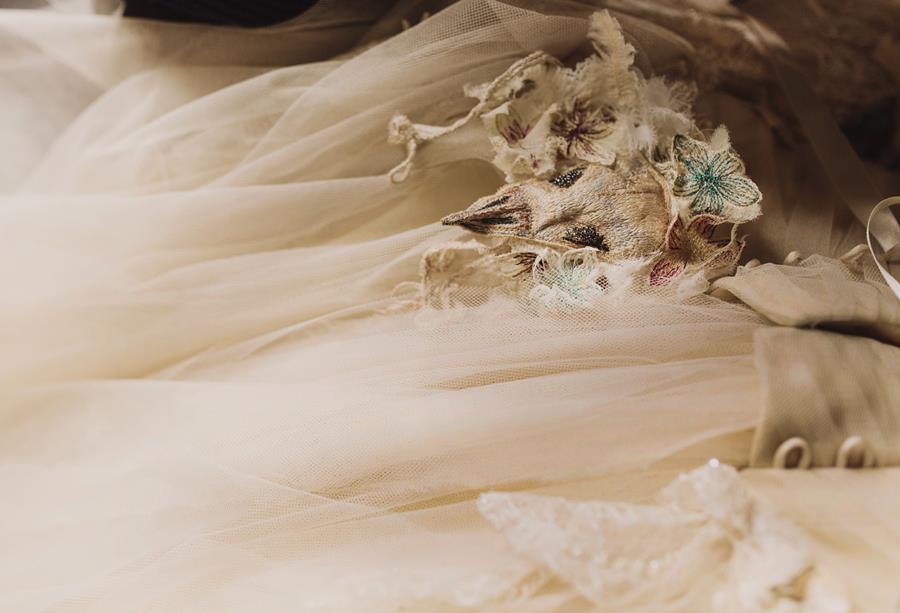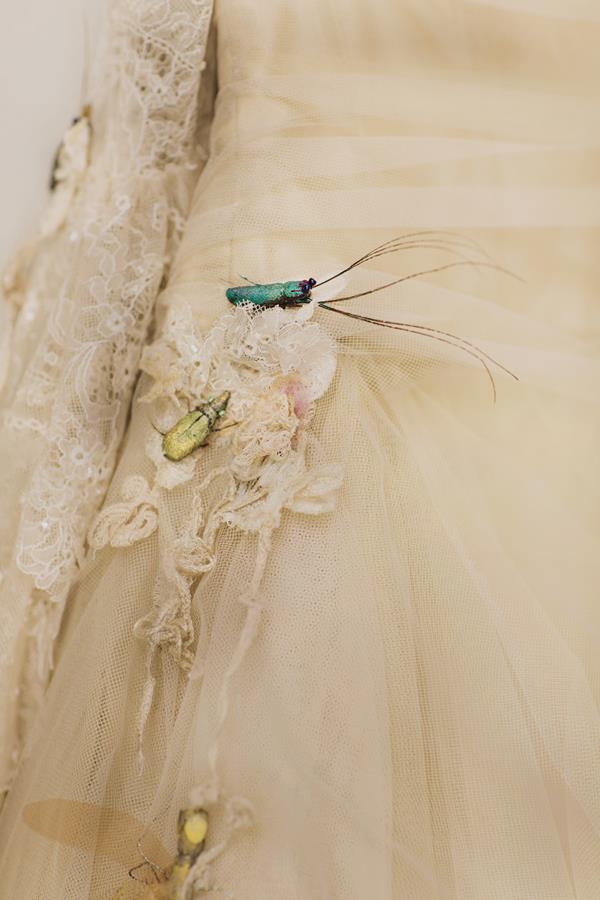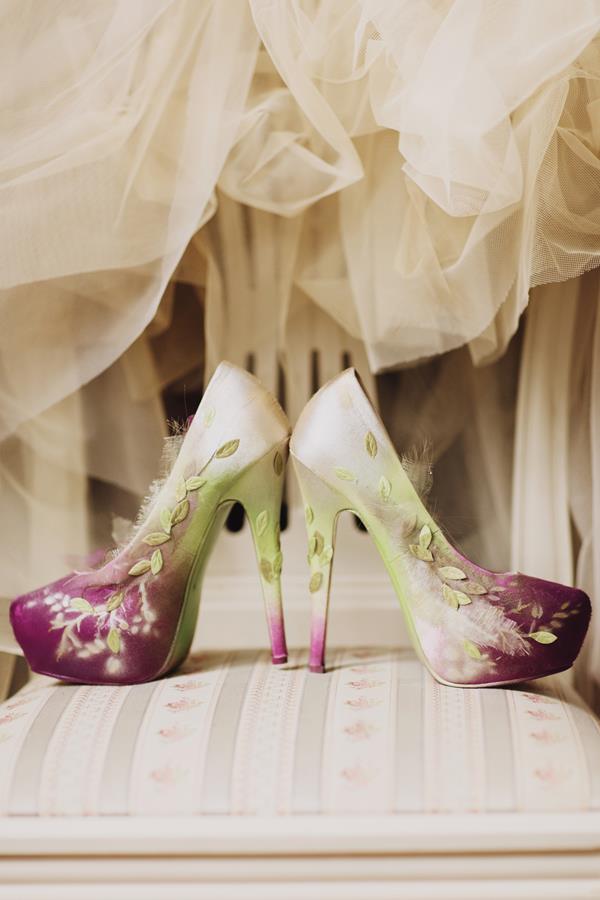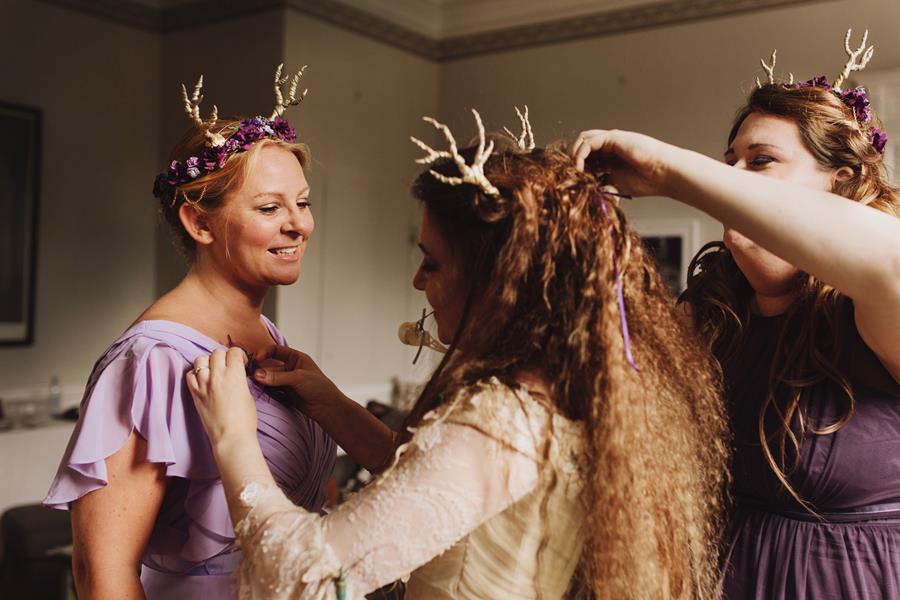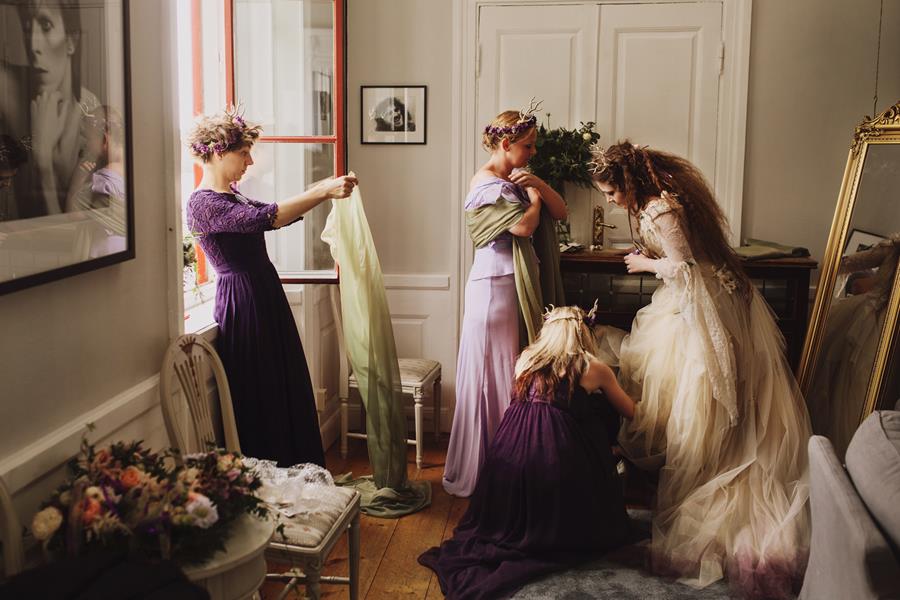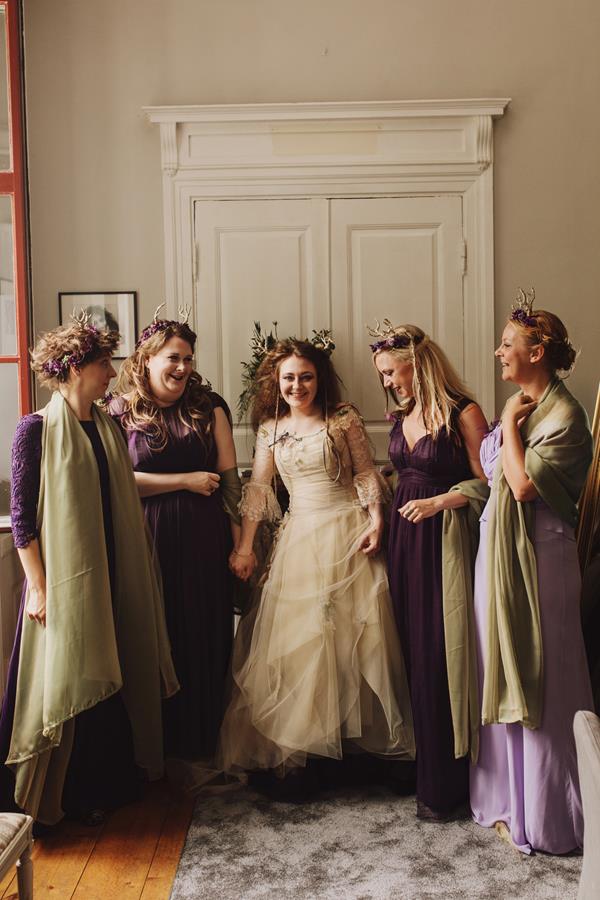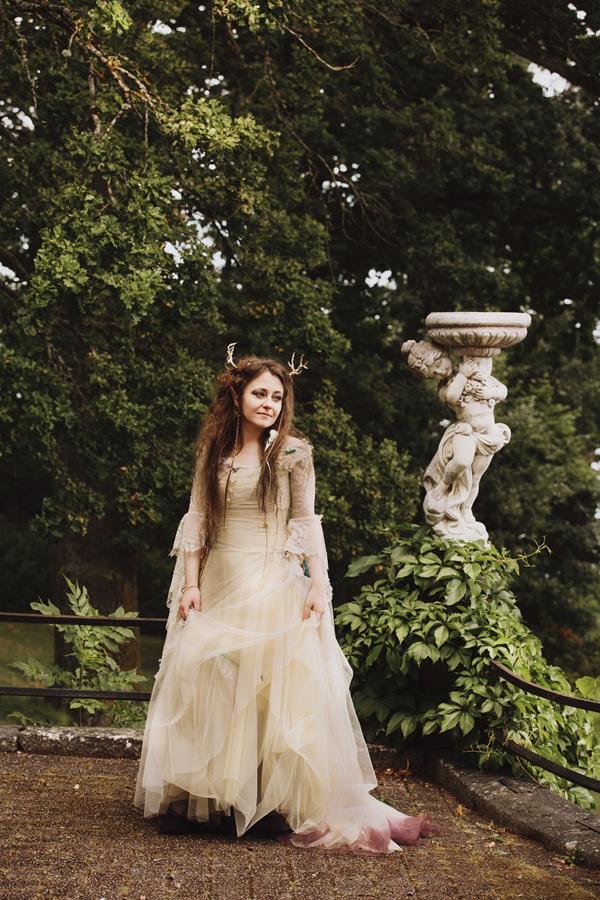 Thanks so much to Lina  for these lovely words 🙂 , seeing and ready about the weddings we work so hard on is the best part of our job
" A HUGE thank you for everything! The whole process was a joy, I felt you got the idea straight away and it couldn't have been realised better. The dress is simply stunning, it made me feel amazing the whole day and everyone loved it. It's a fairytale dress, it more than any other part really made the wedding theme work! Your attention to detail, the experimental parts of the process, the imagination – you and your team have been fabulous! I almost want to get married again for an excuse to wear the dress again (or get another one!). The wedding was great fun – a big party with everyone more or less dressed up. We had werewolves, elf warriors, fairies, even a demon or two.Thank you so much, words can't express how happy I am with the dress! "
The photos are by Maria at http://www.studio56photography.se/
10 Nov 2016
If you were to ask our Caroline, "Is there such a thing as too much Hello Kitty?" then she would laugh and say "there is never ever too much Hello Kitty!" in her sweet Northern Irish tones….  we loved Caroline and her Ma so much, we were so excited every time she flew in  for her fittings , and had such a laugh …what a lovely family …we miss them now the wedding has happened x
What an absolute joy to work with her on her wedding dress, I cried at her final fitting and on receiving her wonderful photos and heartfelt testimonial!! This is why we do our job!! this is why we love it!!
Caroline writes "I've always been fat my whole life, I never dreamed that I would ever get married but here I was engaged date set and starting to look for wedding dresses.
I've never had a lot of self confidence and have always felt that I could never be beautiful or feel it, so from the start I had so much negativity built up inside me. After endless hour's of looking for a dress I was left feeling very disheartened, feeling that no one would cater for my size let alone my style. I decided to look on line and I came across the fabulous Couture Company looking through the site I couldn't believe the variety of dresses they did and they catered for plus size so I plucked the courage up and contacted Jo
Jo honestly is one of the nicest person you will meet she didn't judge me on my size or on my mega hello kitty fetish lol I couldn't have been more delighted to have found her and her team
I'm from Northern Ireland so I flew back and forth for the fittings before I knew it it was the final fitting, as I stepped out and looked in the mirror I was gobsmacked I couldn't get over how fabulous this dress was, it was perfect and to top it off I had an amazing hello kitty head piece custom made, I literally felt so happy, I felt beautiful which I never thought I would feel, I couldnt wait to get the dress home and show my bridesmaids and wear it on my wedding day
Jo and her team are unbelievable the quality of the dress was outstanding every little detail was perfect the placing of the lace, the hello kitty, the multi coloured buttons this dress was amazing
On the big day I had so many compliments on my dress I felt amazing and not once did I feel fat my dress summed my personality up and flattered my figure,  my husband was blown away I think he had imagined some hello kitty costume to come walking down the aisle lol
I am so very thankful to Jo you don't know it but you helped me overcome so many fears and worries you completly put me at ease and let me be me Thank u so much for making me feel beautiful and making the dress of my dreams " Caroline xx
Well it was our pleasure my lovely, you were an inspiration to me and my team….and now our followers who read this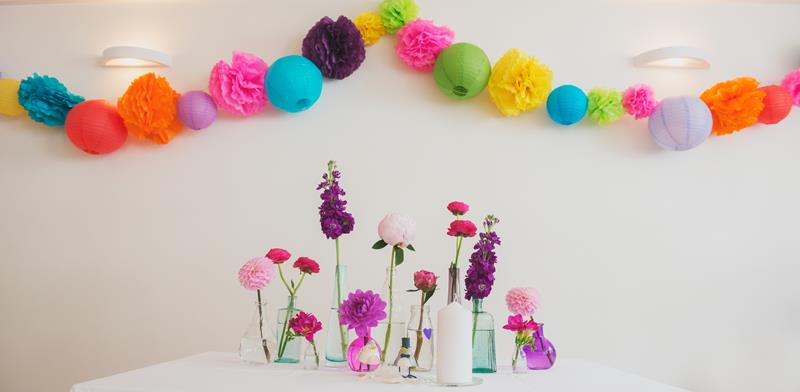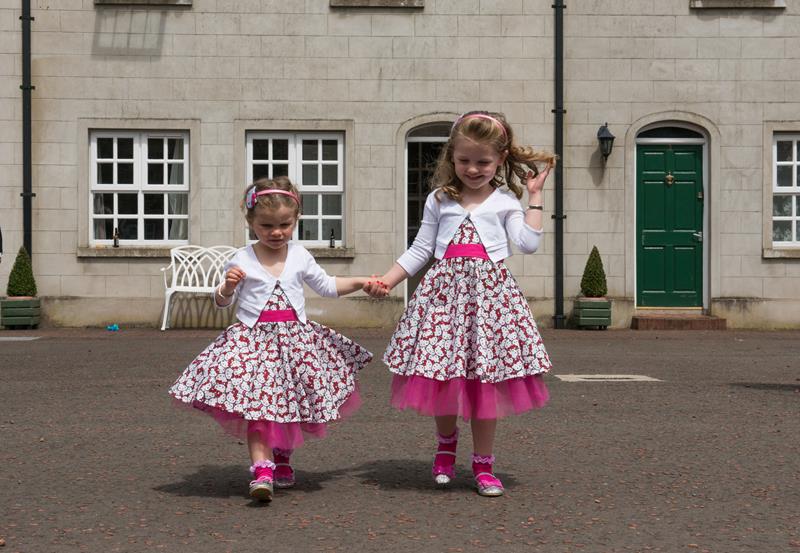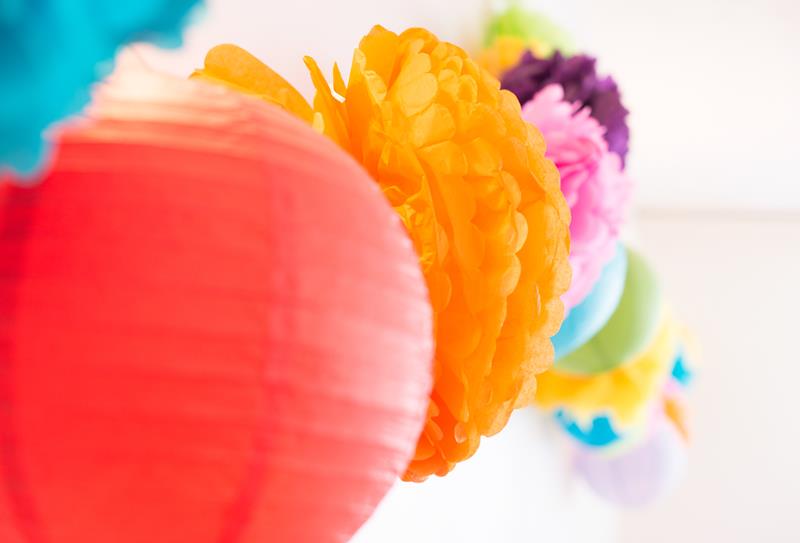 These photograpghs are by Northern Ireland photographer Claire at  A thousand Words Photography
3 Apr 2016
I am so pleased to be able to share Olga's beautiful Greek wedding, Olga married in her native Athens!! just look at the views!!! I love the beautiful heavier silk damask pattern mixed with the soft honey tones of tuilles….Olga reminds me  a 50's film star xx so classic and chic xxx Please scroll down for Olga's adventures with us x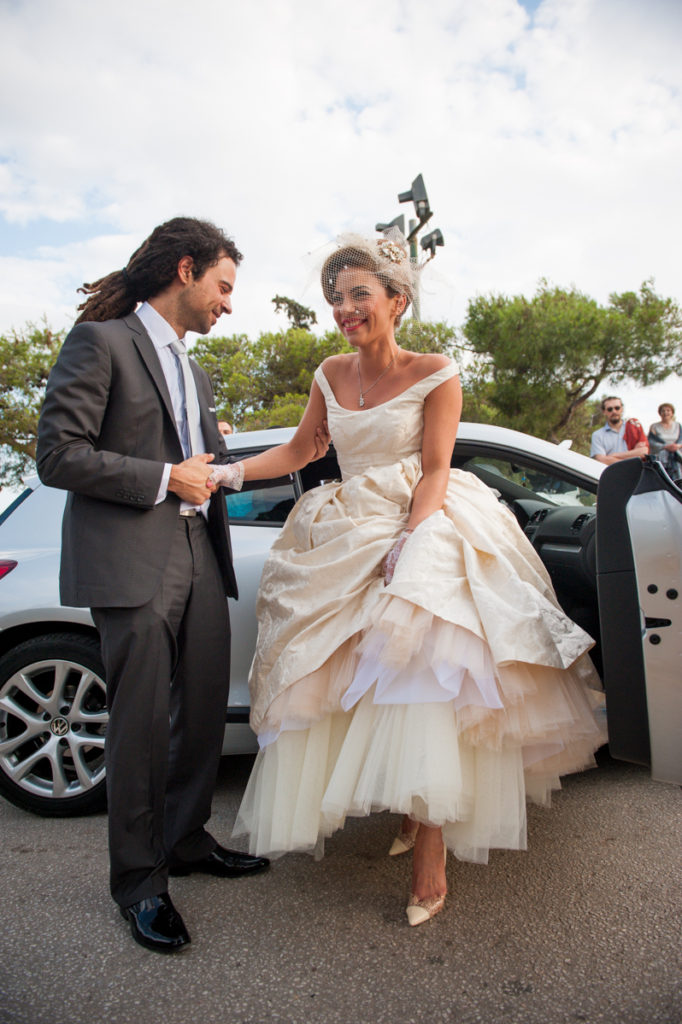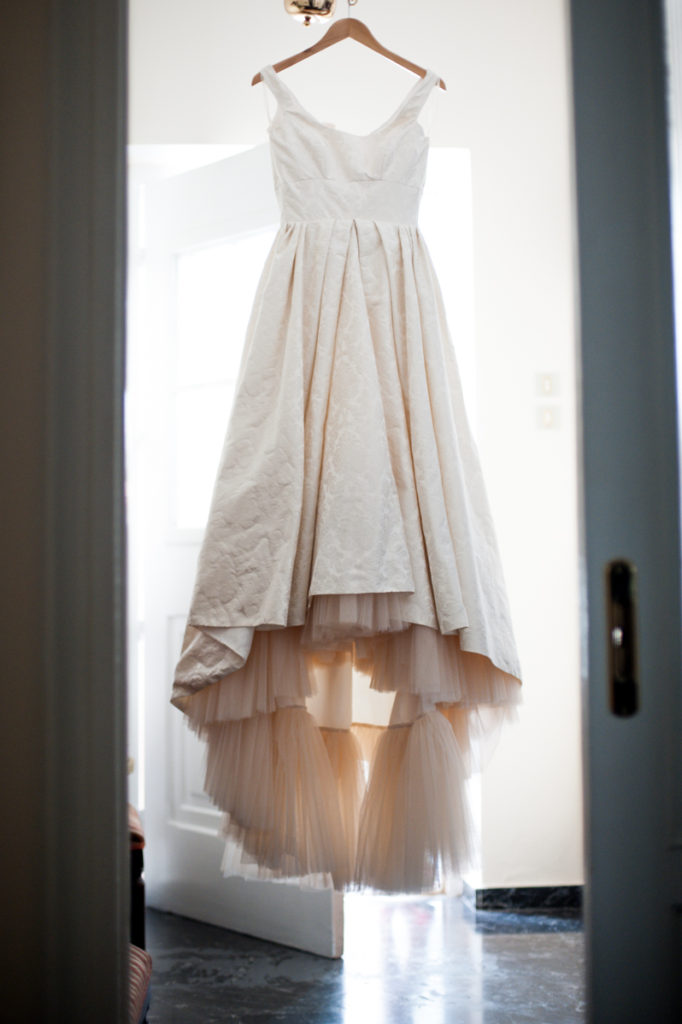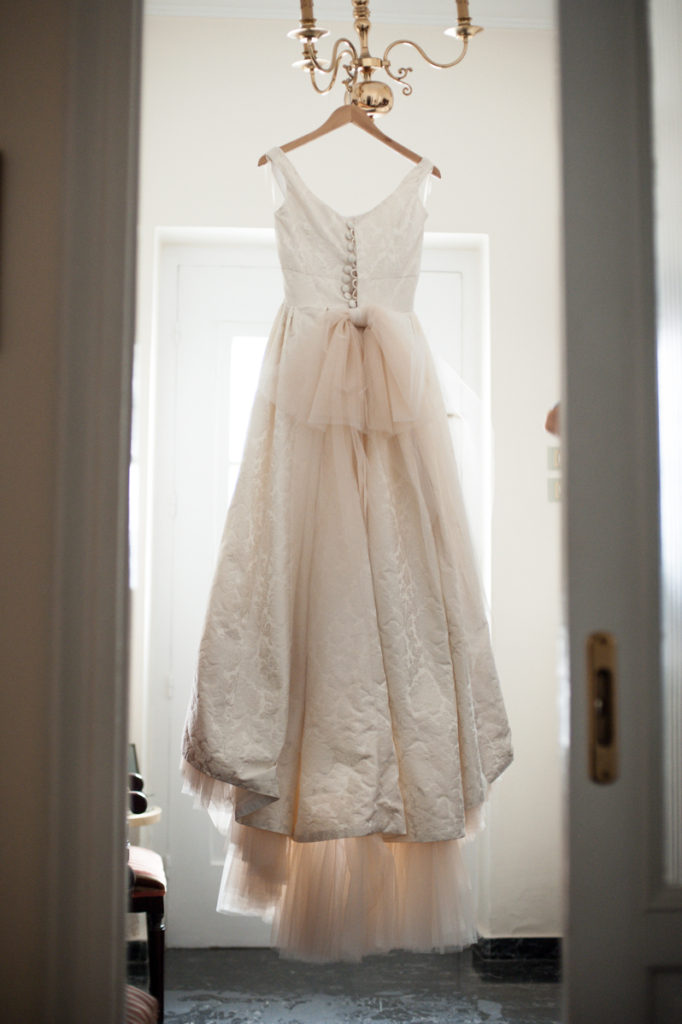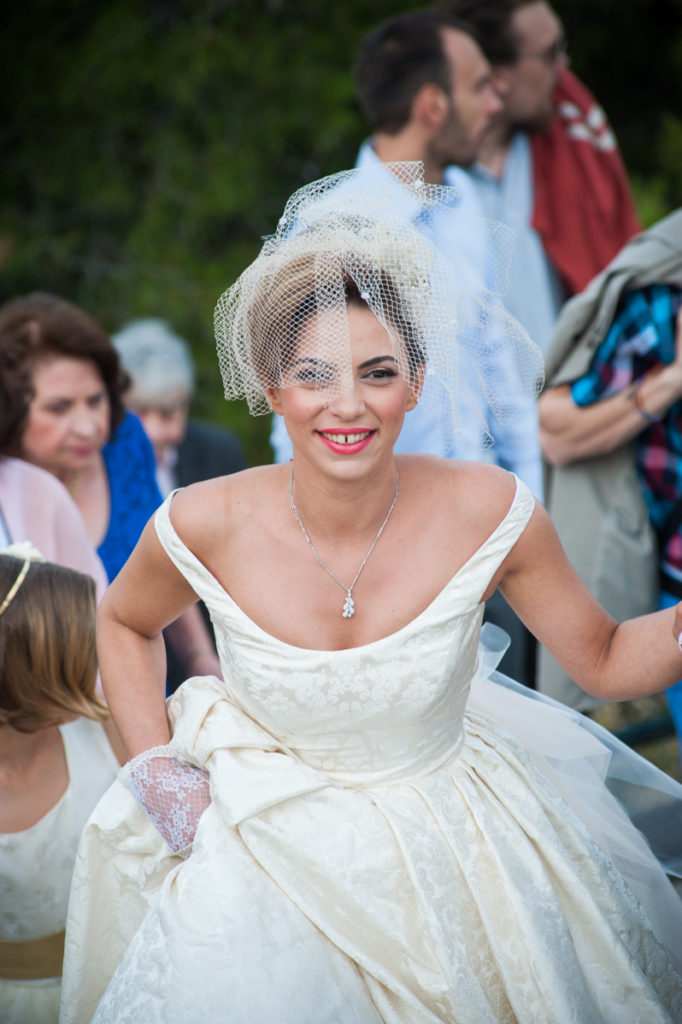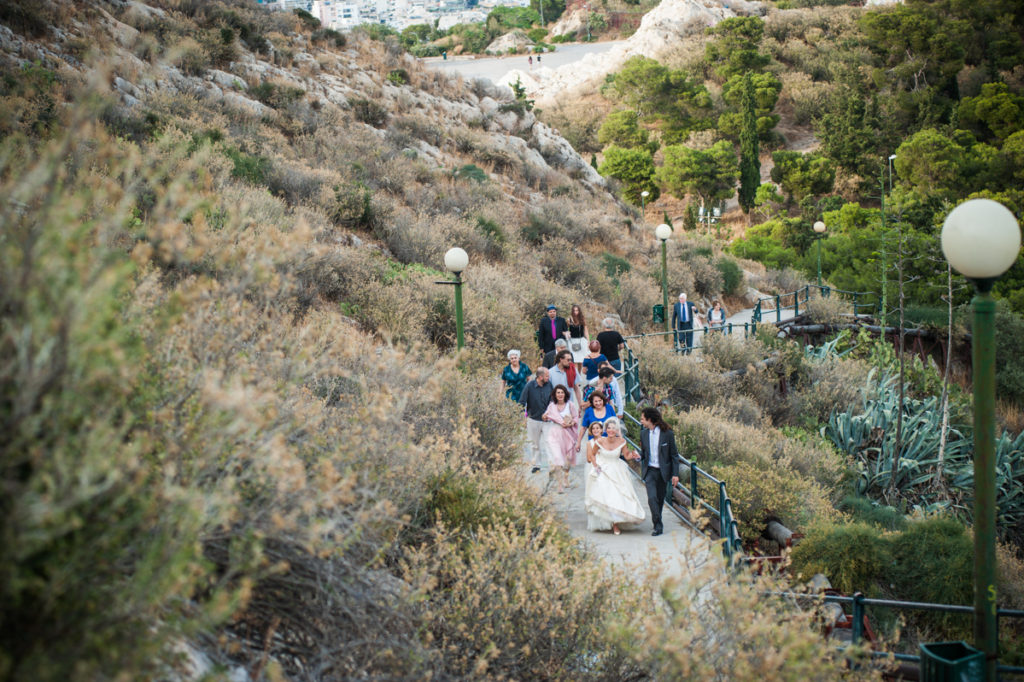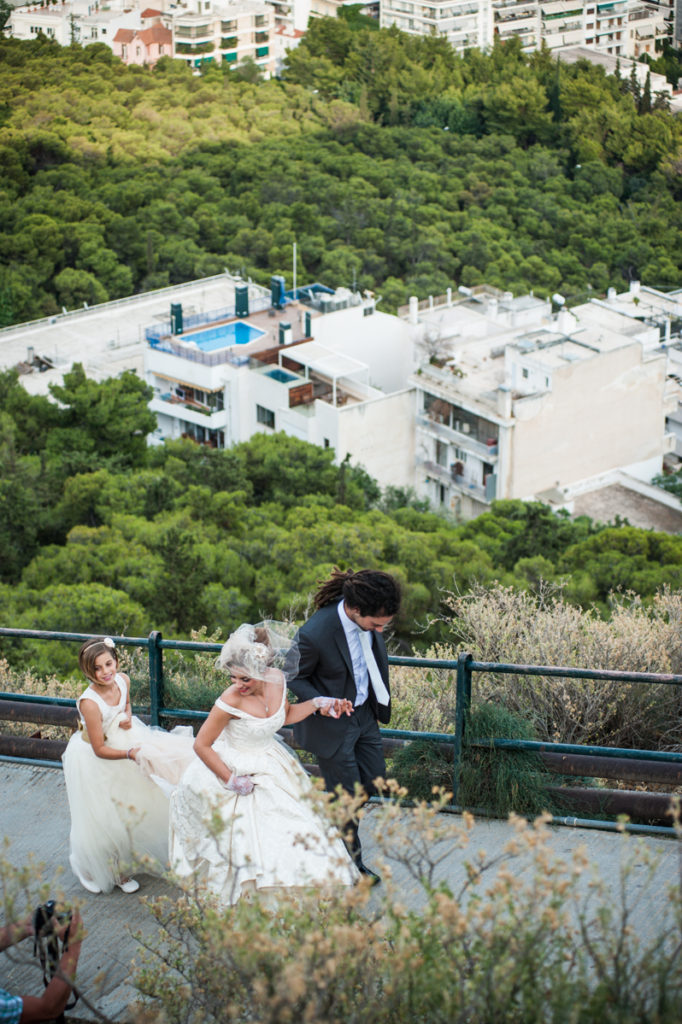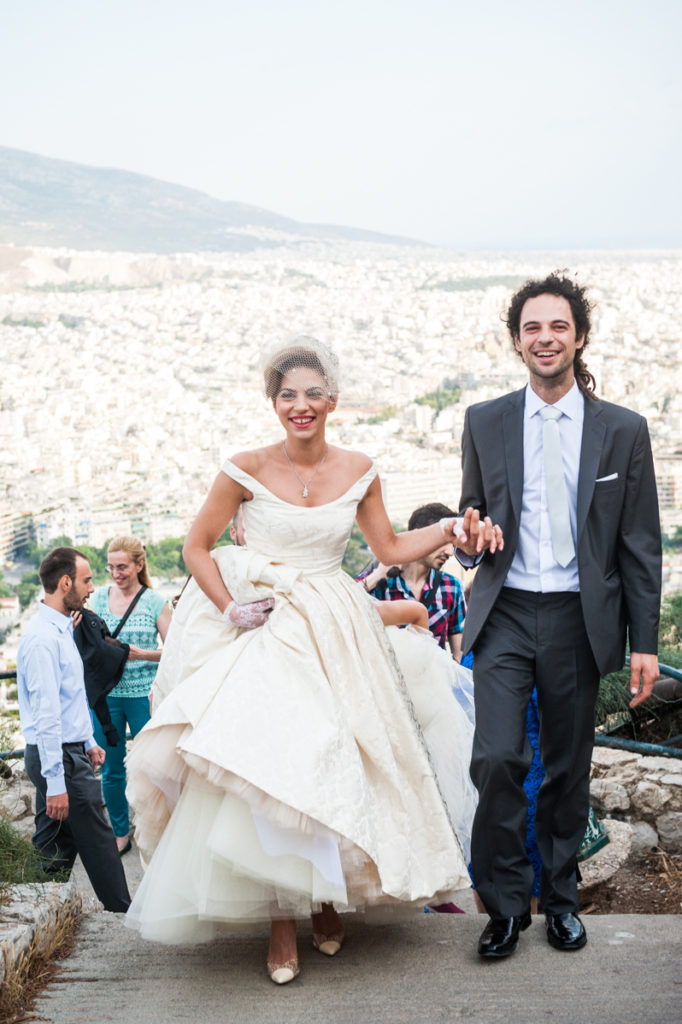 Thanks Olga for your lovely write up, it was our absolute please to create this gown for you
"Our decision to have a Greek church wedding was kind of spontaneous and gave us less than 4 months to plan the whole event abroad. I always knew I wanted to get married at the highest point in Athens, the Lycabettus Hill. I also had an idea of my dream wedding gown; it had to be a big 1950s style gown with an edge. Most of the wedding gown stores I visited were only getting terrified in the idea they would need to have the dress ready in a fraction of time and I was getting frustrated as I couldn't find anything that would match my dream wedding gown ready made. Also, the fact my mother is a costume designer always guided me towards having a bespoke and good quality dress. Anything else would be a compromise.
After tears and despair my online research led me to the Couture Company website. I was impressed by the unique designs and materials; these dresses had the edge I was looking for and most importantly they were real bespoke gowns. However, I was almost certain I would get rejected due to the short time I had left before I needed to travel to Greece for the big day. When I first contacted Jo and we booked the first appointment I couldn't believe how lucky I was. The Couture Company provided me with the experience I was looking for the big day. I took some vintage dresses' pictures with me and we discussed the design of the ideal dress. I will never forget how excited I felt when they agreed to actually create it for me and I had the opportunity to actually see and feel the fabric before the dress was made.
It only took three or four fittings before I could take the dress home with me. It was amazing. The first fitting was the a very plain material version of the dress and when we agreed on the details I started feeling like a princess, looking even more forward to the day I would actually wear it.
When I eventually travelled to Athens I knew straight away that my choice would be reviewed by my mother. She pointed out how spotless and perfectly made was the dress. My mother in law also commented I couldn't have made a better choice on a dress. When the big day arrived, everybody commented on the design, the uniqueness of the fabric, how great it fitted me and that it looked much more expensive than its actual cost. The dress the Couture Company created for me is equal to quality and style, more than what I had imagined.
I very recently received the dvd from the wedding day. It brought me up all the memories of the day, but I also enjoyed so much seeing the way the dress moves and how it is captured on camera.
I can't thank or recommend Jo and her team enough. They created a fantastic dress in a very short time. It is a bit over a year after the wedding day and there are still people commenting on my dress.
Thank you Jo!!! xx
Olga
These beautiful photos are copyright of Pantelis Chadoulis photography
13 Mar 2016