Posts tagged 'tattooed bride'
Wow!!!! we have just about recovered from our fabulous weekend at The Eclectic Wedding Extravaganza, and it was a Whopper of a weekend!!!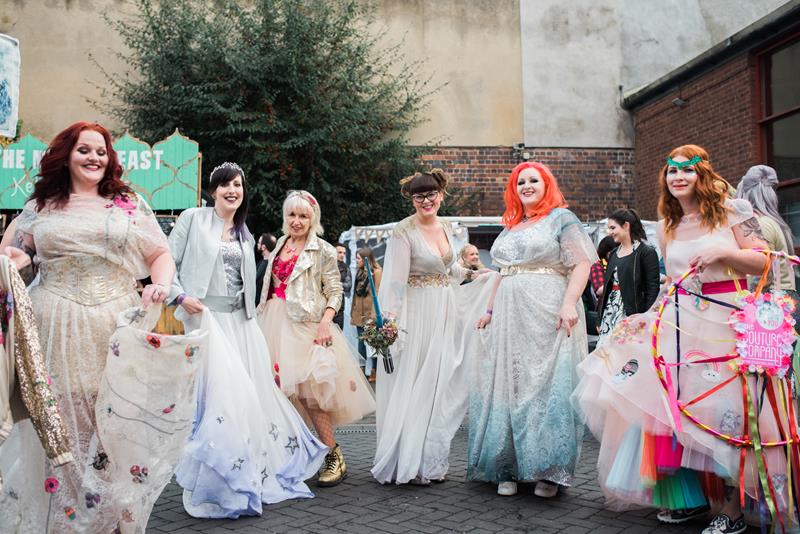 We have just had the photos of the Saturdays shennaningans from the awesome Jay Emme Photography, and she has smashed it again!!
She totally captured the mood of the day and our fabulous eclectic selection of beauts!! Big Thanks to Yasmin who runs our sister company specialising in alternative bad ass bridesmaids Curious Coco
Huge massive Thanks to all our models , Steph, Jo, Beth, Hannah, Any, Taan, Kerrie, Erika, Lola, Jane, Heather,  and Julie
Big Thanks also to our team who help us through the show, Sally, Jen, Darren, Domhall (the sheep), Sophie B, Georgia and all our volunteers who give their time
EWE DID US ALL PROUD!!!
25 Nov 2017
We have the best job in the world, Have I told you that before?? a few times maybe…we have the most wonderful, awesome adventurous clients, and Nicola was no exception…..she planned her Vegas elopement with total badassness (is that a word???)
We were beyond excited to see her wedding photos and just love Paul at Forged in The North's shooting style
I just couldn't choose just a couple of my favourites so I have pretty much shown ALL the photos in this post 🙂 Enjoy!!
We were then doubly delighted to receive such an awesome testimonial from Nicola about finding us and her dream dress.. Thanks so much to Nicola
"Once we'd decided on having a Vegas wedding, I knew I had to have something special for my dress. I'm a huge fan of glitter and thought a glitzy old style Vegas glam dress would be perfect. I had a look online at dress styles and through Rock n Roll Bride magazine and found a general idea of what I wanted. There were some shops on ebay and other websites that had similar dresses but the glitter looked tacky.
Continued further down….
It was only when I was flicking through an issue of Rock n Roll Bride that I came across The Couture Company and as soon as I looked at the pictures, I knew it was the place to make my dress, and it wasn't far for me to travel which was a bonus. My only worry was that there wouldn't be enough time to get it done.
There was no need for me to worry. I went to my first appointment, pictures in hand, and explained the dress. Jo was fantastic at telling me what would suit my figure and how best to do it all…and it could be completed before we flew to Vegas!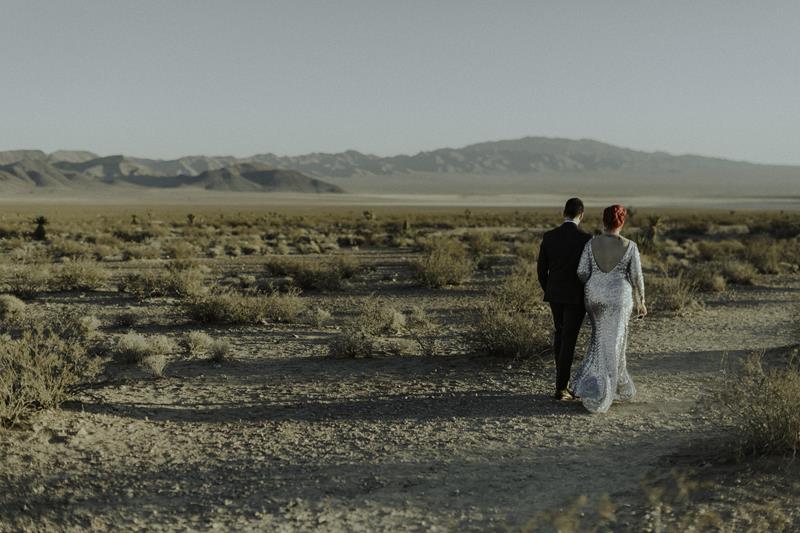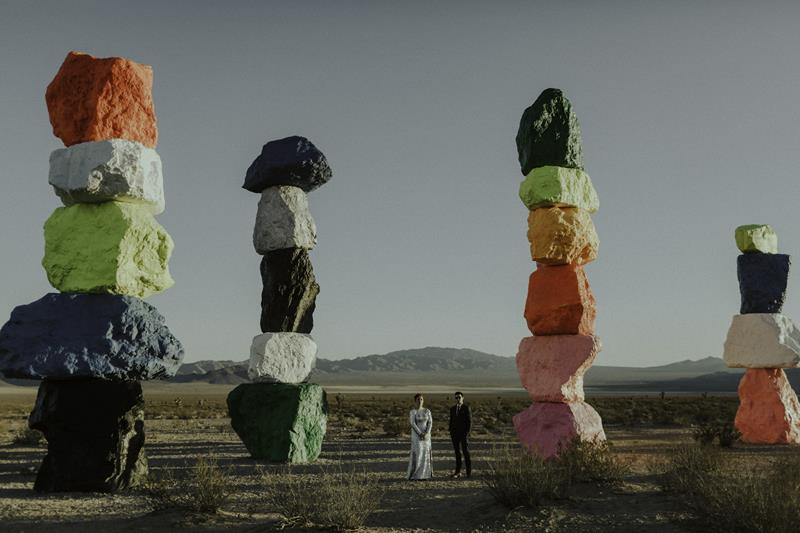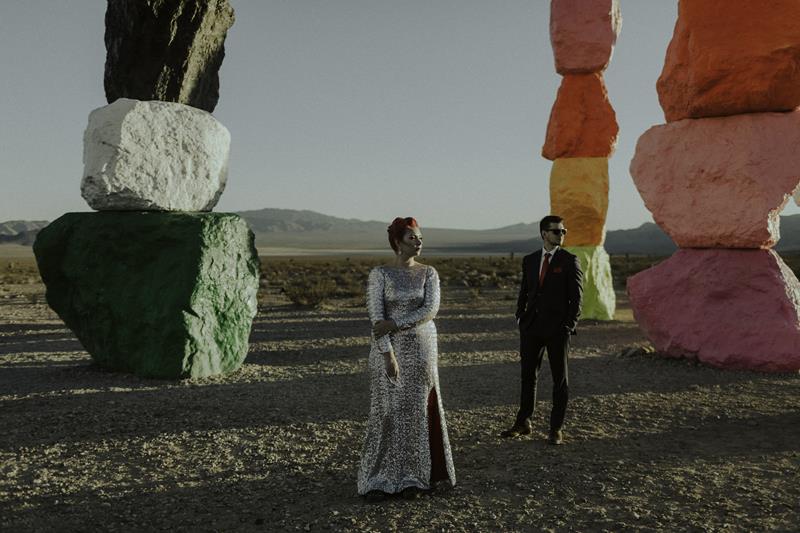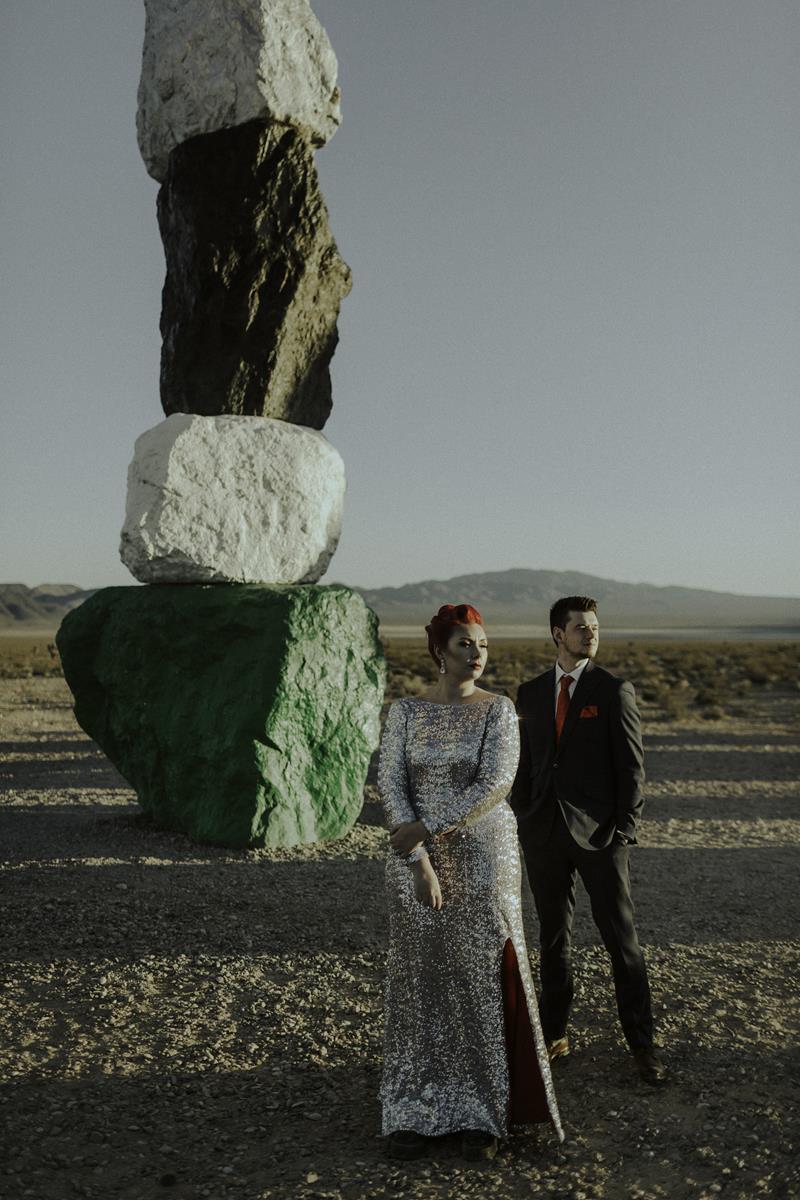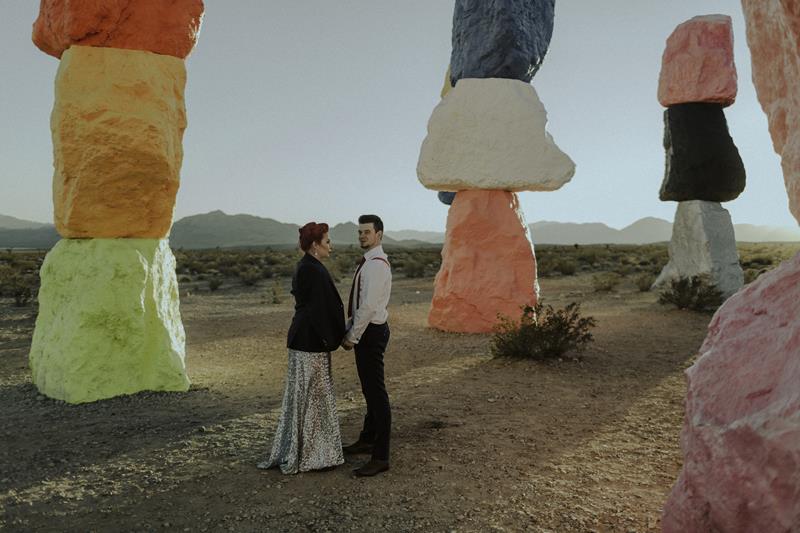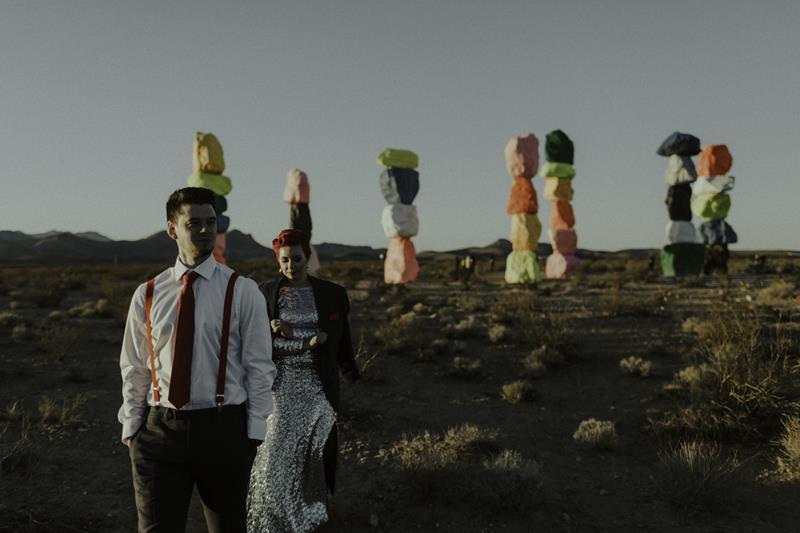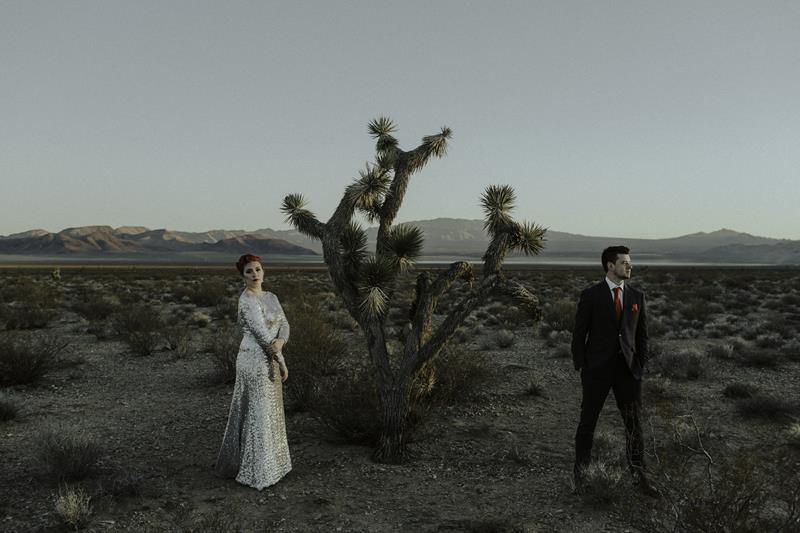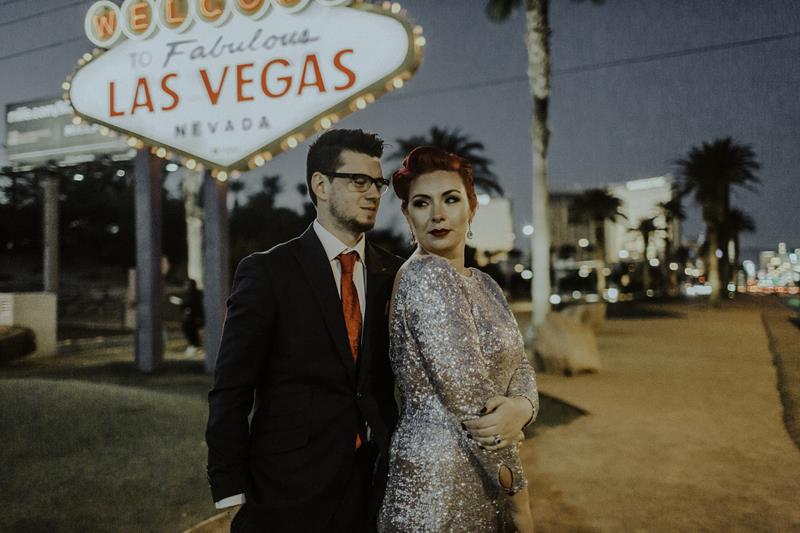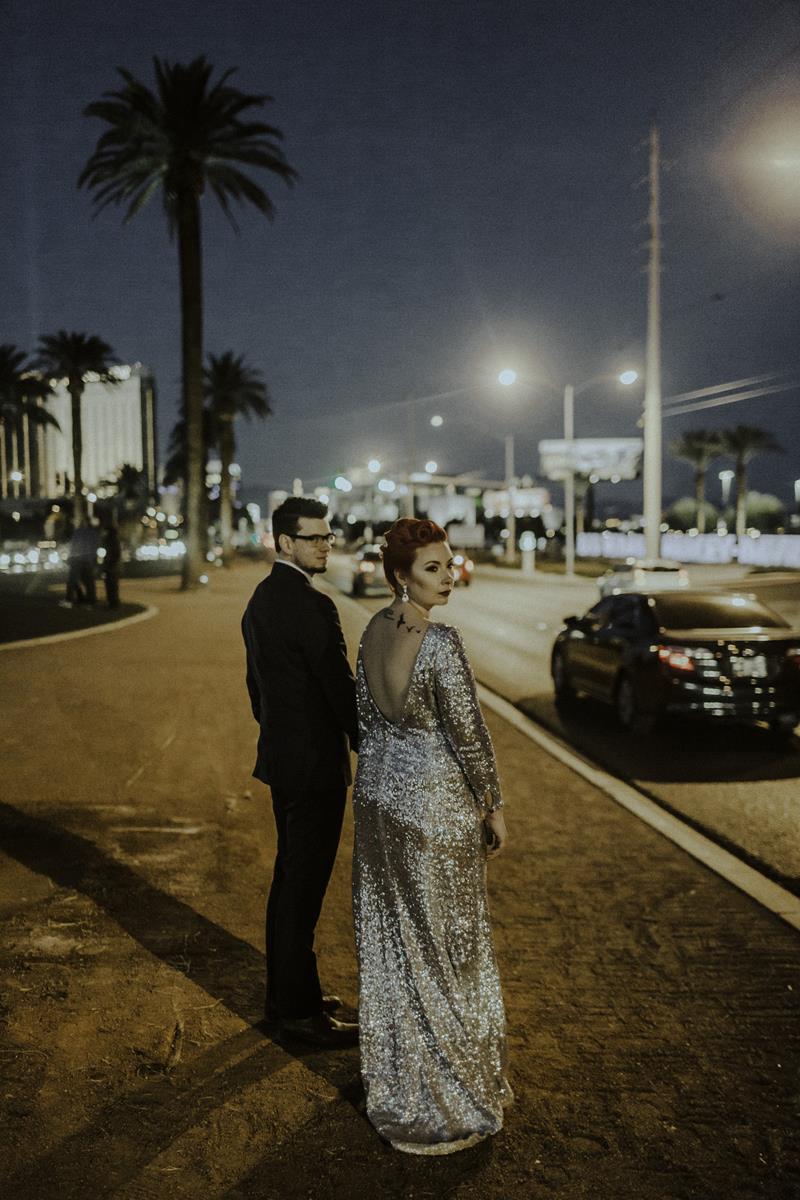 I was so excited for each appointment, and when I saw the fabric for it, it was perfect and such amazing quality. I was expecting to leave a trail of glitter behind me and for the dress to be bare at the end of the day but I didn't lose a single piece. I loved going to the appointments and standing in front of the huge mirror and seeing it all come together.
On the day, I had so many compliments from strangers about the dress. How glamorous I looked, how it was a film star dress and I truly felt fantastic the entire day.
After all the photos were taken, we walked down the strip in our outfits and bought a 30 inch pizza and carried it all the way back to the hotel. People were cheering and taking pictures of us along the way. Was absolutely our dream wedding day and the dress was definitely the star. Thank you so much Jo for all your hard work!" Nicola D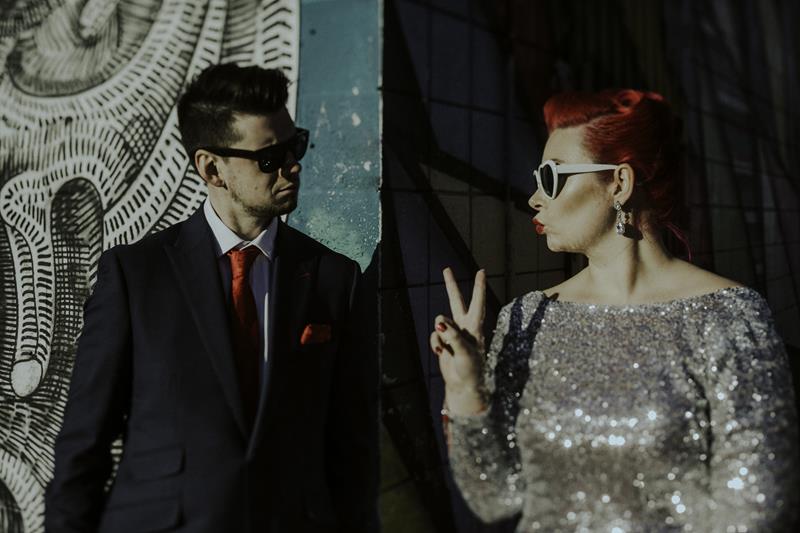 If you are heading stateside to get married  be sure to check out Forged in the North ….
12 Aug 2017
Is this dress just the cutest most fun dress we have ever made?? I really think it is…I have been waiting to see the photos for a while and boy was it worth the wait. Krissy was just the loveliest bride, right up our street….she absolutely loved what we do and was so excited at every meeting and fitting…. We created  Krissy's dress in silk organza and appliqued handpainted lace flowers around the waistline and skirt, and finished it off with the brightest rainbow petticoat and buttons 🙂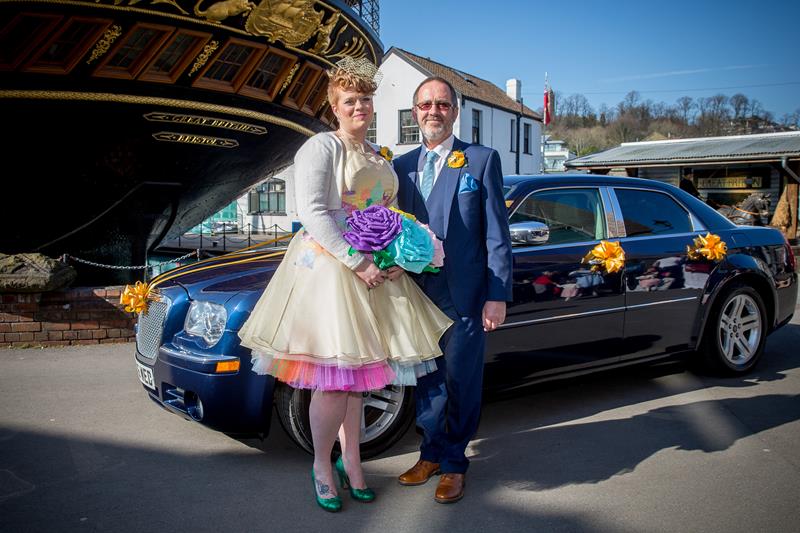 We are so lucky to have so many amazing and unique brides!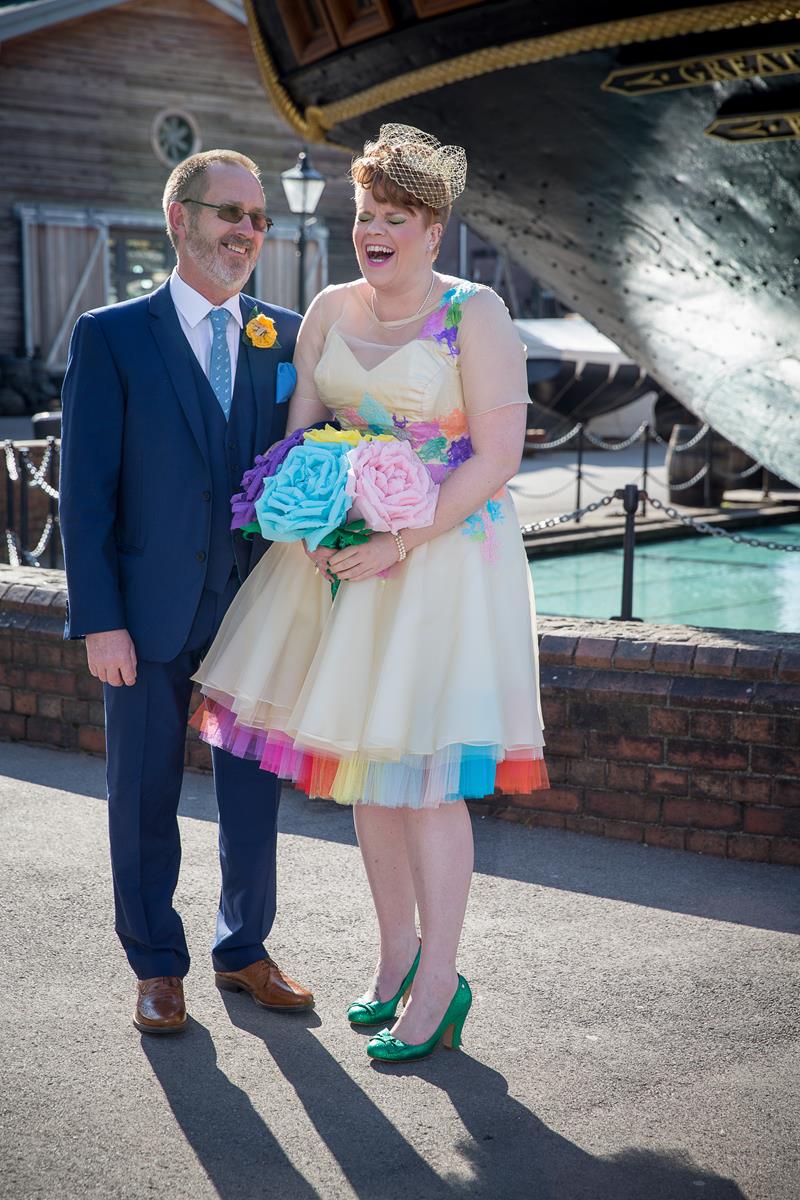 Thanks so so much for this lovely testimonial Krissy  "Thank you so much for the wonderful wedding dress you made me. I had a lot of anxiety around being 'a bride on display', and when we were planning the wedding the worst bit was thinking about the dress, as someone with poor self confidence and body image i was terrified, and felt i would never find anything i would be comfortable with. Thank glob we found you. The minute i walked in i was stunned by the dresses on display and sally made me feel so comfortable during the first fitting. Nothing was too much trouble, it felt like a true collaboration. Most importantly I felt comfortable, beautiful and super excited! After that day i had no more worries about how i would look on our big day. I was so excited about each fitting and knew i would always be met with a warm welcome. When we came to collect the dress and i tried it on i couldn't believe it, i know it would be fabulous but you exceeded my expectations. You took my dreams and made them a reality. On our wedding day i felt beautiful and confident, and I know that Matt loved the dress too. I got so many compliments and even now over a year later people still talk about the amazing wedding dress I had. I haven't been able to put it away and still have it hanging up so I can look at it! I would highly recommend Jo and her team of wonderful ladies for anyone, especially if you want something wonderful! Worth every penny. Thanks so much! "
Photos by Nick Williams Photography
26 Jul 2017