Posts tagged 'quirky wedding dress'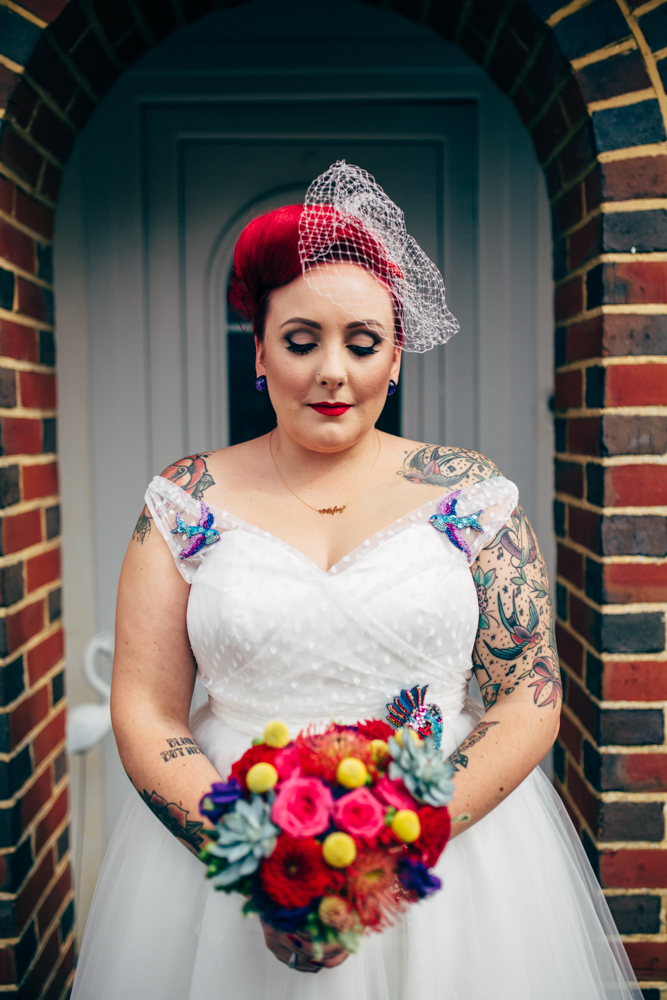 Today on the blog we have the wedding of our gorgeous rockabilly bride Mel and her  boy Lee, Mel was an absolute sweetheart to work with and was full of fun , crazy and kitsch ideas,
We created a design that was fun, comfortable and very Mel, we incorporated beade Swallows and a Mexican sacred heart into her design too..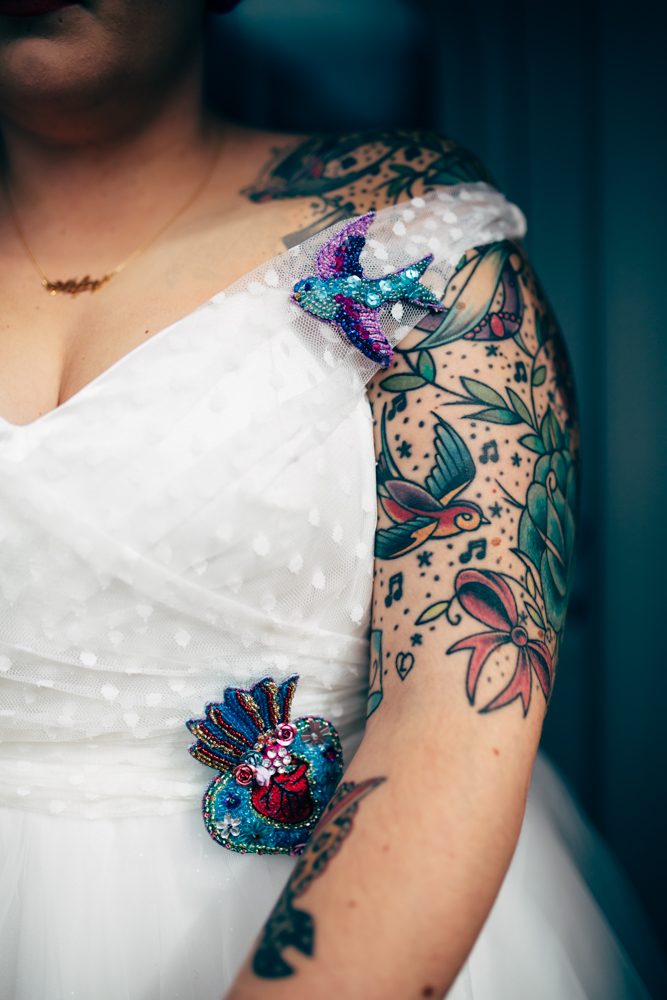 Huge Thanks to Mel for this lovely testimonial  and for sharing her gorgeous wedding photos with us 🙂
"The whole process of getting a dress from the Couture Company was perfect. The moment I walked into the studio I knew I had made the right decision. Jo was helpful and understanding throughout and every visit made me feel more confident, and each time I saw my dress coming together I got more excited to see the finished result. In the end, it was exactly what I had hoped for, and on the day I felt exactly as I should – like me! All of our guests commented on how the dress was perfect for me, and I felt like it too. I still get to wear a little bit of my dress now and again as one of the embellishments was made into a brooch so I could wear it as little memento, which is just lovely. Thank you to Jo and all her lovely staff for making such brilliant dresses! " Mel xx
These gorgeous photos are with thanks to and copyright of  Naomi Jane Photography
12 Jul 2017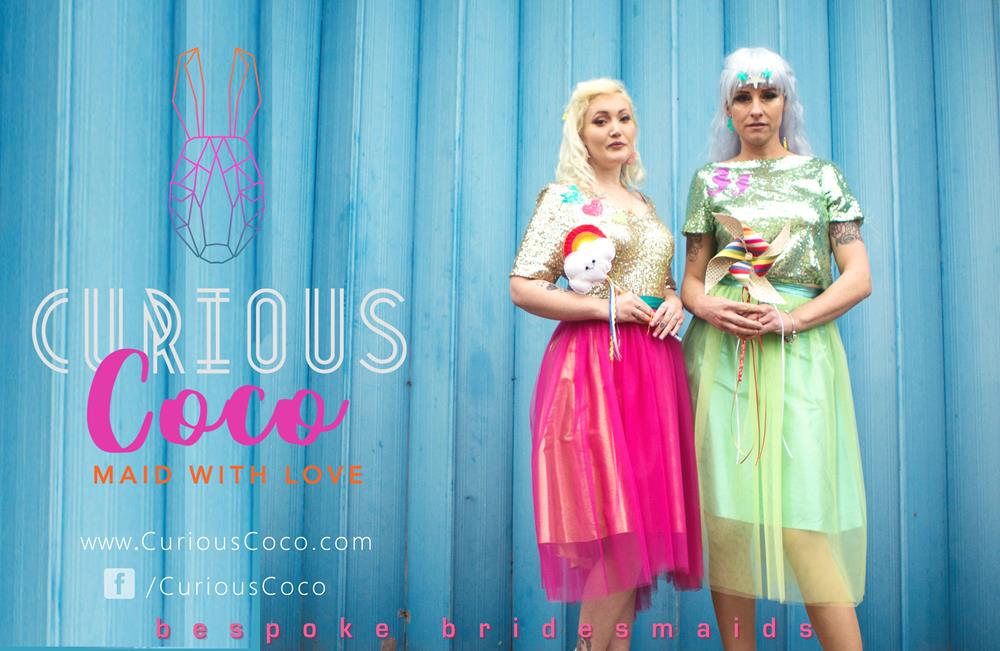 Introducing our little sister company CURIOUS COCO, specialising in bad ass, gorgeous frocks for your bridesmaid to wear for your wedding and beyond!!!
As alt wedding dress designers we get  asked about alternative bespoke bridesmaids gowns so much, "where can people get them?", "everything is off the peg and mass produced" we hear folks complain, "why cant we find a place like the Couture Co but for bridesmaids? "….well we listened  to the requests and  designer Jo has teamed up with the super talented designer and co-producer of The Eclectic wedding Extravaganza , Yasmin and they have come up with this super cute range that compliments the Couture Company feel perfectly, and to prove it we did a photoshoot featuring both Curious Coco and Couture co gowns…..
As with our wedding gowns ,The bridesmaids frocks can also be  tailor made in many choices of colour , differing lengths , with varying sleeve shapes and necklines , and adding motifs of your choice….just drop them a line  via the  facebook page and see what they  can do for you,
Here is the full and fabulous credit list of Everyone involved in this badass colourtastic shoot 🙂
Photography
Haywood Jones Photography
 http://haywoodjonesphotography.co.uk/
FB  https://m.facebook.com/Haywood-Jones-Photography…/.
Bridal Dresses
The Couture Company 
http://www.the-couture-company.co.uk/ 
https://www.facebook.com/The.Couture.Company/?fref=ts
Bridesmaid dresses
Curious Coco
FB https://www.facebook.com/curiouscoco/?fref=ts
Models
Emily Fisher     www.mermaidgossip.com
Laura Salmon    https://facebook.com/vintagedolllaura?hc_location=ufi
Jane Titne Lavoix Ward   http://www.titinelavoix.com/
Make up
Natalie Flewitt
FB https://m.facebook.com/natalieflewittmua/
Hair
Chez Titine 
Accessories
Jamball- felt wand, flamingo headpieces
 https://www.facebook.com/jamballcreations/
http://www.jamballcreations.com/
Working Clasp- laser cut crowns and jewellery
  https://www.facebook.com/Working-Clasp-Jewellery-165594400128258/    http://www.workingclasp.com/
Shoes
Iron Fist Clothing
Fb https://www.facebook.com/ironfistclothing/?fref=ts
Paper Decorations
Pulp Cards
FB  https://www.facebook.com/Pulp-Cards-Thomas-Street-Urban-Candle-Co-241470042605839/
Animal Masks made by Yasmin and
designed by Wintercroft Masks
24 May 2017
Meet our awesome bride Karen, we love our clients so much and Karen is no exception, she was as crazy as a kipper , mad as a hatter and just downright bloody awesome!!!, She knew exactly what she didn't want and most of time exactly what she did want.
Sparkles, bubbles, colour and more colour and oh a bit more colour!!! We think she looked completely stunning on her wedding day and here we see her as our very  own intergalactic boho bubbled up space goddess, that's the only way to describe this gorgeous girl.  🙂
Congratulations to you both you look awesome
Thanks so much Karen for your awesome testimonial, we know our brides will LOVE reading your story 🙂
"
I knew from the start I didn't want a traditional wedding dress. In fact, that was really the only thing I had in my head when I started looking for what to wear on my wedding day.
I had searched online for ideas and found a breadth of conflicting themes that I liked… none of which I was completely sold on.
We planned a tiny wedding (just us, our witnesses and their partners), so it didn't feel like a "proper wedding" to me. Because of this I knew whatever I chose to wear, I didn't want it to look like your typical wedding dress. I wanted to be comfortable but pretty, dressed up but not over-dressed. And it had to be true to me… which meant a racer back top (so I could wear a sports bra – how anyone wears a wired bra all day is beyond me), sparkles of some sort and a healthy dose of colours.
I was drawn to Jo because of a picture on her website. I Googled local dressmakers because I wasn't finding what I wanted in the shops. I landed on the Couture Company website where I was greeted with a picture on the front page from the Intergalactic (http://www.the-couture-company.co.uk/wp-content/uploads/2012/08/the-couture-company-designer-wedding-dresses-dress-space-sparkly-sequins-gold-intergalactic-alternative-unusual-unique-44.jpg) range; a Florence and the Machine-esque image that I immediately loved. It showed a dancing woman in flowing sheer colours. Very festival. Very ethereal. Very NOT wedding. Very me.
I booked an appointment to talk about what I wanted, and when I went in for my first meeting, the outfit in question was standing in front of me on a mannequin. Fate right?
I tried it on and I put down a deposit there and then.
As much as I hate to be that person… I had several pre-wedding freak-outs (that Jo dealt with very well). In the time between trying on, and falling in love with the outfit – a wraparound sheer georgette masterpiece with a sequin dress beneath – I was suddenly really scared that actually it made me look frumpy. I had opted to not wear the dress underneath so that I could pick something more to my style, but then spent so long overthinking what these under garments would comprise of that I nearly changed my mind on the whole thing overnight.
Jo laughed it off, told me I looked stunning, and calmed me down with talks about sequin hotpants, racerback tops and a promise that whatever shoes I opted for she would be able to make them work. She let me try the outfit on again and beamed "See!" at me when I gave a relieved smile at seeing it on again. I didn't look frumpy. Stupid brain.
I picked the colour of the dress based on a coin-toss (between teal green and purple… it landed on green) and let Jo run wild with the theme of "bubbles and all the frigging colours". She used colourful bead and sequin detailing to create the illusion of bubbles coming down from my shoulders, and added a huge pop of colour with a fuchsia sash – which also got the bead and sequin treatment. The bubble theme ran throughout our engagement and wedding, it has a meaning for us and I wanted that reflecting in my outfit, which worked out perfectly.
I spent a few weeks customising some old shoes, adding layers and layers of glitter and accents, and creating my own fabric bouquets to perfectly match my dress. I had rainbow colours put in my hair too, so altogether I really did have "all the frigging colours" and felt amazing.
I brought a friend along to my final fitting. I hadn't brought anyone along up until that point because, as I said, it wasn't "a proper wedding" in my head. The friend I brought is a local jeweller, Bella, from Magnus & Bella (based in the Jewellery Quarter). She made my engagement and wedding ring and knew how important the bubble theme was to me. When I came out of the changing room she welled up and said I looked perfect.
On the day of the wedding I remember putting the parts of my outfit together. I felt like a super hero in high heels and short shorts drinking mimosas while my best friend helped tie the bow on my sash. In the sunshine and light winds the dress looked beautiful, flowing behind me as I walked. Strangers came up to me to tell me it was gorgeous and ask where I had got it from. It was pretty cool to say it had been handmade just for me.
So thank you, Jo and the team, for understanding my desire to not look like a bride and for making me a piece of walking artwork. I would highly recommend The Couture Company to anyone looking for a special outfit because you don't need to have a big white dress on to feel like a princess.
xxxx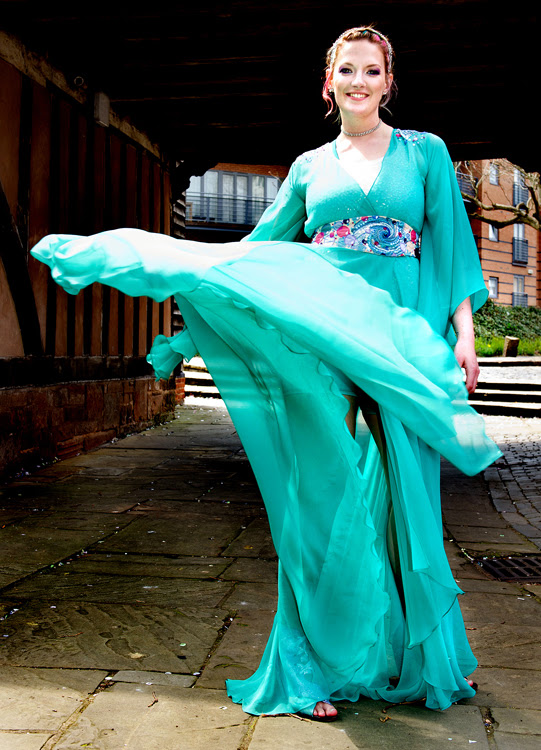 All photos above copyright of Shirlaine Forrest
Below Karen with her mum and Dad xxx, so cute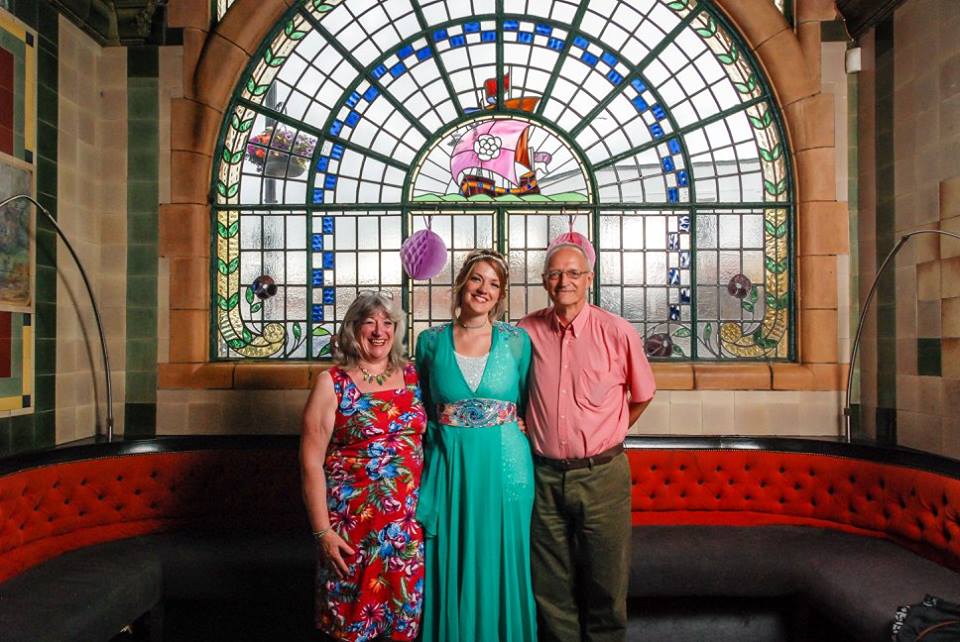 18 Sep 2016