Posts tagged 'cap sleeve'
Is this dress just the cutest most fun dress we have ever made?? I really think it is…I have been waiting to see the photos for a while and boy was it worth the wait. Krissy was just the loveliest bride, right up our street….she absolutely loved what we do and was so excited at every meeting and fitting…. We created  Krissy's dress in silk organza and appliqued handpainted lace flowers around the waistline and skirt, and finished it off with the brightest rainbow petticoat and buttons 🙂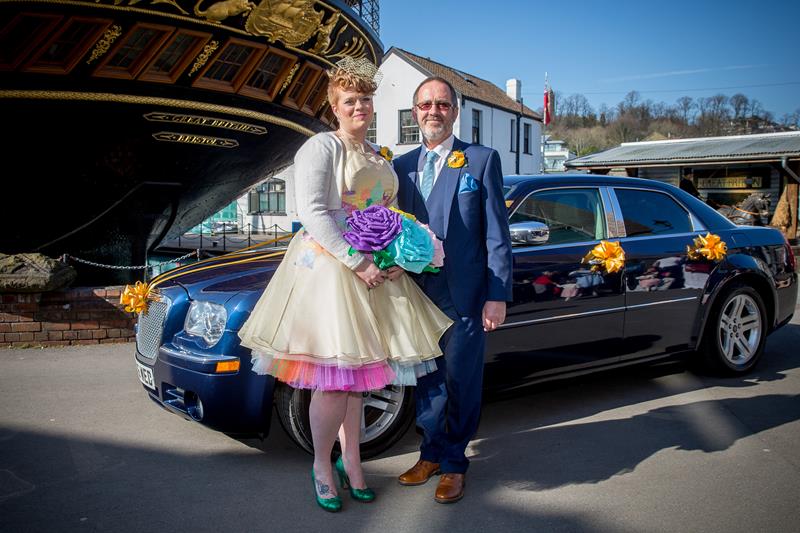 We are so lucky to have so many amazing and unique brides!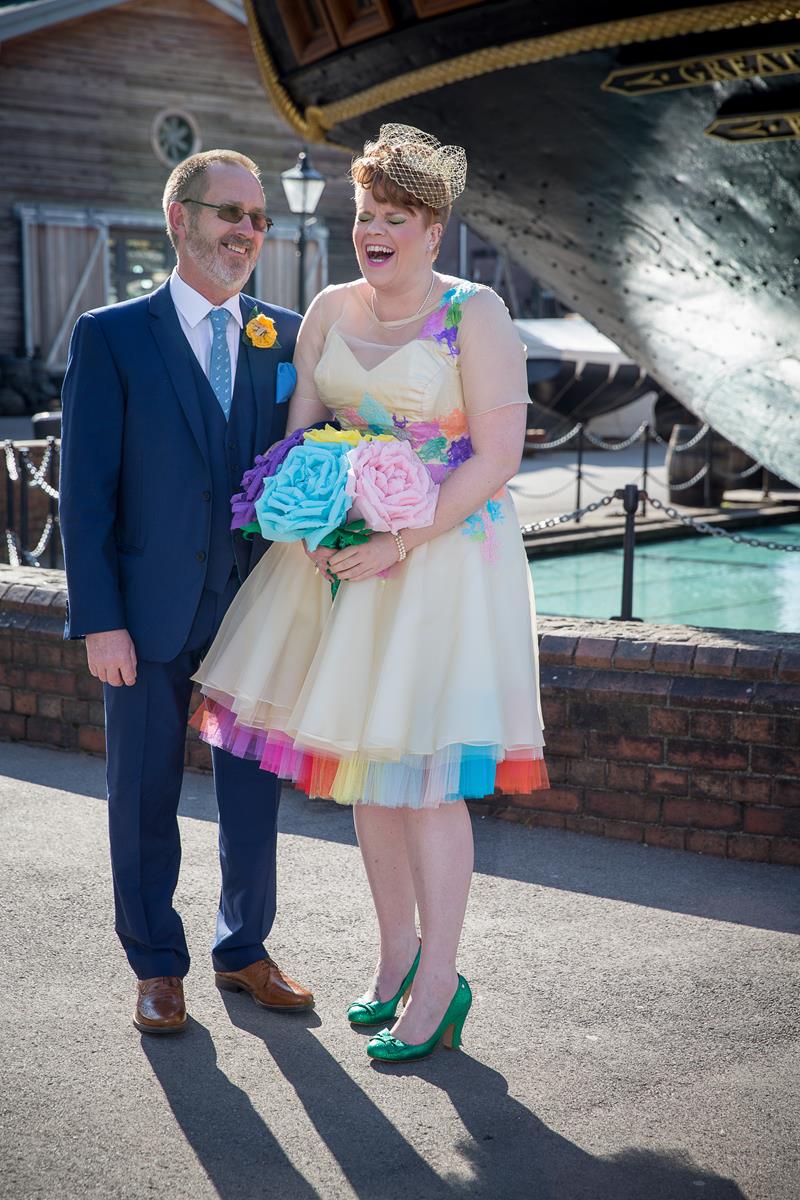 Thanks so so much for this lovely testimonial Krissy  "Thank you so much for the wonderful wedding dress you made me. I had a lot of anxiety around being 'a bride on display', and when we were planning the wedding the worst bit was thinking about the dress, as someone with poor self confidence and body image i was terrified, and felt i would never find anything i would be comfortable with. Thank glob we found you. The minute i walked in i was stunned by the dresses on display and sally made me feel so comfortable during the first fitting. Nothing was too much trouble, it felt like a true collaboration. Most importantly I felt comfortable, beautiful and super excited! After that day i had no more worries about how i would look on our big day. I was so excited about each fitting and knew i would always be met with a warm welcome. When we came to collect the dress and i tried it on i couldn't believe it, i know it would be fabulous but you exceeded my expectations. You took my dreams and made them a reality. On our wedding day i felt beautiful and confident, and I know that Matt loved the dress too. I got so many compliments and even now over a year later people still talk about the amazing wedding dress I had. I haven't been able to put it away and still have it hanging up so I can look at it! I would highly recommend Jo and her team of wonderful ladies for anyone, especially if you want something wonderful! Worth every penny. Thanks so much! "
Photos by Nick Williams Photography
26 Jul 2017
Meet the Loves, Aimee and Lenny!! YES !! true dat name!! Meet Mr and Mrs Love… we absolutely LOVE everything about this wedding!! What an awesome couple and a truly fantabulous wedding…. Its everything I could wish for in a wedding and more, Gorgeous bride, rainbow colours, crazy ass groom, pineapples, gorgeous smiles, fun times, and badass photographer  Assassynation!! Love love and More LOVE
Thanks so Much Aimee for this awesome write up, I know our brides to be will love reading this 🙂
"I'm so happy with my experience at The Couture Company and would recommend anyone wondering whether to take the plunge or not to just go for it! I was such a pain up the arse bride and changed my mind on what I wanted about 3 times! Poor them. But Jo took it all in her stride, listened intently, calmed me the hek down (the dress was the only thing that completely overwhelmed me) and im glad to report we got there in the end. I even wanted to change the style of my dress on my last but one fitting, less than 2 weeks before the wedding, and it was just done for me, no bother, no judgement, no problems. When I finally tried my dress on in my last fitting, 4 days before my Wedding, I knew I'd made the right decision to have my dress made for me (even though it took me a while to get there!) and the team did an OUTSTANDING job on the final piece. The lace; the finish and the craftsmanship was beautiful. All my family cried when they saw me. Phew!!!
The reason behind all the changes of mind were basically down to a 2 stone weight loss over the course of our engagement. As the weight came off I became more body confident and realised that I didn't want to hide behind the mass of material I'd originally wanted when I'd gone for my initial consultation. I started off wanting sleeves, i.e wanting to cover up my arms, but months later (and arms slightly skinnier) I'd asked to have them chopped off. I'd initially wanted gathers and pleats to hide my tummy, but as tummy got smaller I felt I had the confidence to go more fitted and streamlined. Jo was a true Pro and completely understood my Bridezilla demands!!! She was SOOOO patient with me. I couldn't have apologised enough. She did exactly what I asked and didn't once let on that she probably wanted to kill me. God bless her!
I honestly couldn't recommend the Couture Company more. I couldn't imagine wearing anything else now and most importantly, hubby LOVED it!!! Thankyou to everyone who worked on my dress" Aimee Love x
Enjoy these awesome photos from Assassynation
8 Aug 2016
I have a crazy pal, her name is Anne, she is an excitable ball of energy and love, and when our Gentleman Jim (yes he is also a bit crazy) proposed and they announced not one but 2 weddings we all knew we were in for a treat!!!. We even formed a secret choir to perform/ruin some of their favourite tunes at at the wedding!!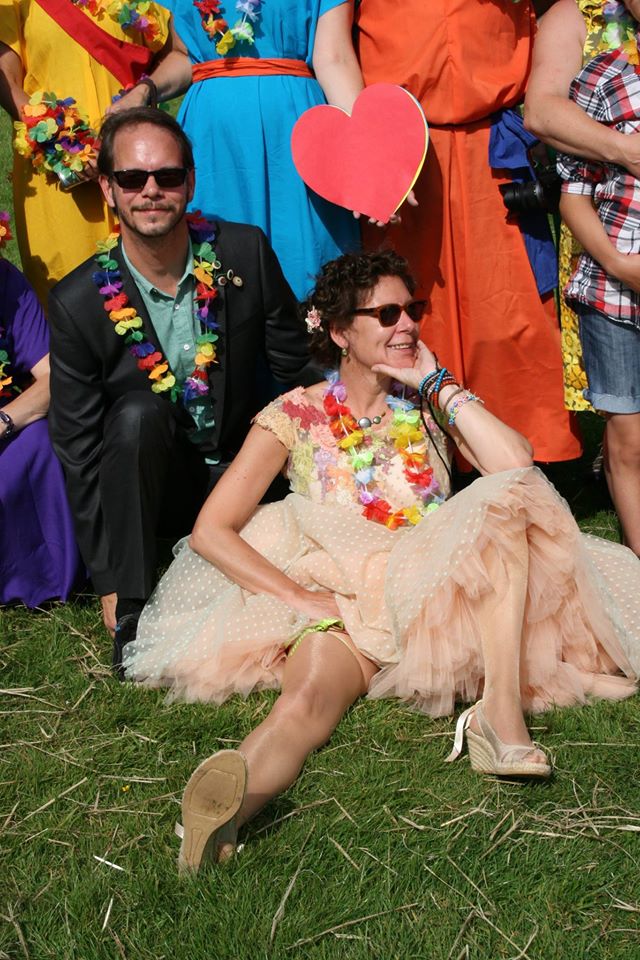 Its always ALWAYS a massive honour for me whenever friends or  family  ask me to design and make their wedding gown, it fills me with enormous pride that they trust  me to come up with something that is very "them".  No Pressure!!!! but in a way its also easier  as I know them and know their tastes.
I was especially doubly honoured that they asked me to be the officiant/celebrant at their festival wedding ….you might spot me in my dog collar 🙂
What a brilliant couple of days with brilliant friends and a BRILLIANT COUPLE!!! Big love and happy Anniversary to Anne and Jim xxxx
Excellent Sunglasses by Revive me Boutique
Excellent Party by Deckheds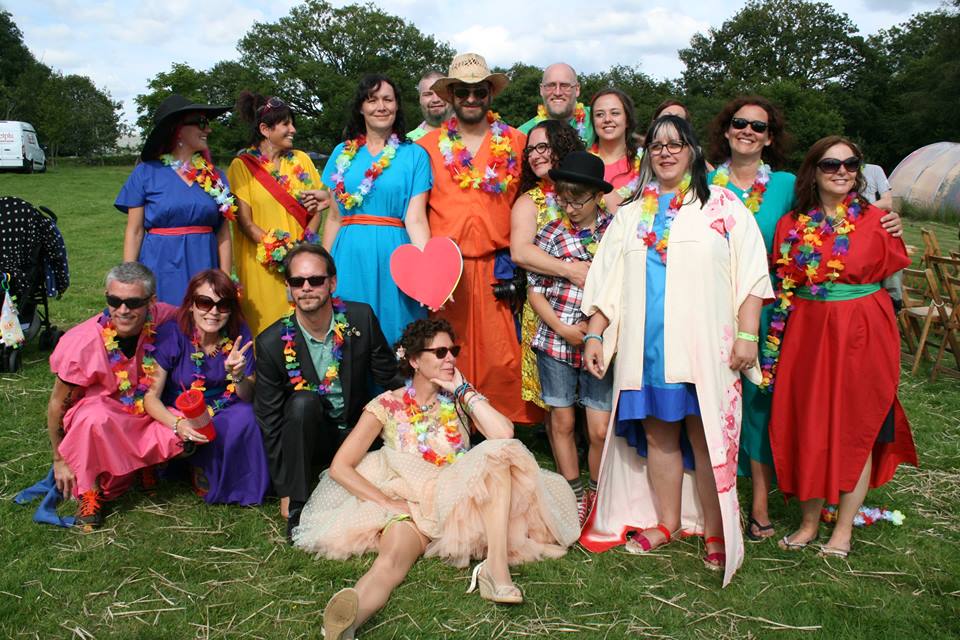 Anne tells her dress story
"I have known Jo for some time now and had seen some of her work before, being very impressed by the quality of the work and by the bold statements that some of her designs make. So, when my soul mate pushed me off the side of a mountain in Turkey (with a paraglider!!) and was waiting for me at the bottom with his proposal, I had to say yes! 
Very quickly my thoughts turned to what I would wear though!
Being an older bride and having been married before I knew I definitely didn't want anything traditional OR white! We had decided to have a festival style wedding because we spend most of our summer travelling around the country putting our tent up and down in various fields and enjoying friends both new and old and jumping around to some of our favourite bands and embracing some that are new to us, altogether, having FUN!
This in mind, I knew there was no way I was going to find what I was looking for in any old wedding shop. Thank goodness I knew Jo. As you will see from this testimonial, if I can say it in 20 words why say it 3! I hot footed it over to Jo and her fabulous team and started to explain what I was looking for. I was all over the place and was so nervous because this is a really important decision to make, all eyes are going to be on 'that dress'!!
From the initial chat on a night out to the moment I put my dress on for the final fitting I can honestly say that Jo and her fabulous team were amazing. They helped me to focus and offered advice when they knew better than me, because I am not a dress designer and they really do know what they are doing! This is where you really see Jo's talents too because she has a thoughtful and sensitive way of guiding you toward styles, colours etc that will suit you and work well without trampling all over your very definite ideas and desires.
My dress had to be fun. It had to flatter my slimmest point. It had to allow me to move and jump around. It had to cover the 'bits' I don't like. It had to reflect our love of music in some way and it had to have an element of 'greenness'. Jo's suggestion to have a record disc on a belt was just the icing to whole look. So many people have commented on my dress and I felt so wonderful the moment I put it on, it is so hard to do justice to the whole process in words.
If you are looking for a real statement on your wedding day then I would urge you to speak to Jo before you go anywhere else because she can take that seed that is bouncing around your brain and translate it into your boldest and most beautiful moment ever!!
25 May 2016