Posts from the 'Quirkessential' Category
This is Gemma's story of how she found her dress- she cried, they cried we all cried 🙂 we LOVE our brides!!
Huge congratulations to Gemma and Olly  xxx Thanks so much for this awesome testimonial xx
Gemma writes…….
"The Dress
I first met my groom to be in Sutton Coldfield in our local pub five years ago. He proposed to me on my 30th birthday as I blew out the candles on my cake, in front of all my family and closest friends – it took nerves of steel!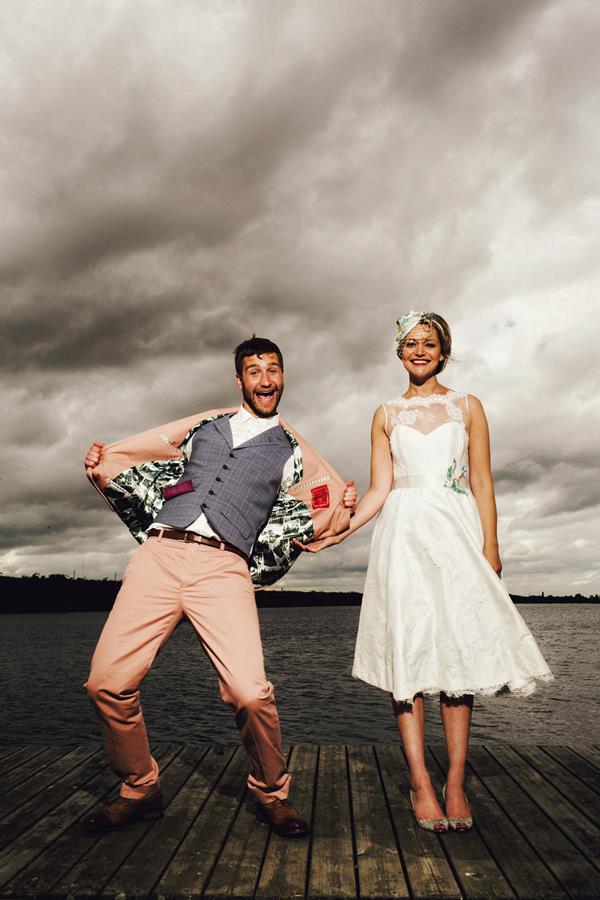 From the very beginning of planning our wedding we knew we wanted a traditional church service and we were married at Holy Trinity Church in Sutton Coldfield. This was followed by a far from traditional festival themed reception with guests camping overnight – if they were brave enough!
When thinking about my dream wedding dress, I knew what it wouldn't be before I knew what it would….. Not long, no frills and most definitely no bling. In reality I found my dress on the very first day I set out to look for it. Accompanied by my Mum and Mother in law to be, we set out for a girlie shopping trip to mooch at wedding dress. I hadn't planned on finding a dress that day, as I was still unsure of what I actually wanted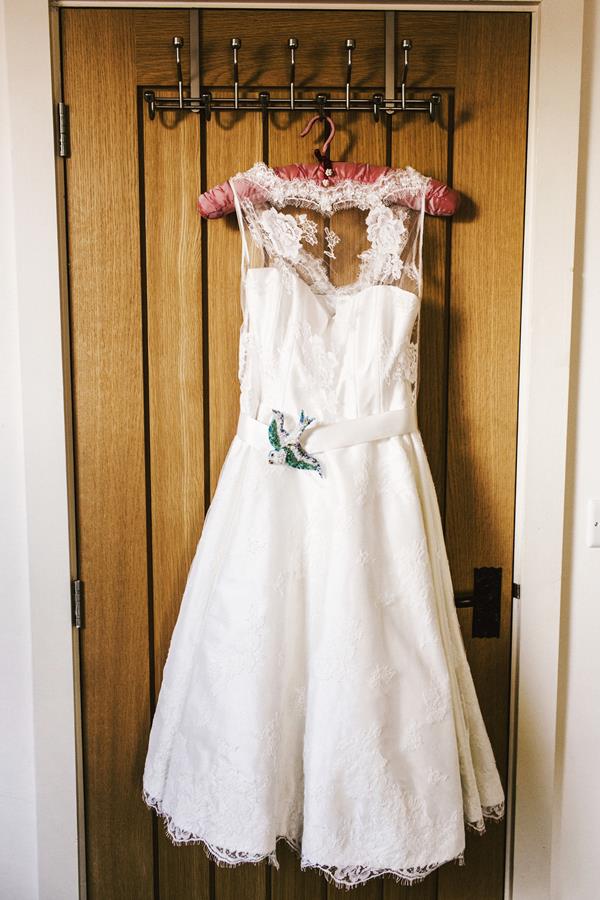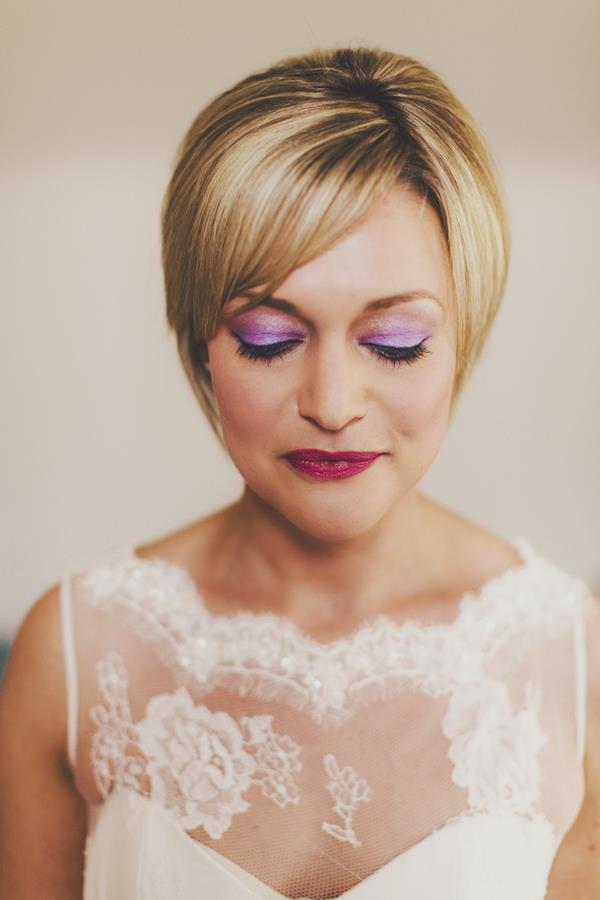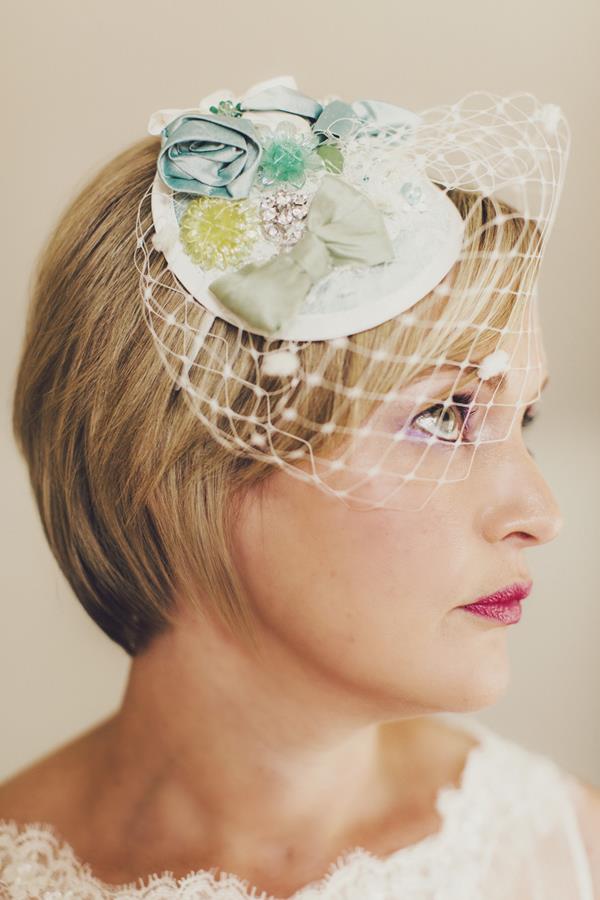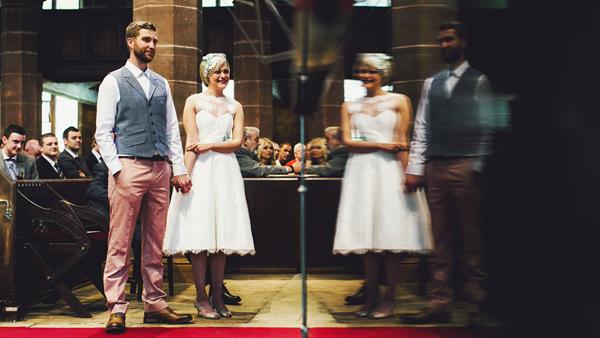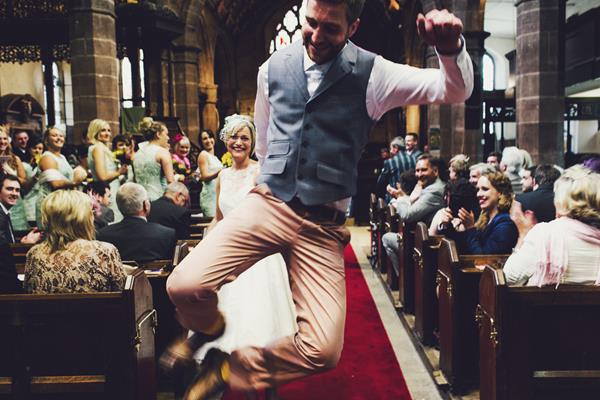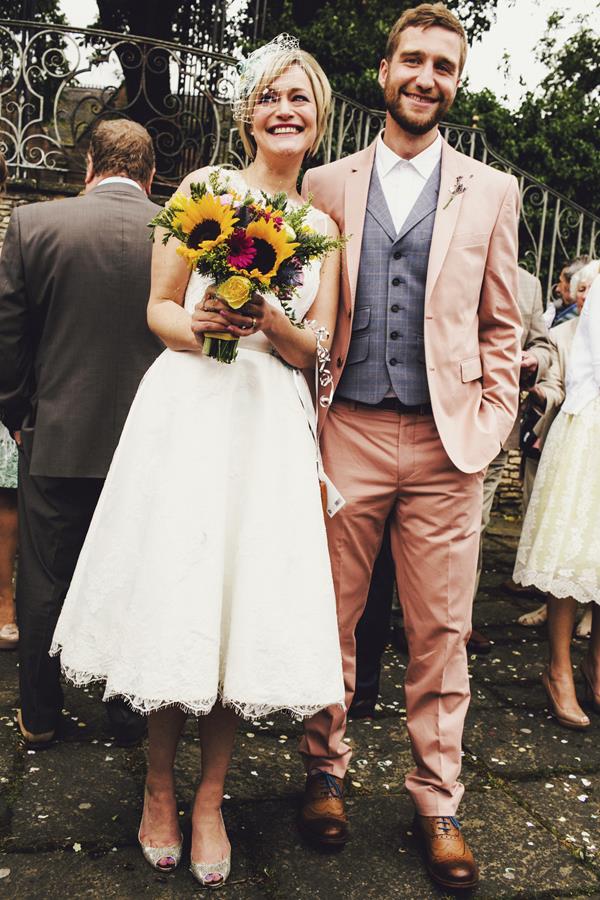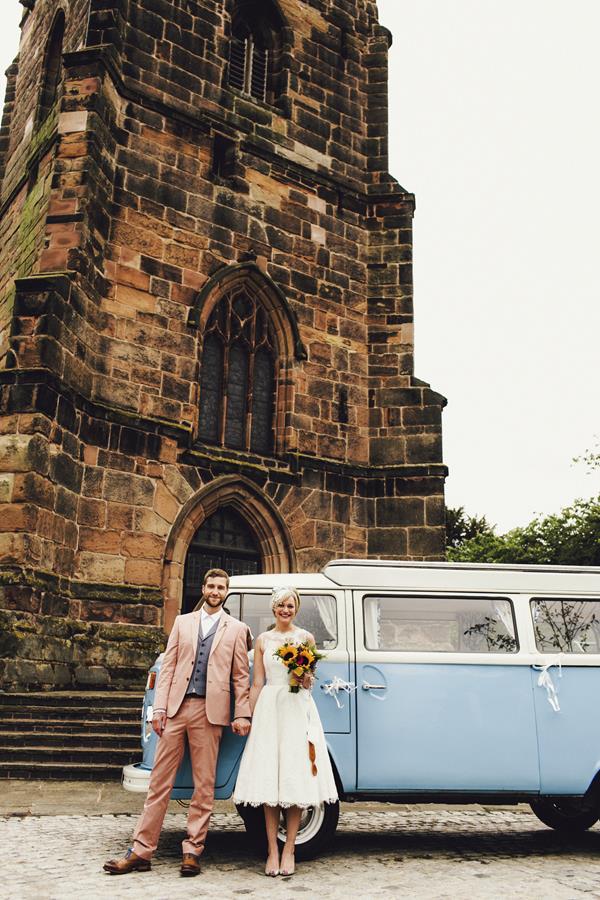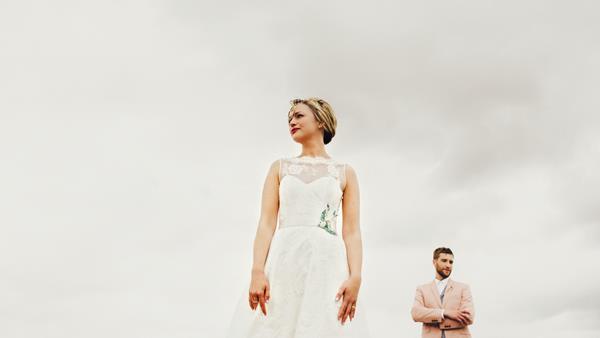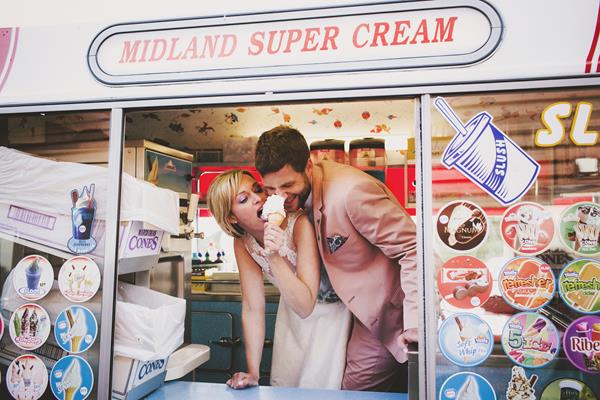 , although I had decided, I wanted a dress I could be comfortable in all day and LOVED lace, so it was a small start. We headed to the Custard Factory, Birmingham for breakfast, It's a lovely eclectic part of Birmingham with a vintage feel to many of the shops there. I had often shopped in the vintage shops around the Custard Factory before so I knew there was a wedding dress shop there, so I guessed it was a good place to start. After breakfast we wandered over to the Couture Company, the wedding dress shop I had seen previously, I had always admired the dresses on display in the window. It was a miserable day, pouring with rain outside so we were pleased to be staying undercover. Walking up to the shop I stopped my Mum and Mother in law in their tracks, because there, in the window, was my perfect dress. We were warmly greeted by Jo on entering the shop, I had previously booked an appointment 'just in case' there were any dresses I wanted to try on.  Without hesitation I asked to try on the dress in the window. As Jo was helping me into the dress, before it was even fully on, I burst into tears, It was only the second dress I had tried on but I knew it perfect and I had found 'the one'. After stepping out from behind the screen and seeing my Mum and Mother in law's faces well up when they saw me in the dress – it sealed the deal!
I made several customisations to the dress and the headpiece to ensure it fitted perfectly to the theme of the wedding. All of these changes were as easy as telling Jo what I wanted and she fixed it, easy as that. Jo's creative flair helped with some of the design decisions, in fact finding and altering my wedding dress was the easiest part of the whole planning. My bridesmaids were all to be dressed in a lace mint green shift dress, so we co-ordinated the underskirt ribbon to match perfectly. The headpiece design was based on a collaboration of other headpiece designs within the shop, and again the mint green colour was used, highlighting the look and feel I wanted. The last thing I customised was the waist band, as my husband to be has a swallow tattoo – this influenced a lot of the design for other factors within the wedding, the invitations for example had swallows on and so did several other key pieces within the wedding. The most beautiful sequined swallow was made for me to pin onto my waistband – I felt the dress was now more than perfect! As a last minute thought I asked Jo to make me a small wrist purse in the same material as the dress to put my lipstick in, I roughly sketched my idea on a piece of paper and once again Jo produced magic and created just what I wanted.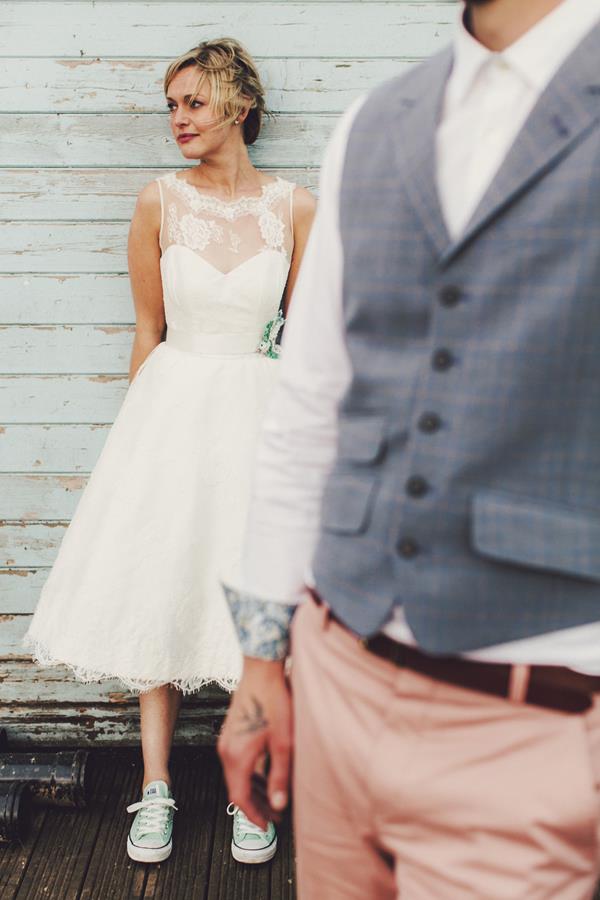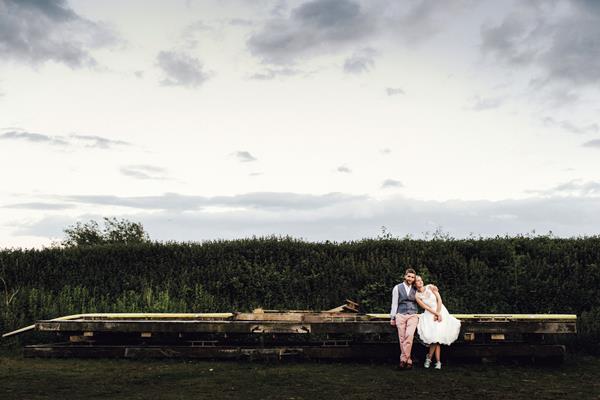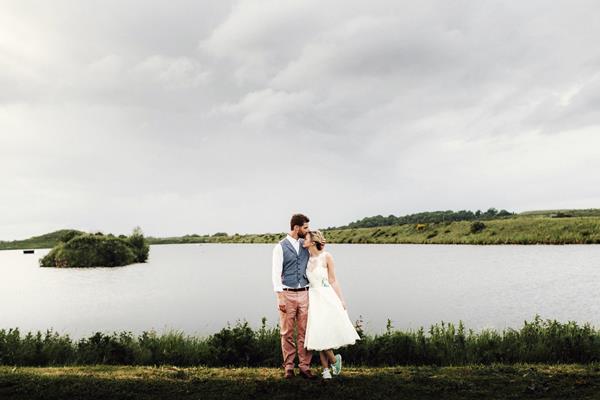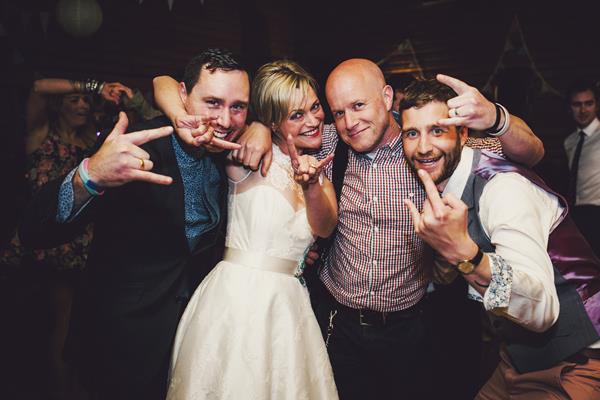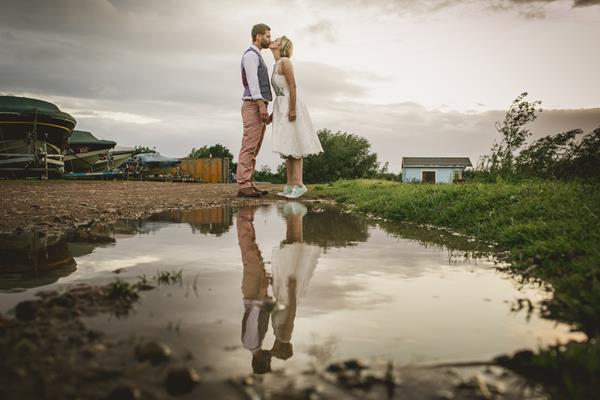 All in all I couldn't recommend Jo and the Couture Company highly enough for any bride to be. All my visits to the shop, from the initial visit to the final fitting and collection were all stress free and so exciting. Jo and her team made the whole dress experience a pleasure and I was more than ecstatic with the final result – My dress was absolutely perfect, and I thank them all from the bottom of my heart.
These epic photos are copyright of photos are copyright of Montreal wedding photographer Steve Gerrard, be sure to visit his website
7 Apr 2014
Sara rocked her boho dress at her Custard factory wedding,and it looks like she had an amazing day!!!  we are so happy that Sara came to us and with this awesome testimonial, Sara tells it so much better than I could 🙂
'People always tell me that I have a distinctive style. What they actually mean is that I have peculiar taste in clothes and often dress like an lunatic.
I tend to be drawn to a whole host of random styles, shapes colours and patterns which rarely go together, usually don't fit me all that well and probably don't really go together. I don't really know what suits me. Only what I like. What I like most is being comfortable. After that basic requirement is fulfilled, some days I'll be in a fluorescent orange lace dress and heels and the next I'll be in jeans and a top meant for an 80 year old man. My fashion sense is bi-polar.
I think half friends and family imagined me turning up to my wedding in a leopard print catsuit and the other half imagined a more traditional dress. In truth I had no idea what I wanted. Only that I wanted it to be different and that I wanted it to reflect me.
With 3 young children, the youngest of whom I am still breastfeeding, my aforementioned 'distinctive' style and no clue where to start I was pretty daunted about the process of finding dresses I liked. Even more so about trying them on.
When I stumbled across The Couture Company it was a bright sunny day and I was visiting The Custard Factory to look at a wedding venue, The Old Library. A venue I later went on to book. I was having a window shop around The Custard Factory, my month old son in a baby carrier, mum and hubby-to-be in tow and with no plans to look at wedding dresses. As we peered in through the window, though, I was blown away by the beautiful dresses that I could see on the rails. More, the accessories and bits and bobs dotted around were totally my style. A crazy, ecclectic mix of beautiful things.
I shooed Mark away and ventured in for a closer look. (Not knowing it was by appointment only, sorry Jo!)
Jo came to say hello and handed me a leaflet and was so welcoming and friendly. I thought 'if only I could afford a dress to be handmade for me' and left, clutching my leaflet and dreaming of a lottery win – assuming from the luxe fabrics and unbelievable cuts that the dresses were out of my price range.
Several weeks later, with only 4 months to my wedding, I hadn't seen a SINGLE dress I liked online or in the shops. I hadn't tried any on and had no intention of doing so when I knew they'd be wrong.
 I'd had a few knocks to my confidence in bridal shops before when trying on bridesmaids dresses. I am no sample size and having recently given birth I wasn't feeling all that thrilled with the idea of standing with a stranger in a cramped fitting room trying to wriggle myself in to a dress I didn't like.
It was then I thought back to how perfect The Couture Company had seemed for me. The beautiful, crazy shop, the gorgeous dresses, how friendly Jo had been. I thought I'd look them up online. I was blown away when I saw more of the dresses that had been up on the blog – seeing them on real brides brought them to life. I just knew that The Couture Company was right for me.
I emailed Jo asking about the time frame I was working to and asked a few questions. I couldn't' believe it when I realised that I may have both the time AND the budget to get a dress made for me. I was really excited,then, about the consultation I had booked and, although I still had no idea what I wanted, went along pretty much knowing I would be ordering a dress that day.
I arrived at my consultation with only one idea: I liked the idea of a gold dress. With my gingerness and fair skin I knew that would suit me. I had no idea on shapes or styles and so when asked to pick out what I liked I picked up pretty much everything.
When I tried on a sample of my dress, albeit in a different colour-way, I knew RIGHT AWAY it was what I had been dreaming of. It was one of those moments everyone tells you about but you never really believe. 'You just know.' I felt brilliant in it right away.
Securing my dress order with a deposit that day I was so excited. And the subsequent fittings and appointments were a joy. I just loved my dress so much. Seeing it come together was a fab experience. The work that went in to it! I felt like such a lucky girl. Choosing the fabrics and colours was just so much fun and it felt so special.
One thing I distinctly remember after ordering my dress is thinking to myself, well, if I can feel this good in my dress so soon after having my baby, without having to punish myself with any sort of diet or ridiculous exercise regime, I am now going to celebrate my dress purchase with a GIANT lunch and celebratory drink. Fabulous. having imagined the dress buying process making me feel self conscious and horrible it was amazing for it to have had quite the opposite impact on me!
I also asked, at my first fitting, about having something designed for my hair. With only (again) a vague idea I was blown away when next time I arrived, only a couple of weeks later, I had a beautiful headband made from the fabrics of my dress and on a band that was exactly the same colour as my hair. How did they manage that? I still don't know.
When the day of my wedding arrived I felt fantastic in my gorgeous gold dress. It was just perfect. Mark absolutely loved it too. He said it was perfect. Perfect for me.
My 2 year old, Archie, said I looked 'fantastic' which brought a tear to my eye. (He's not always so complimentary about my clothes!)
Another thing about my dress that I loved was that it was the most comfortable and well-fitting thing I have ever worn. I wish The Couture Company could make all of my clothes. I ran around after the kids, swung them around the dance floor… I wasn't' at all restricted. And nothing fell off or down (quite rare for me!)
I'd like to thank Jo and everyone at The Couture Company for helping to make me the happiest bride in the world. I will be wearing my dress again. Possibly every day.
Thank you guys. You are amazing.'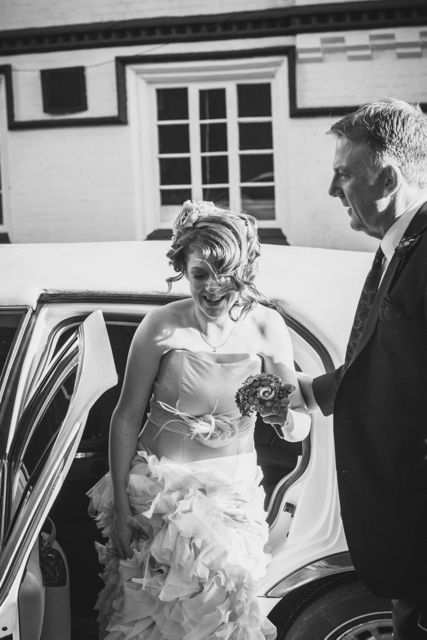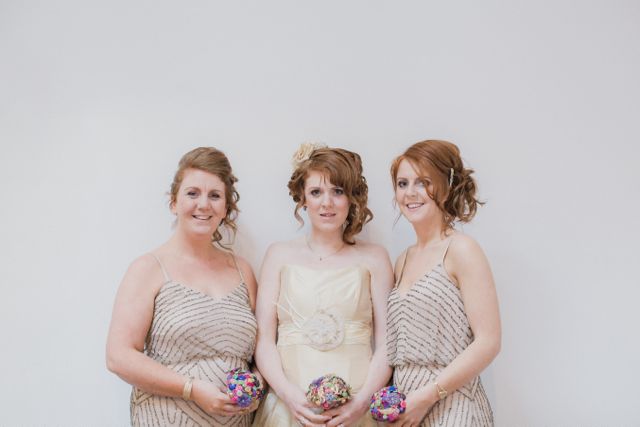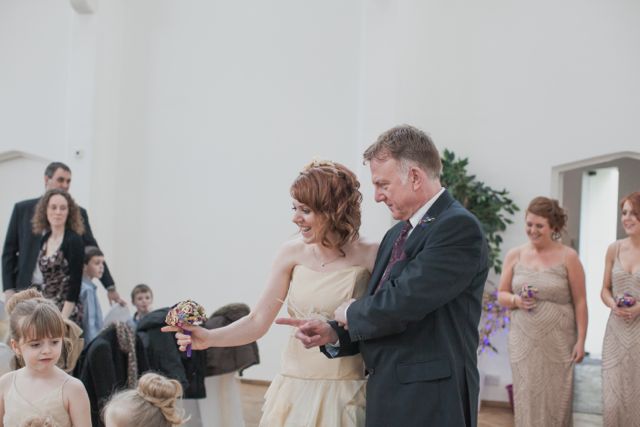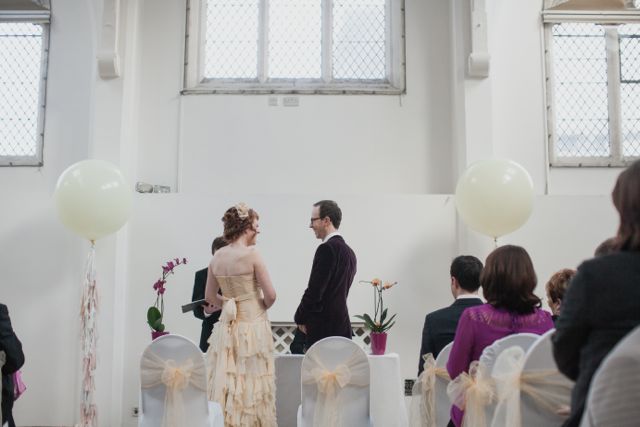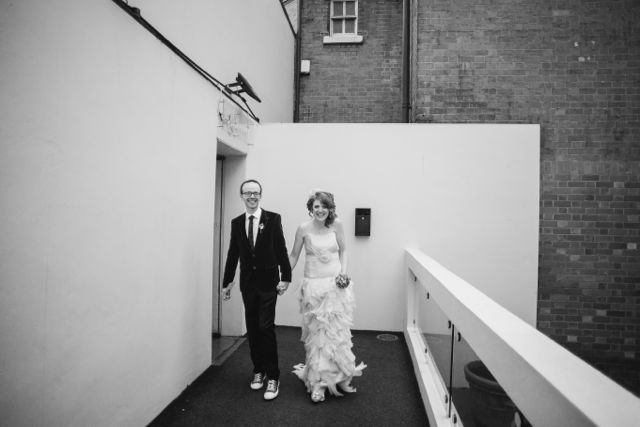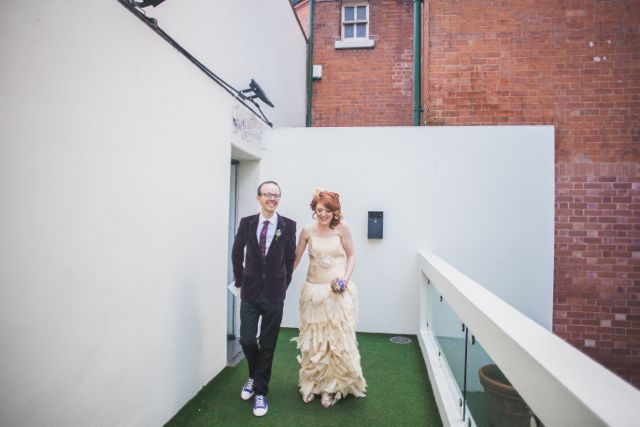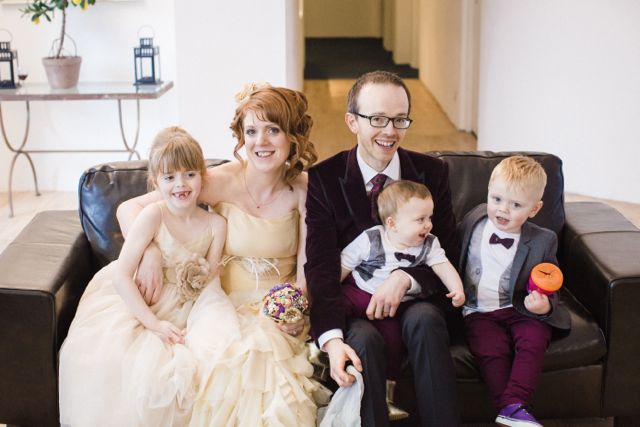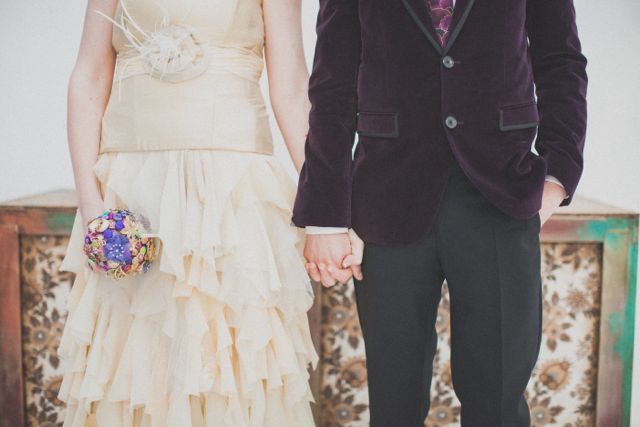 Photos are copyright of Jo Hone Photography
24 Mar 2014
A few months ago I met up with a lovely lass , who happens to be an awesome photographer Camera Hannah, we got chatting and I mentioned I loved Cherry Blossom and anything Japanese,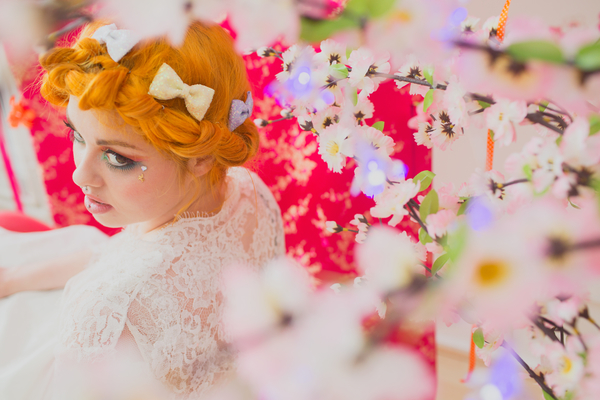 and it turns out so does she !! especially the geeky and  kitsch japanese culture, so we hatched a plan and came up with a concept based around Harajuku and Pirikura Photobooths ,with tonnes of other goodness thrown in! From Studio Ghibli and Hello Kitty to My little Pony style unicorns. See how much you can spot in this shoot!!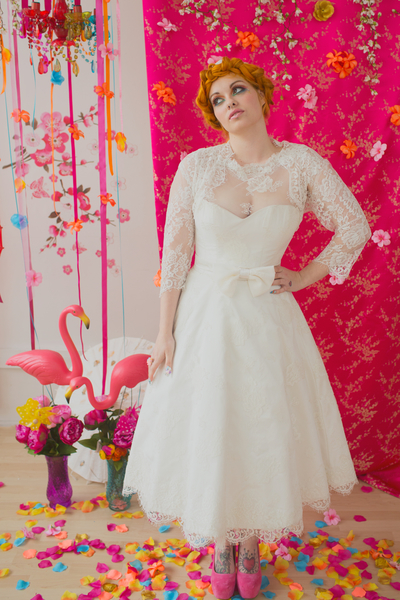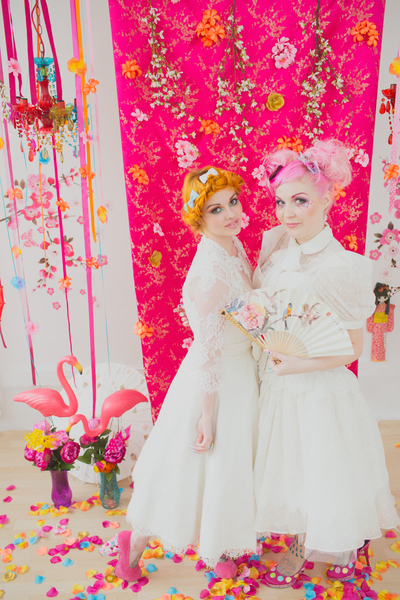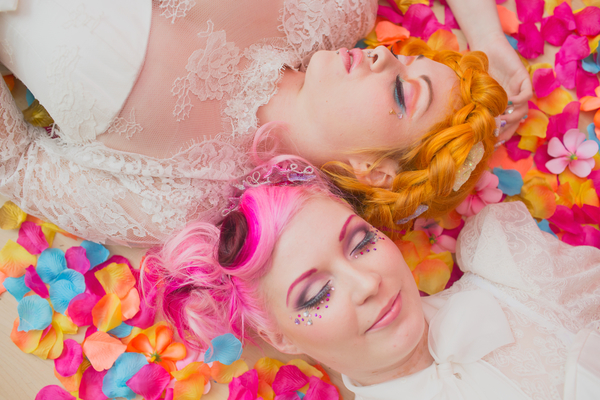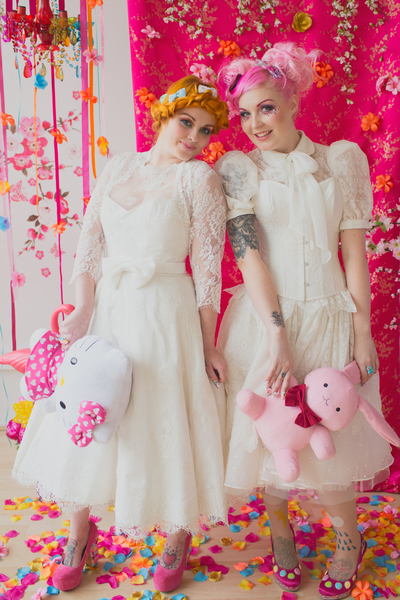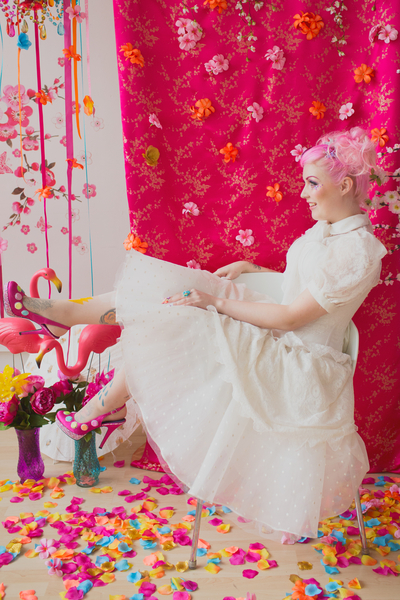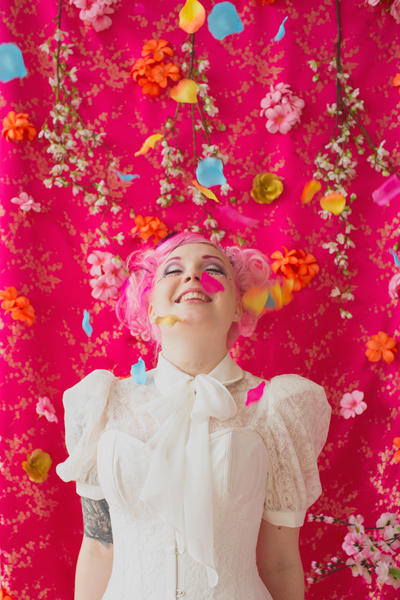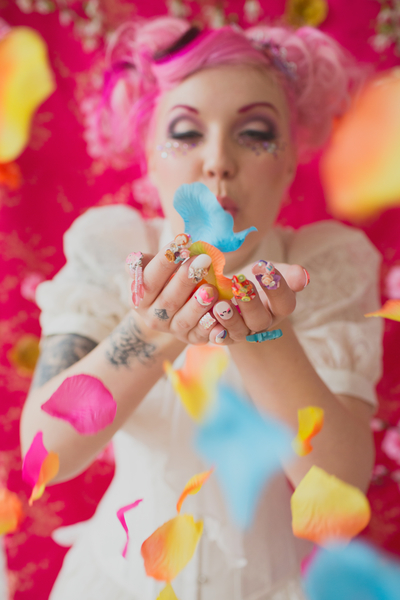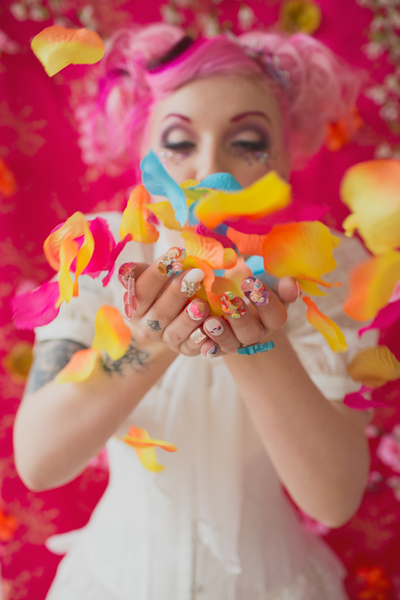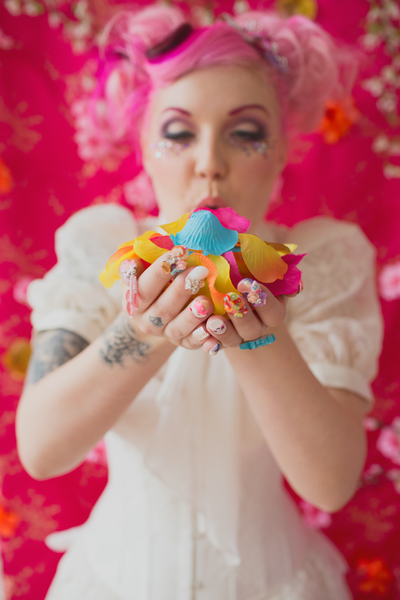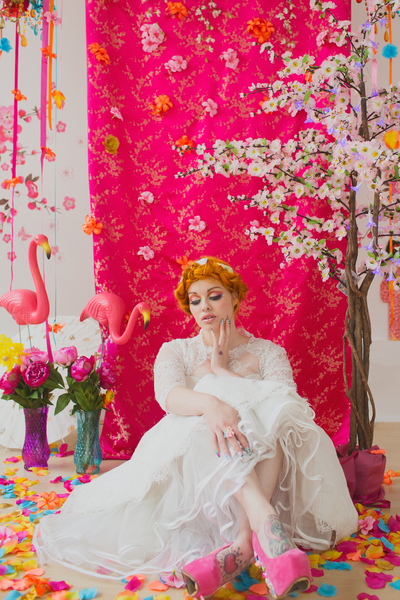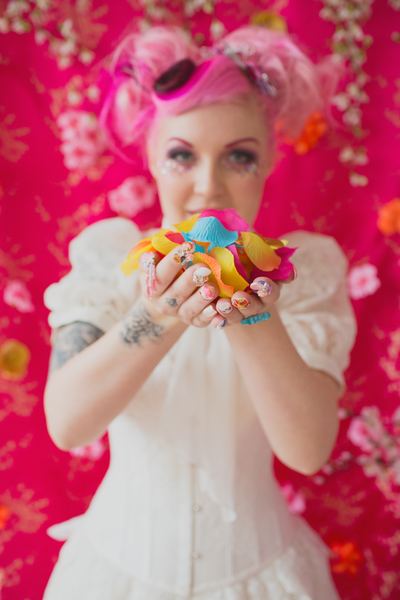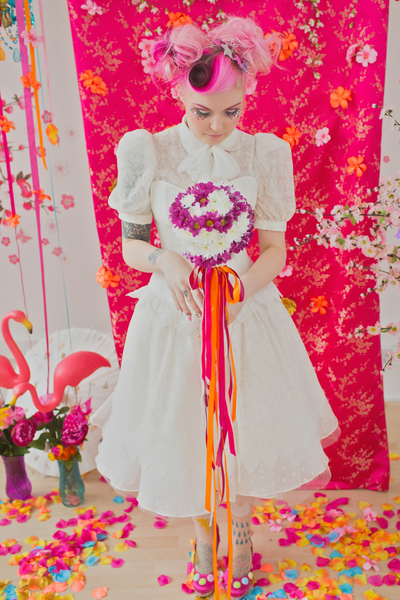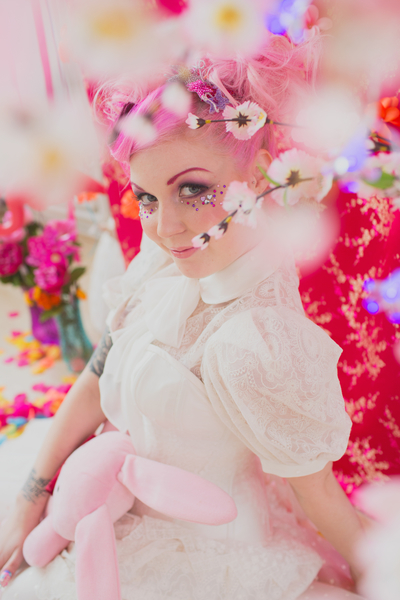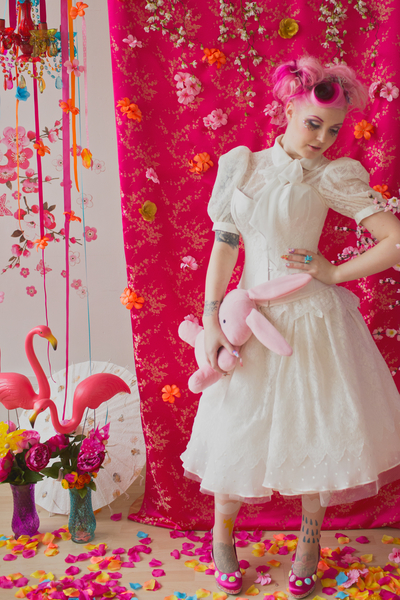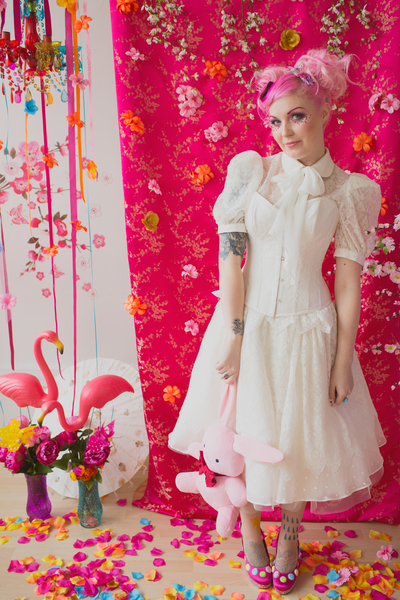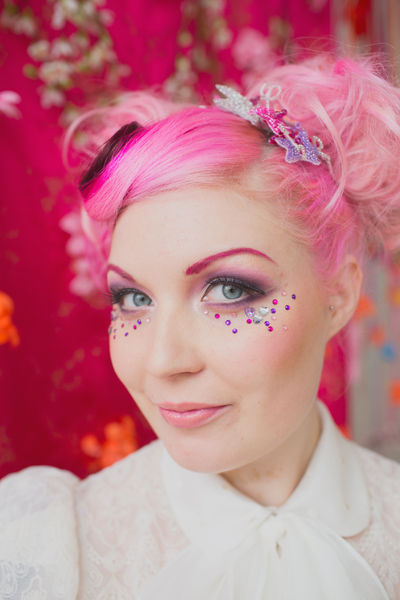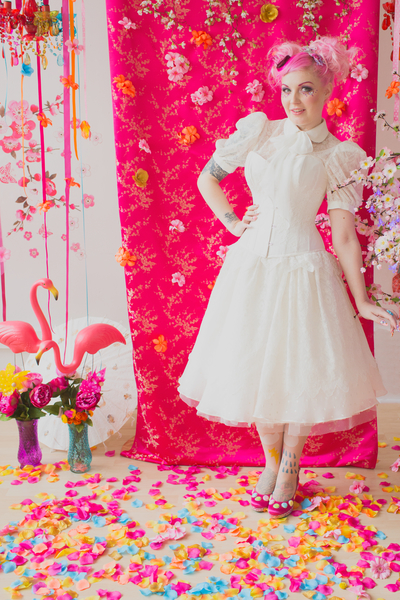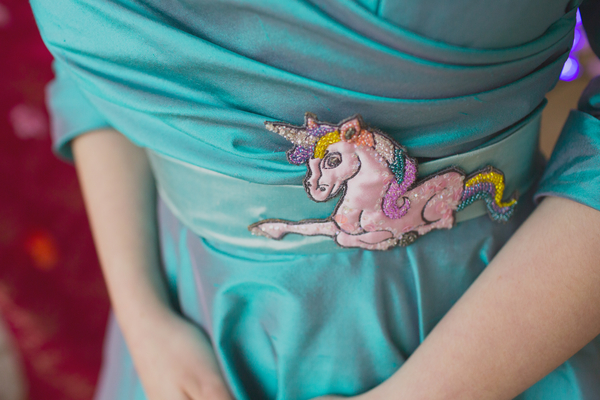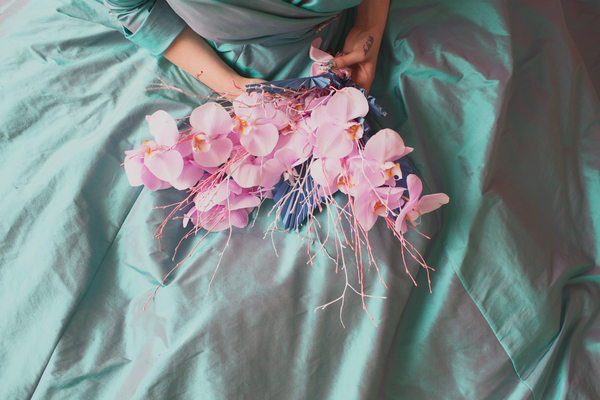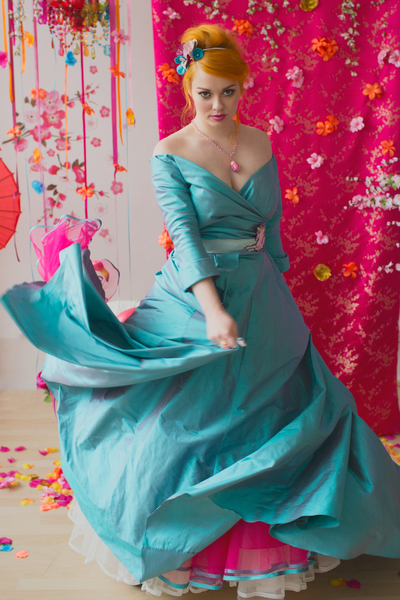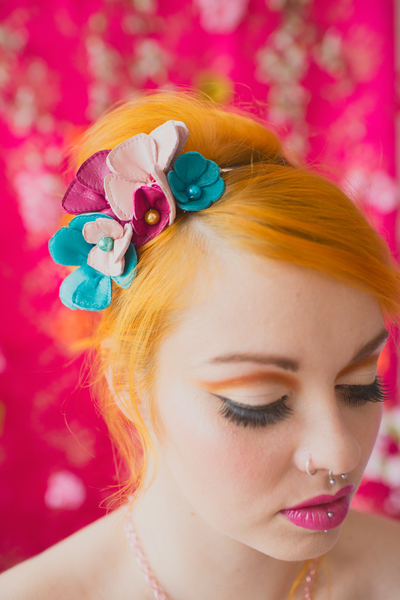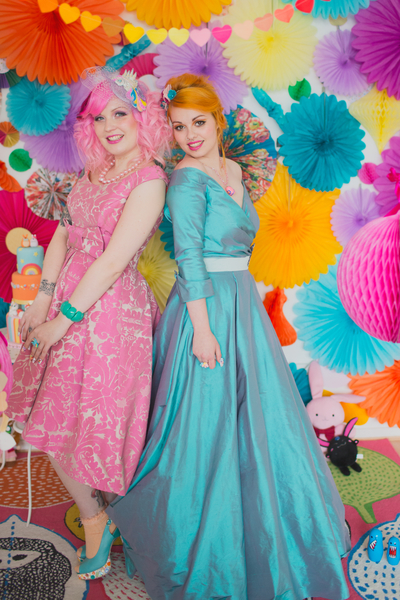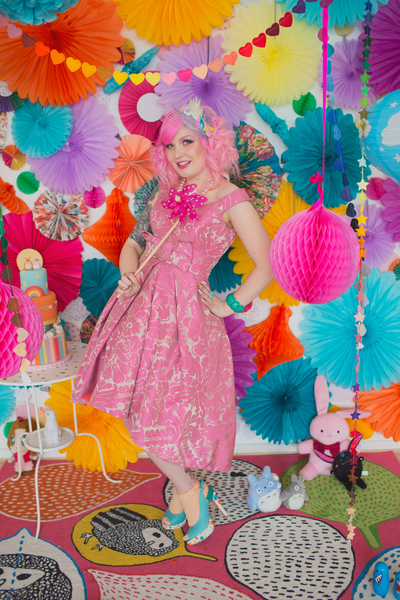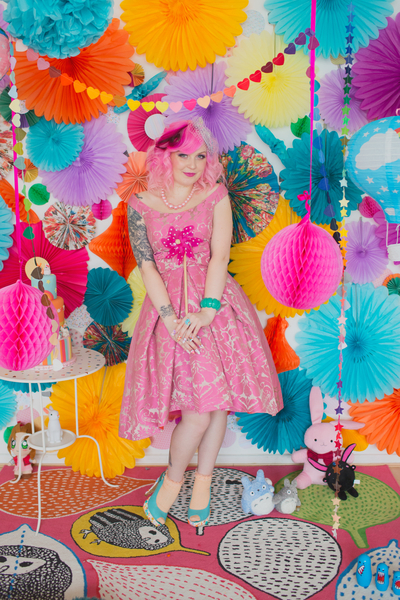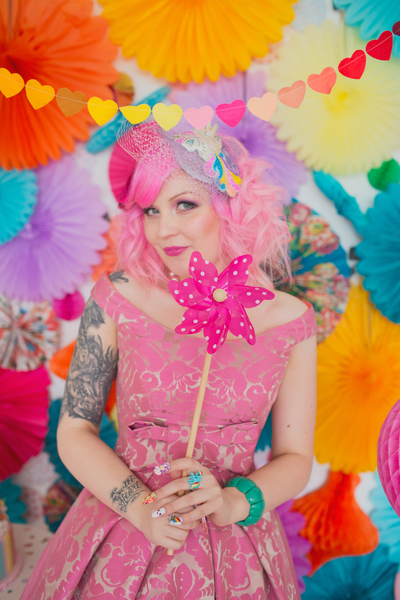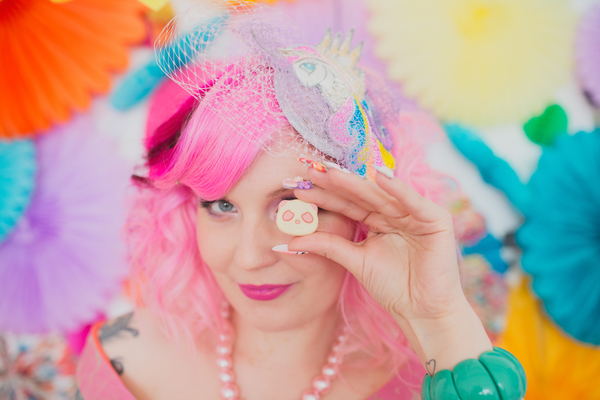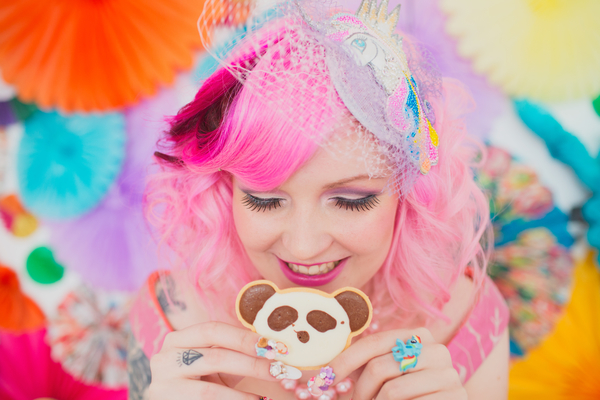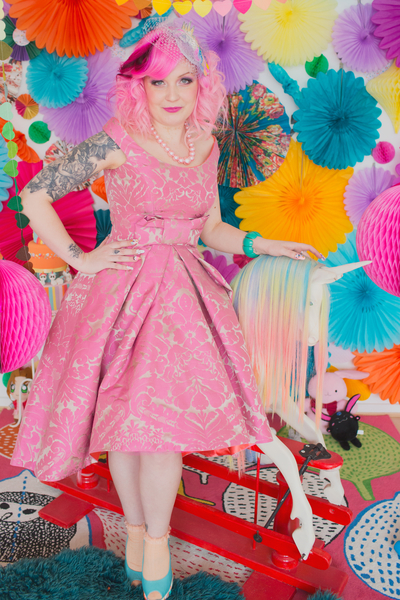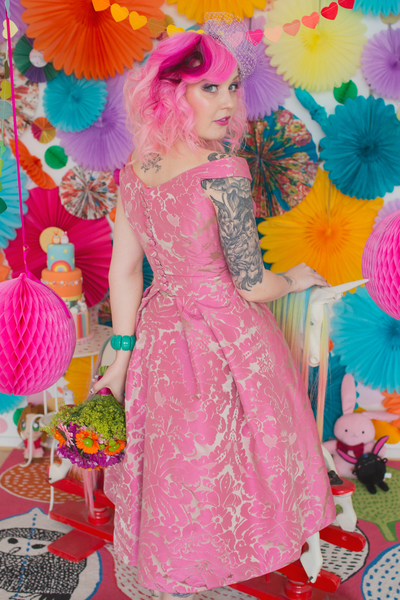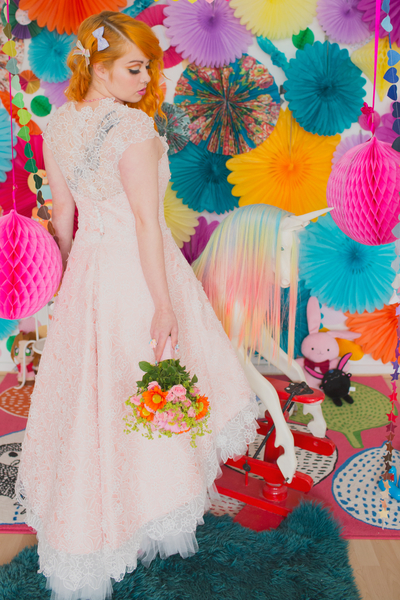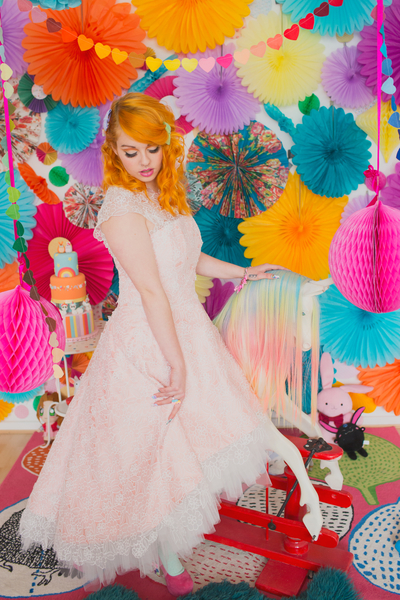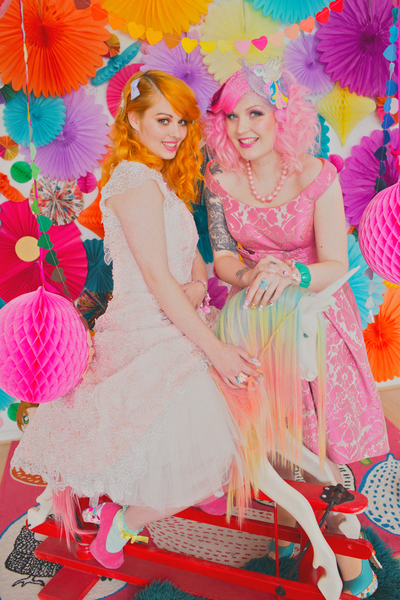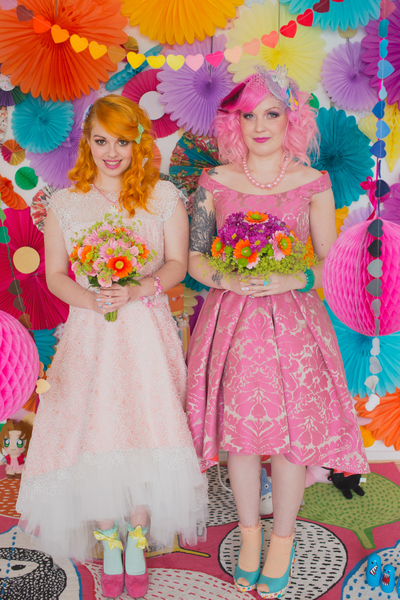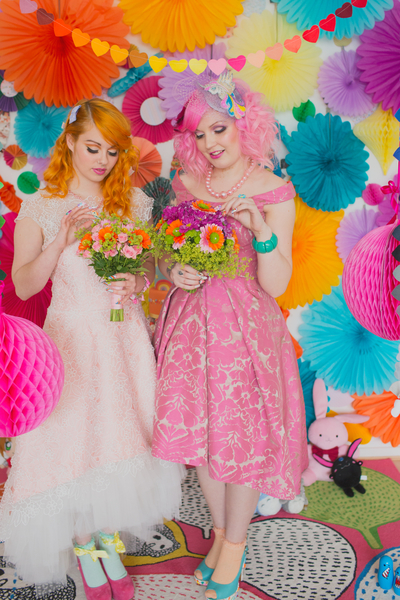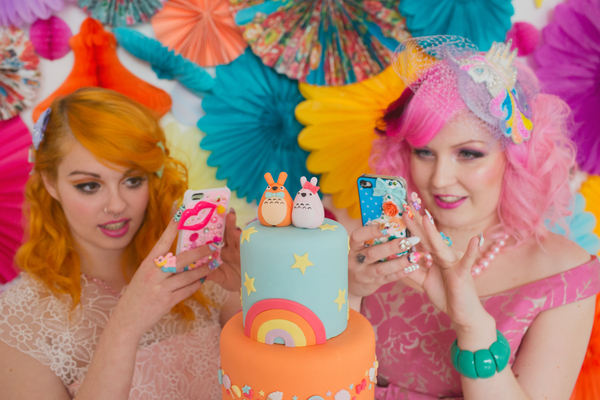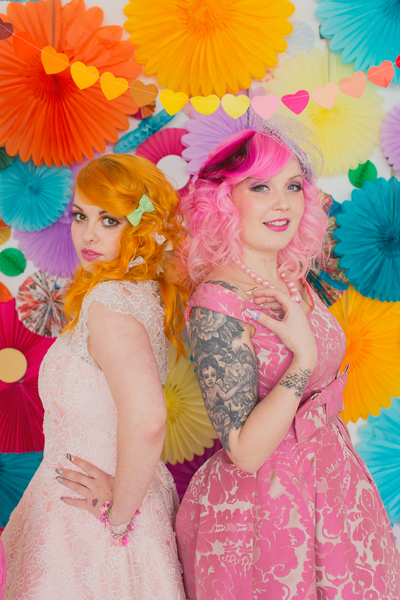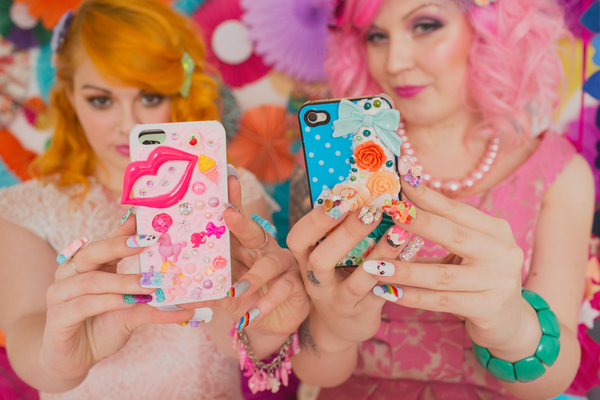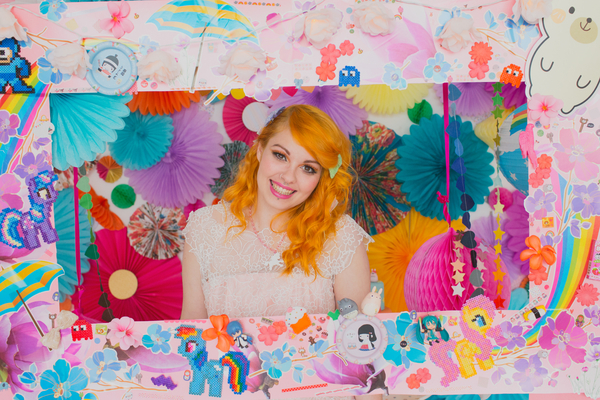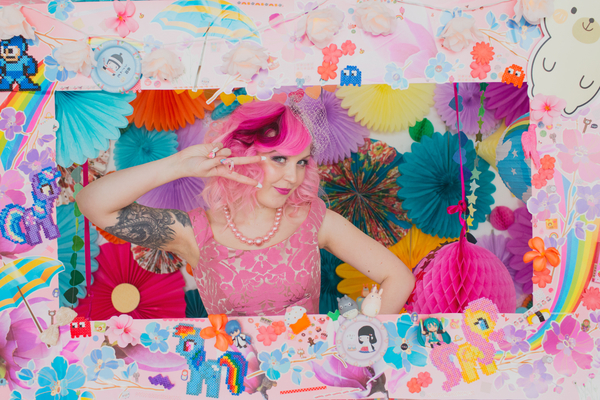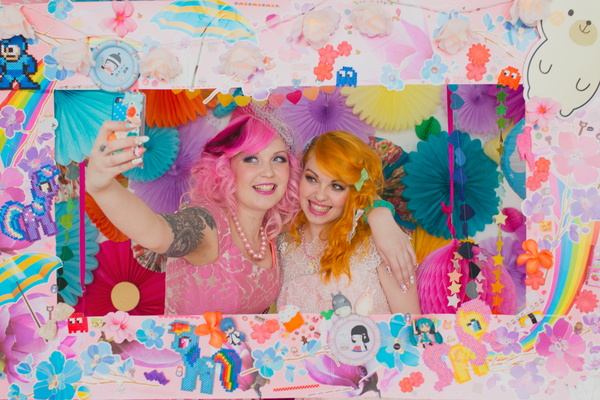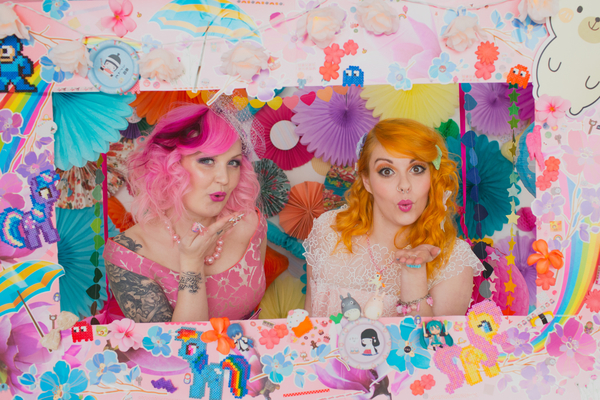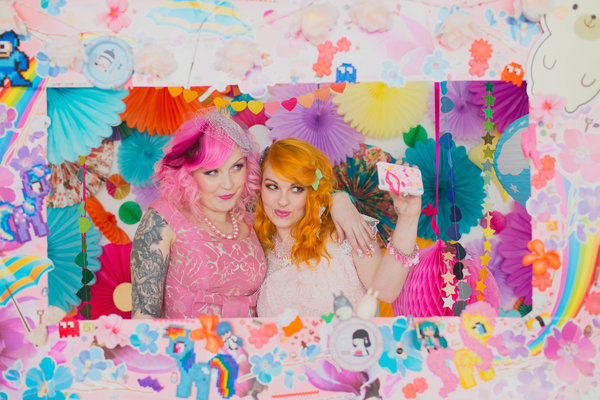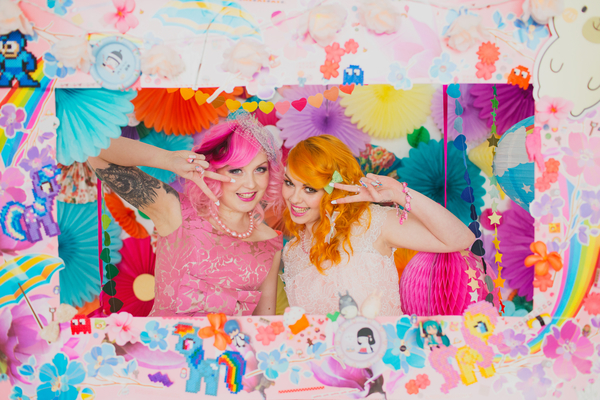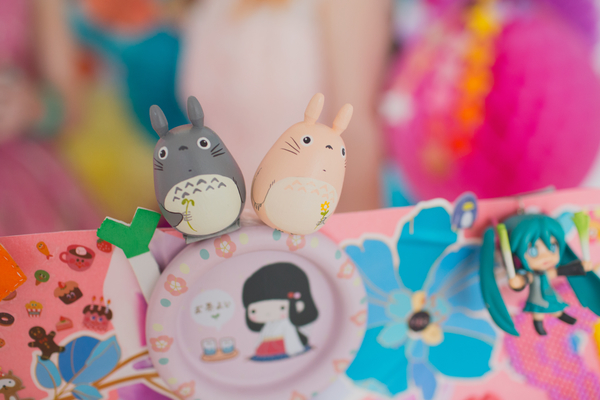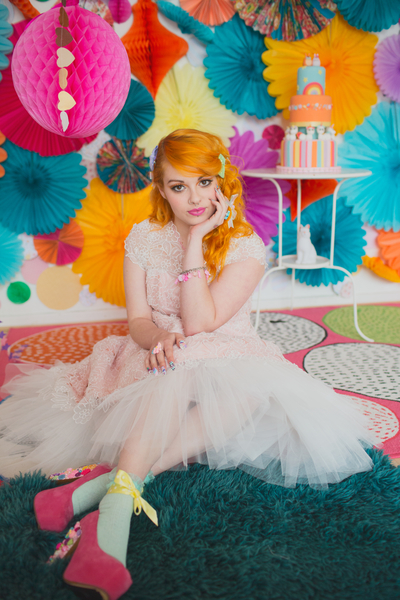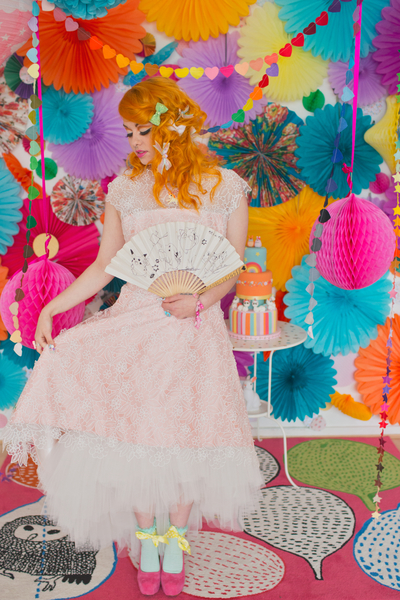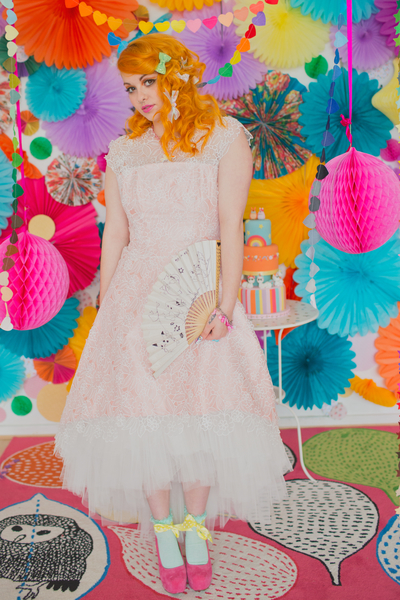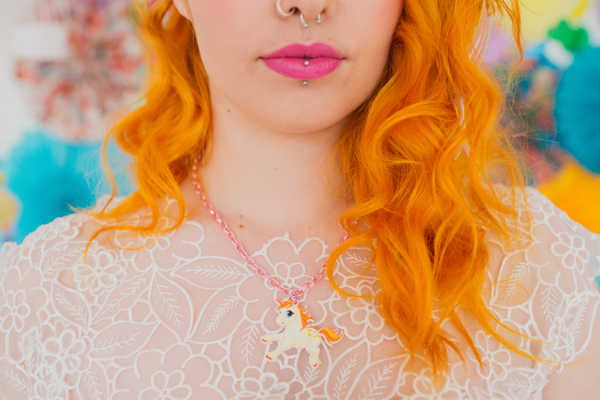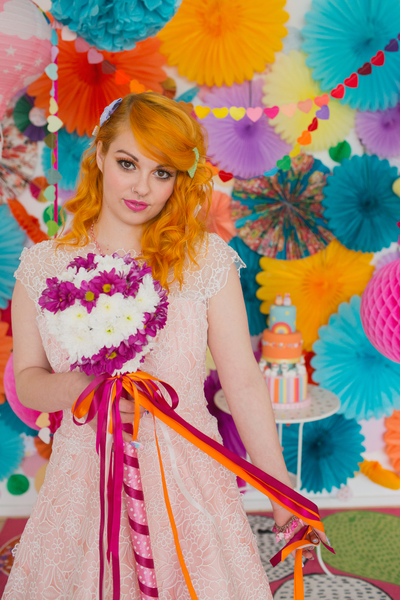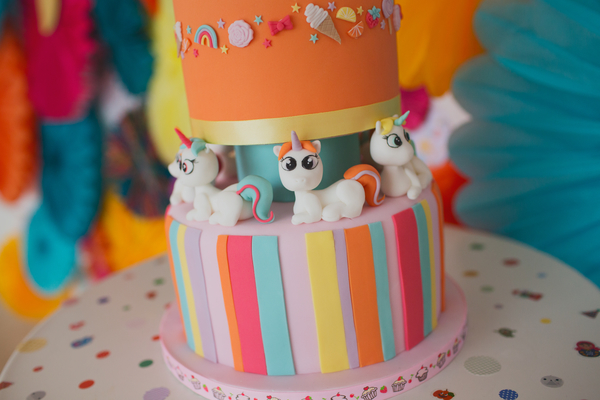 We had an amazing team on the day  who worked their lace top ankle socks off
This would never have looked as epic without them
Big Love and thanks to :
The Couture Co -Dresses and Headpieces
Ava Event styling- Set design , Floristry and Rocking Unicorn
 Elbie Van Eeden – Make-up artist and Hair Extraordinaire
 Revive Me Boutique – Shoe adornment and jewellery
Nails by Rosie – The most awesome nail artist
Little Cherry Cake Company- for Cake Bakey wizardry
 Paper Joy- Paper decorations
 Little penny Tree- Felt rainbow garlands
 Nellie Jo and Diablo Rose, for being the cutest models xxx
 Beau xoxo – Cute Hair clips and slides
If you like what we do and all the hard work that went into this, show us some love and leave a comment xxx
Thanks , Jo
6 Jun 2013