Posts from the 'Curvy girls' Category
EXTRA SPECIAL OFFER!! Wanna go Off Peak on your bespoke wedding dress?

 
Get your wedding gown made and finished in the winter months before March 2020 and get a whopping 20% OFF your bespoke dress
Are you still looking for your wedding dress and think you want a bespoke gown?
Are you up for have your dress made and finished between this November 2019 and end of February 2020 ?
Well if you book between now and the end of June 2019 you can qualify for a whopping 20% discount off your gown.
We have a few appointments on Saturdays free in June, and can do weekdays Weds-Friday
 

   
Why are we doing this offer you ask??? well…. Spring , Summer and Autumn are pretty hectic for us creating many awesome gowns for clients and our elves are working at full steam to create the years orders….but weddings are seasonal and Winter tends to be quieter for us…so we want to balance the production a bit more so we can spread out our creativity through the whole year..
As with all businesses we still need to cover our overheads year round and keep the elves busy and make enough to cover our costs….so we figured we can spread the load this way and start creating some of the Spring and Summer's wedding orders in the Winter months….We keep busy in traditionally quieter times, and You get a bargain if you are happy to have your dress made earlier.
Get in touch and make your appointment now, Please not we have nothing available on Saturday 8th June
Feel free to share and tag your friends who are still looking for THE dress xx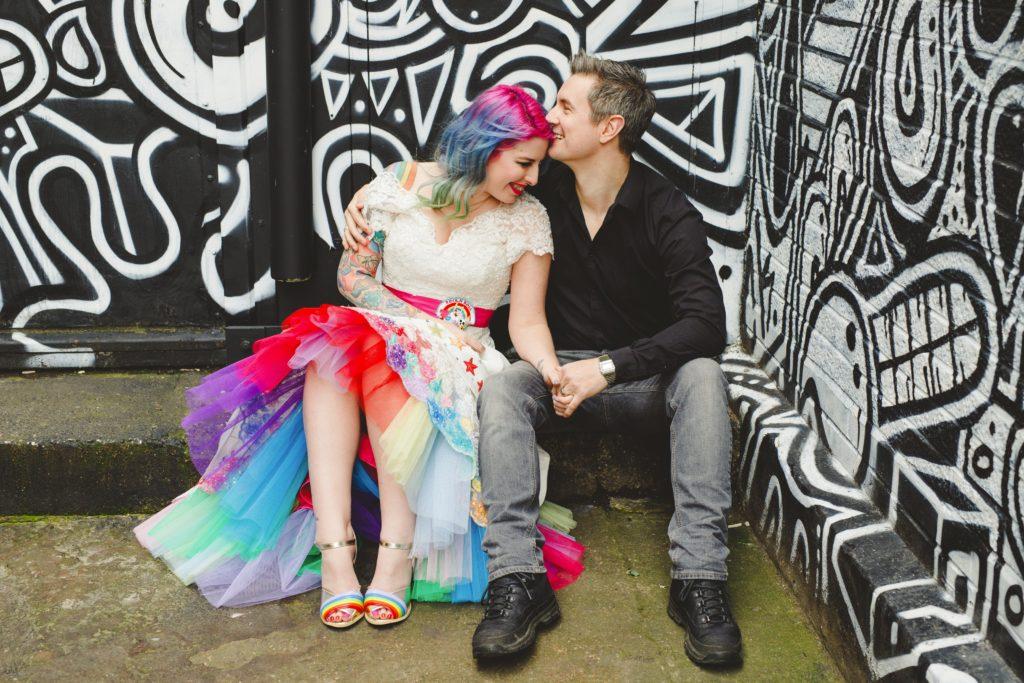 1.Orders MUST be placed before 30th June 2019 with a 50% deposit
2.This does not apply to existing orders already placed
3.The balance of the final finished commission must be before 28th Feb 2020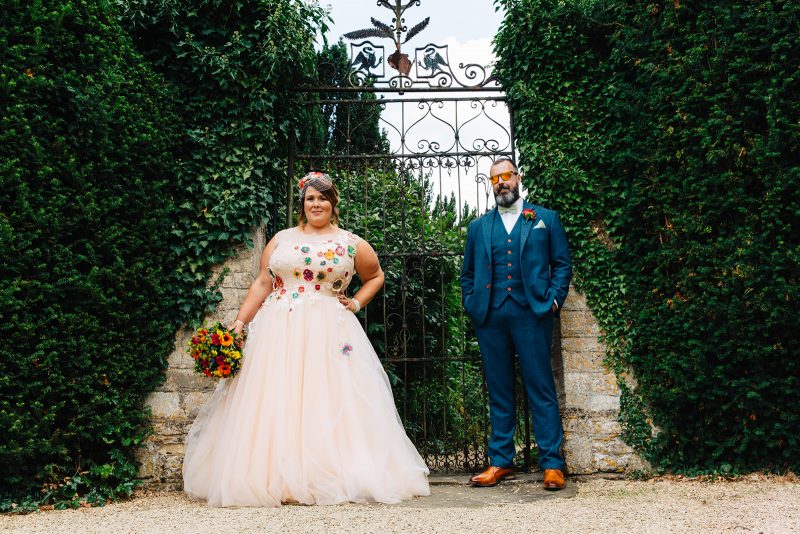 #weddingdressoffer

#alternativeweddingdress

#heavymetalwedding

#alternativeweddingdresses

#bespokeweddingdresses

#weddingink

#tattooedbride

#bespokeweddingdresses

#bespokeweddingdress

#ourbridesrock

#weloveourjob

#weloveourbrides

#alternativebride

#badassbride

#RainbowHair

#rocknrollwedding

#heavymetalbride

#rocknrollbride

#ourbridesrock

#tattooedweddingdress

#rockwedding

#shortweddingdress

#rocknrollbride

#rockabillyweddingdress



23 May 2019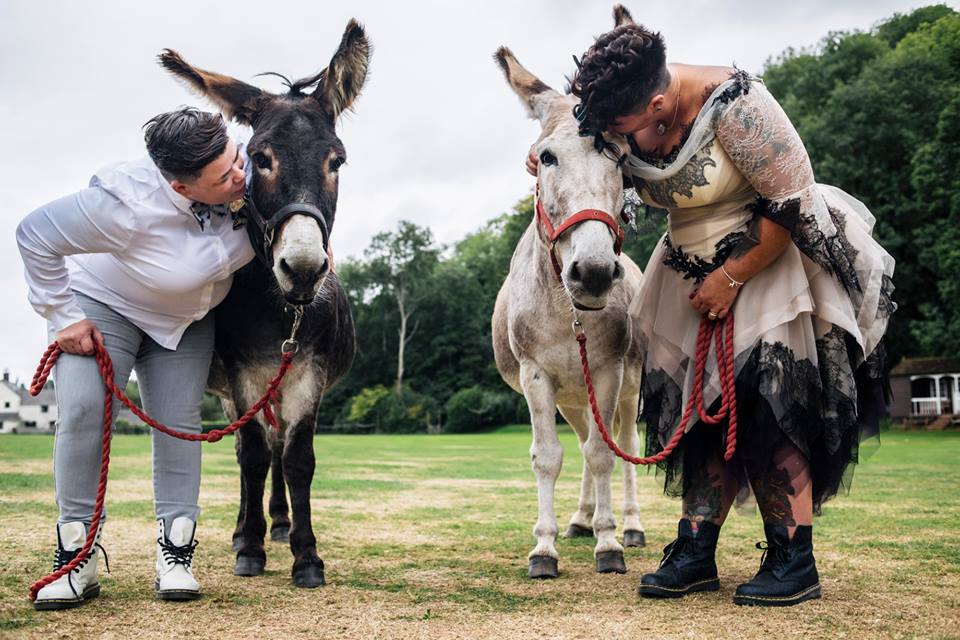 It is my absolutely pleasure to bring you this wedding of pure cuteness and Jo…this is the one that Cheryl and Sasha got married at The Donkey Sanctuary, and Sasha had one of the gorgeous donkeys as her bridesmaid!!
Sasha found us  via The Eclectic wedding Extravaganza , and headed over from sunny Wales to have her dress designed and made by our team!!
We have THE best clients
We asked Sasha to tell us about their wedding so here goes
" I had a donkey bridesmaid at the donkey sanctuary! One of our dogs was also our ringbearer and at our reception we had some donkey guests hanging out with everyone getting cuddles. We also had a hand fasting ceremony and jumped the broom at our reception which was really meaningful and a chance to involve our friends and families.
We decorated our reception with plants and flowers we had collected the day before from the local area with family, and Cheryl's dad made an amazing board with loads of photographs of us as kids and growing up. We also had a stepladder next to our top table with photographs of my mum, dad, nan and grandad. They've all passed on but it was important for them to have a presence on our big day.
Our Wedding was also environmentally friendly. This was really important for both of us, all our cutlery and tableware was made from bamboo, and at the end of the day we only had two small bags of non recyclable waste which I think is amazing as we had over 100 guests!
Top tip
Get the right photographer! I had been told this beforehand and it's absolutely true. The day goes so fast, it's been great being able to go over the pictures and be reminded of it all. Our photographer was also great at taking candid shots of our guests which was a brilliant addition. We got to see everyone having fun and saw different sides to the day which was lovely."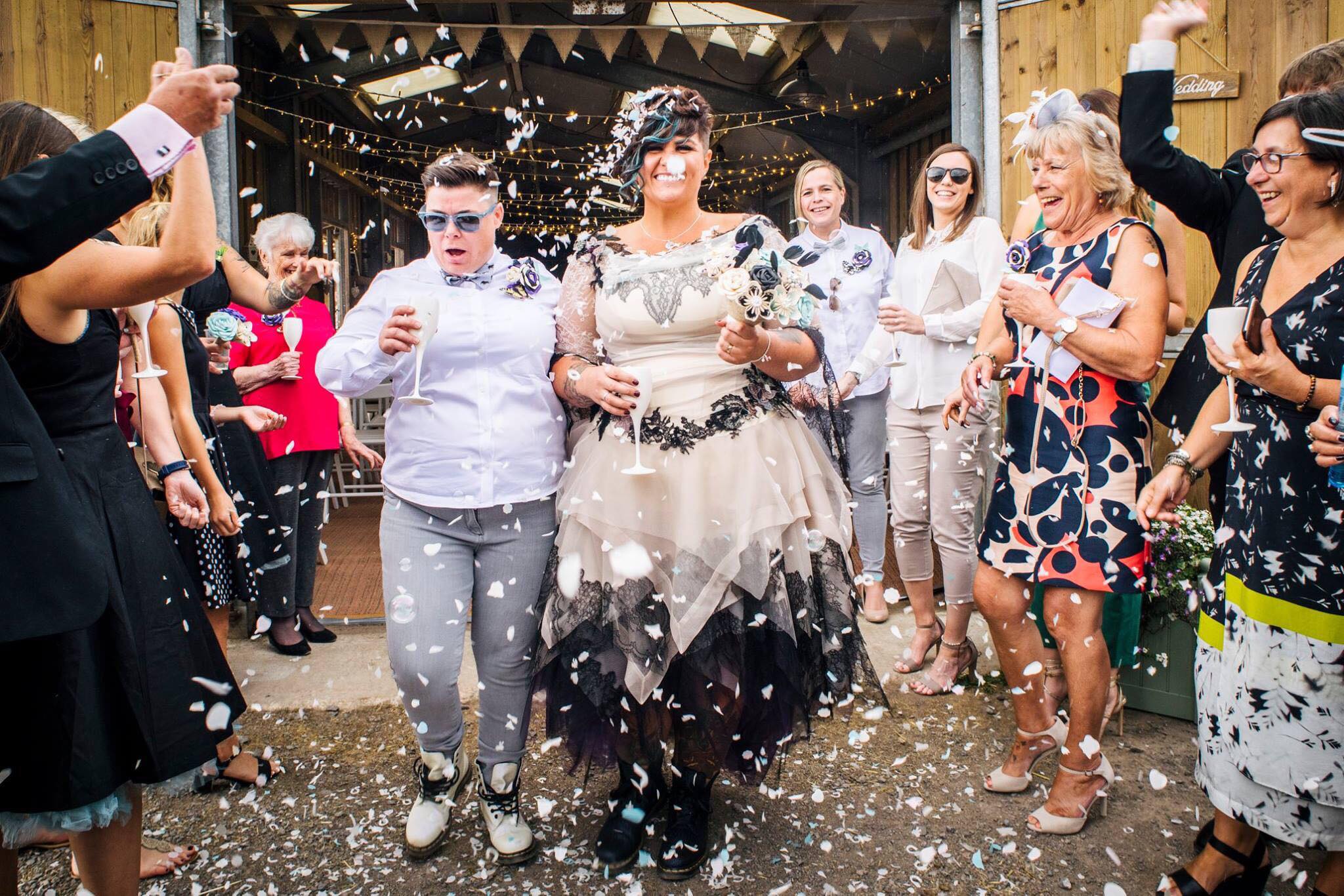 Sasha also had some kind word to say about us "My dress was perfect! I am not a "dress person" but jo was brilliant and helped me figure out exactly what I wanted. The detail on my dress was perfect and I just couldn't imagine wearing anything else. Thank you Jo and your team for being so approachable, knowledgeable and skilled. Loved the whole experience 
:)" 
Sasha's gown was based on our Lolita design, but has unique twists and colours that were Sasha's favourites. It was made from silk organzas, tuile and french lace and was adorned an embellished with embroidered leaves and appliqued french corded lace …Such a gorgeously gothic combo, and how cool does it look with sparkly doc martins??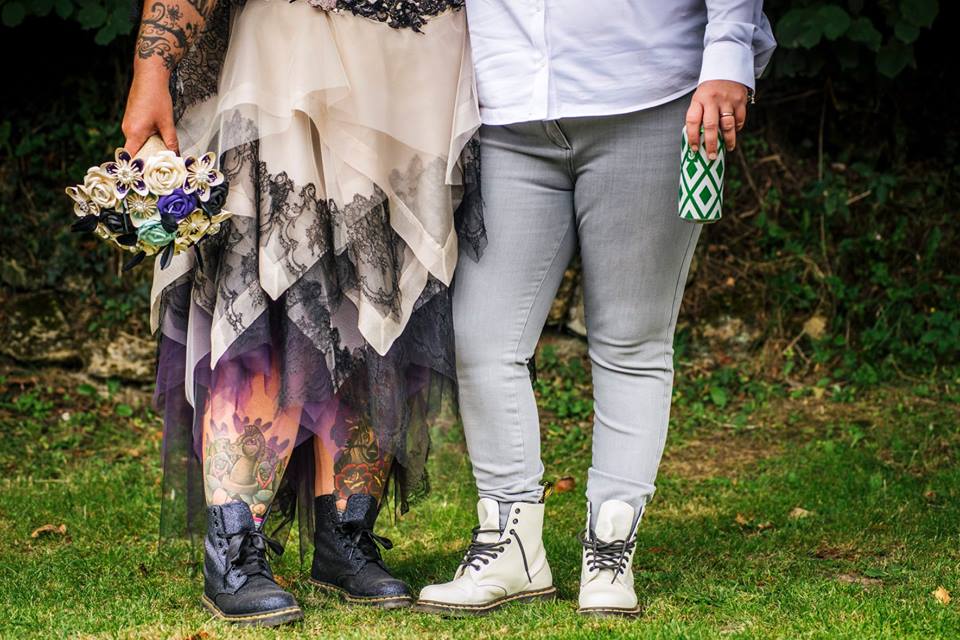 So Girls if you are looking for a badass bespoke dress then we could well be the company for you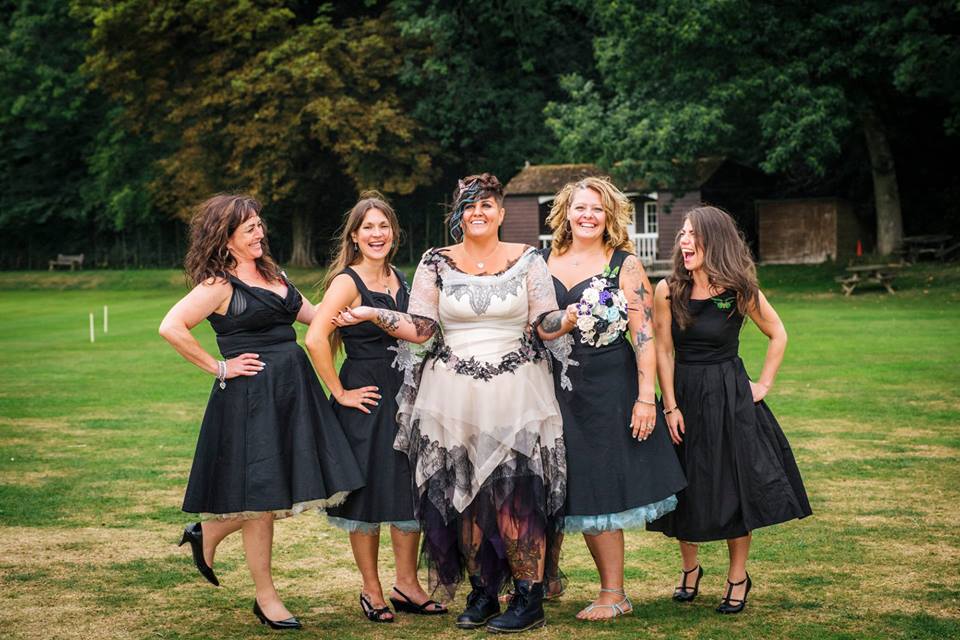 All these wonderful photos were taken and are copyright of Mandy Thomas Photography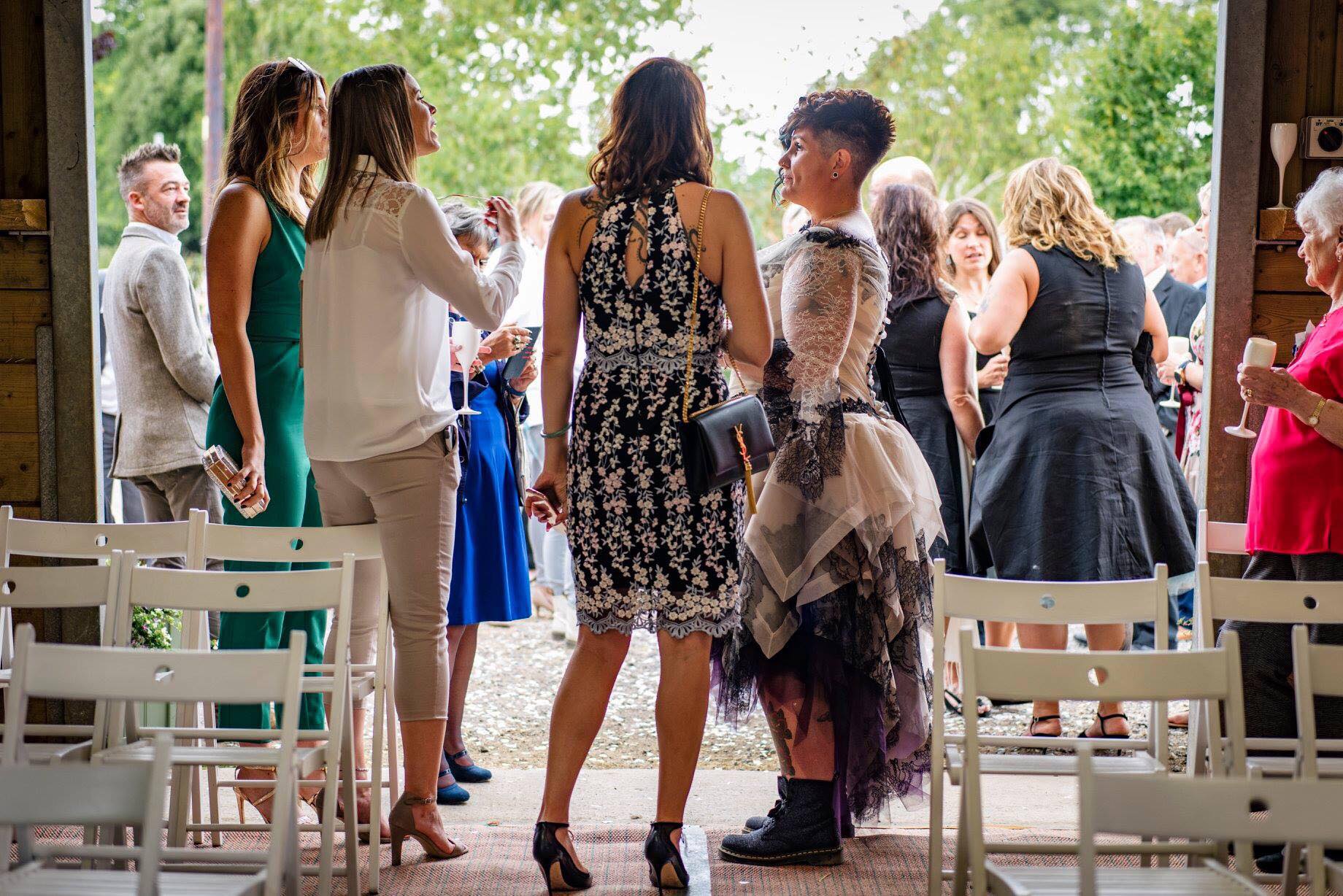 21 May 2019
Our gorgeous bride Amy got married in a mermaid and peacock inspired gown,  and sent these wonderful images, we made it in the most gorgeous rich tones of dupion silk and silk organza, and all her teal and purple embellishments were created by our team ff wedding elves 🙂
Photos are by Alan Law Photography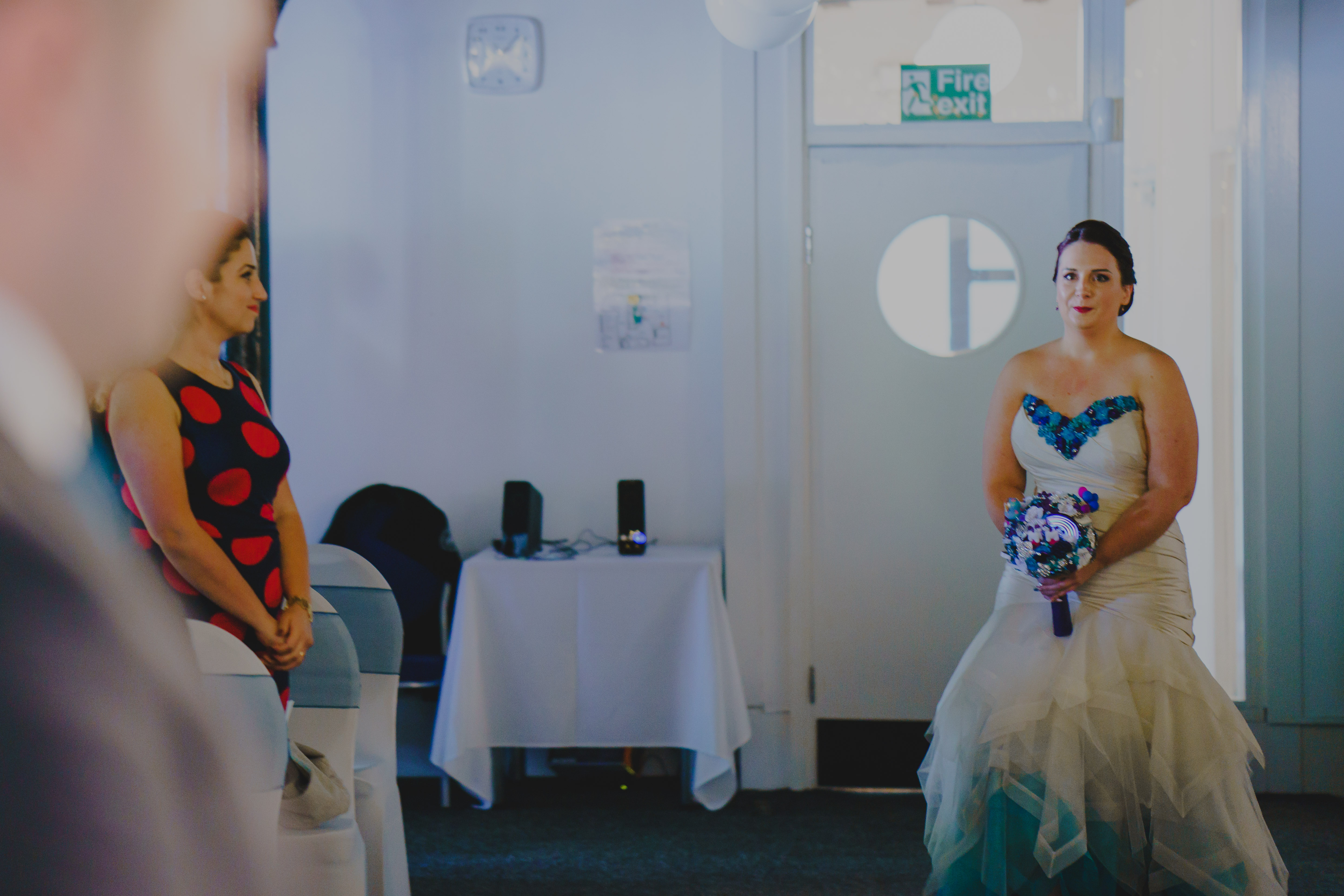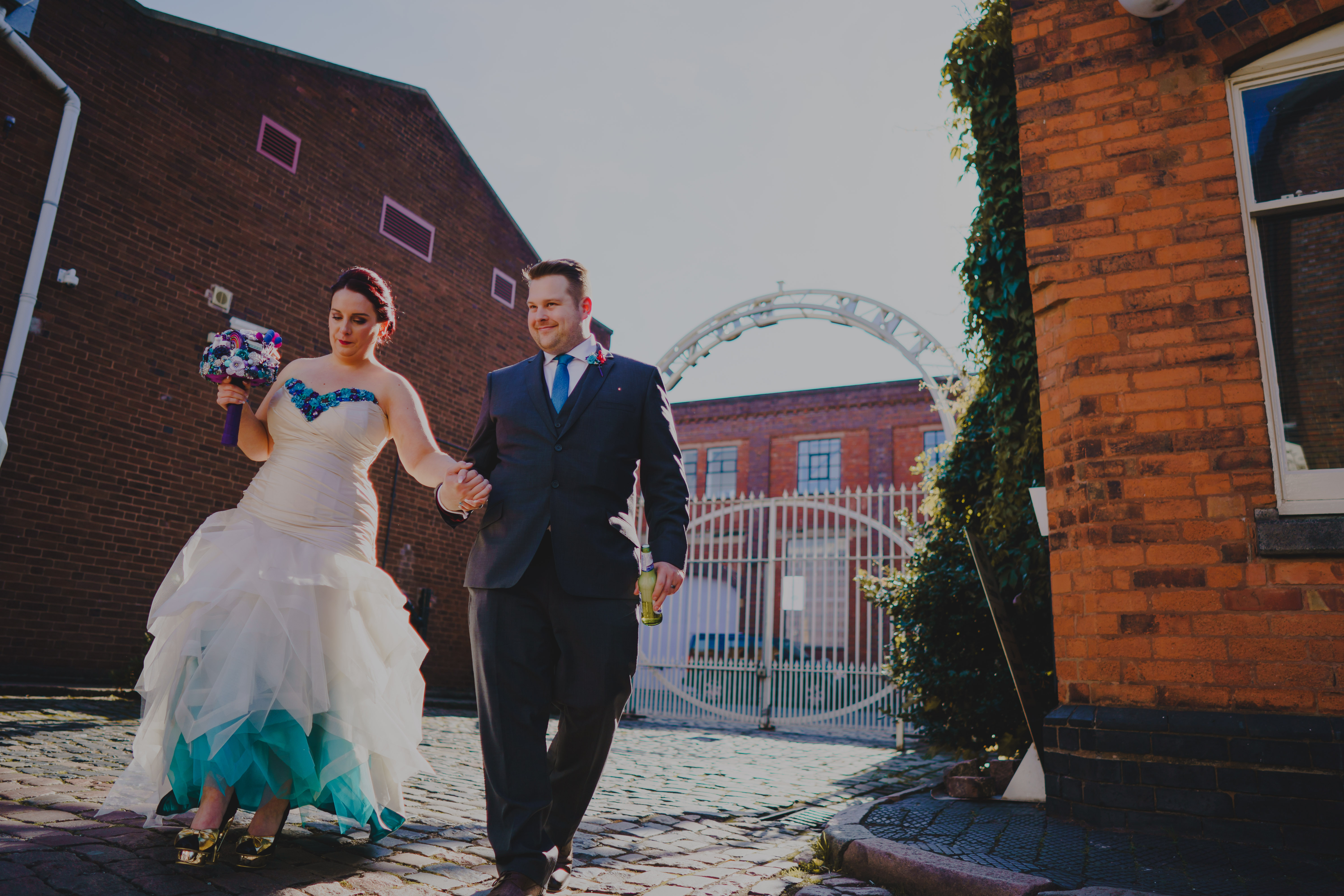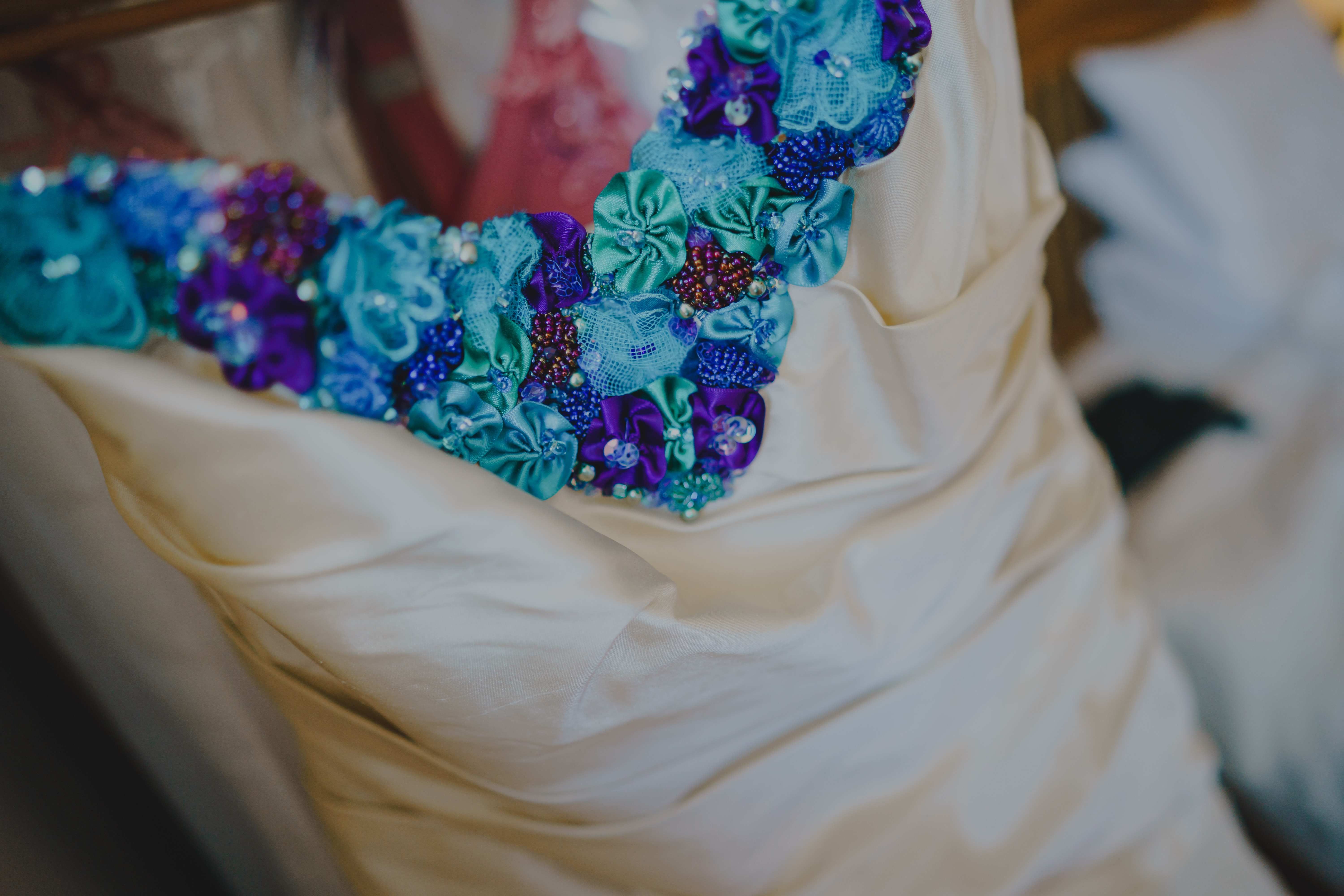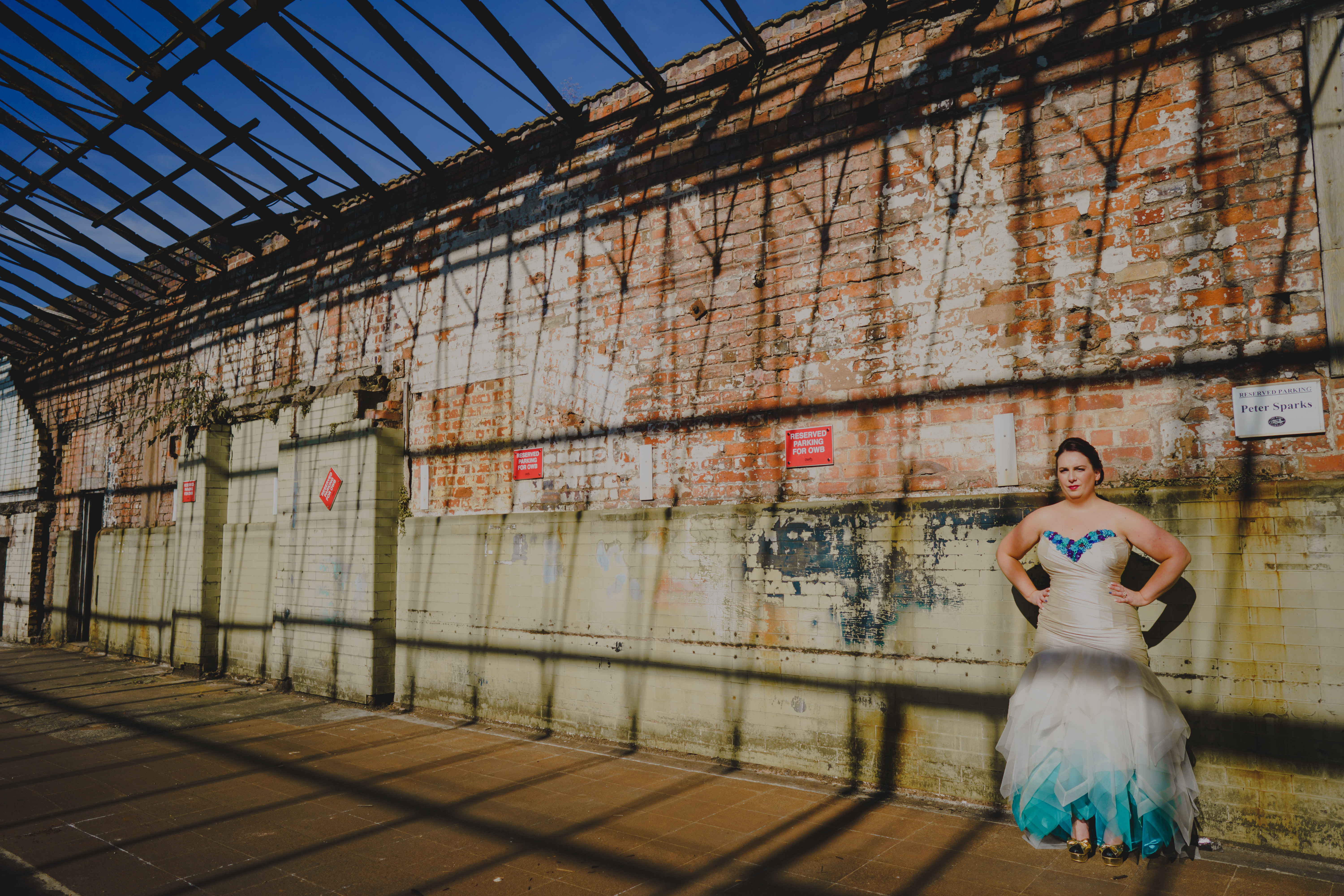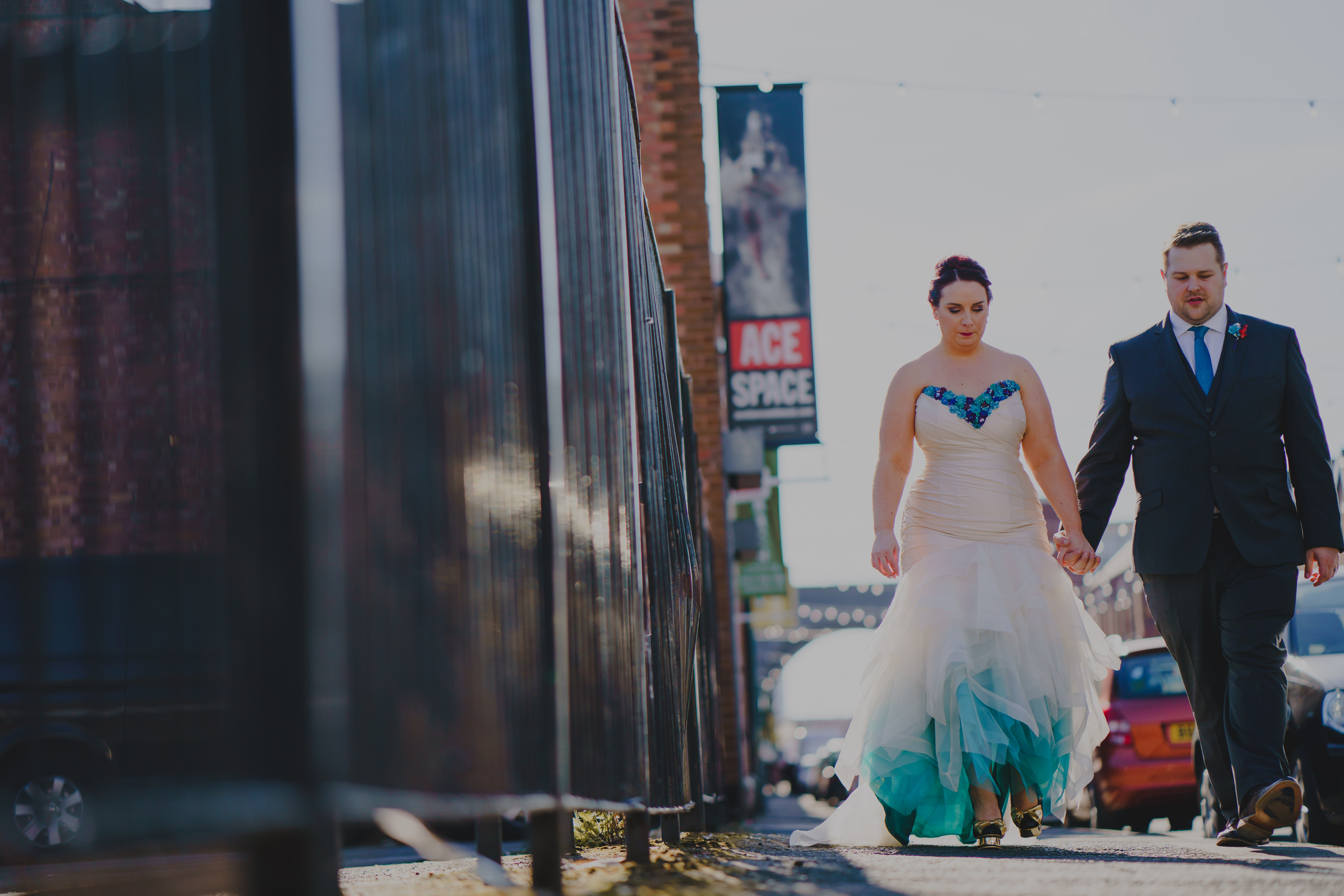 6 Feb 2019